Proud Boys: From storming the Capitol for Trump to protesting drag shows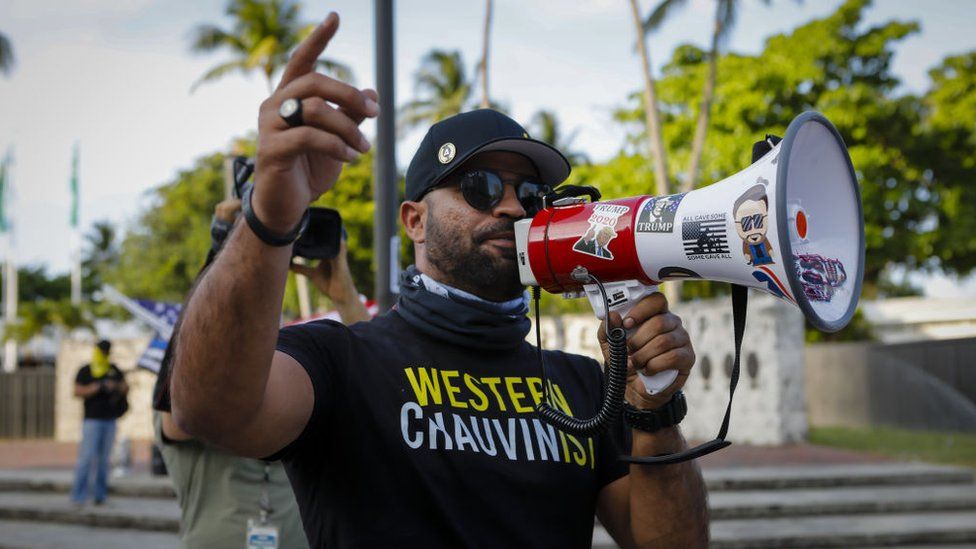 What's next for the far-right Proud Boys after four members, including former leader Enrique Tarrio, were found guilty of seditious conspiracy for their role in the attack on the Capitol on 6 January 2021?
They started as a drinking club seven years ago, but quickly immersed themselves in street violence and culture wars.
After shooting to mainstream attention during the 2020 presidential campaign, they made up one of the main organised groups at the Capitol riot.
Now, as some of their leaders face lengthy prison sentences, the group has dispersed and, at the same time, picked up a new focus: anti-transgender activism.
Drag story protests – and fighting
Fights broke out outside a drag story hour event in New York City in late March, and according to reports, men wearing Proud Boys gear were in the middle of the melee.
It was not an isolated incident. In recent months, supporters of the far-right group have been at the forefront of similar actions across the country.
Their involvement may seem, on the surface, like a departure from the group's libertarian roots. When the BBC went to interview Proud Boys in Portland, Oregon in 2019, we met a gay member of the club, and a transgender supporter.
But their live-and-let-live ideals have always been in conflict with the group's description of themselves as "Western chauvinists" who believe in traditional gender roles. "Venerate the housewife" was one of their early precepts, and the organisation limits membership to "biological males". This focus on hyper-masculinity has made them a perfect fit for the new wave of anti-transgender activism on the right and far-right.
How did the Proud Boys begin?
The group was founded in 2016 by Gavin McInnes, a British-Canadian podcaster who previously co-founded Vice Magazine.
Members of the group have always been keen to portray themselves as ordinary guys who were mostly interested in beer – "a drinking club with a political problem" is how they sometimes put it.
In 2019, our crew was invited to a bar and later visited a boozy impromptu barbecue.
But violence was always at the heart of their activities, and the group was better known for its battles with anti-fascist – also known as antifa – protesters. These street battles became a regular feature of life in Portland and other major cities before 2020.
Despite some of their internal contradictions, what united them above all was intense dislike of left-wing politics and a special love for Donald Trump.
A new opportunity
Over the years, the Proud Boys went through a series of leadership changes, from Mr McInnes to an "elders chapter" and Tarrio, who took over in 2018.
But the group's national structure frayed after the events of 6 January 2021 when the Proud Boys, like other organised groups who took part in the riots, started to face criminal charges and social media bans.
After a short period of confusion, inactivity and a leadership breakdown, today the group shows no sign of slowing down.
Individual Proud Boys chapters continue to operate, says Megan Squire, deputy director of data analytics at the Southern Poverty Law Center's Intelligence Project. In some cases, they've added members, gaining visibility as they join anti-transgender protests, which over the past few years have become a flashpoint in America's culture wars.
Ms Squire notes that the Proud Boys were "early adopters" of anti-trans sentiment starting around 2020.
According to the Armed Conflict Location and Event Data Project (ACLED), which tracks far-right movements in the US, the number of anti-LGBT incidents – demonstrations, political violence, and offline propaganda activity – is growing.
In 2022, far-right groups including the Proud Boys were involved in over 200 incidents, a three-fold increase from 2021, ACLED data shows.
In a blog post last year, the Southern Poverty Law Center noted that Proud Boys have turned their attention to "issues most likely to drive right-wing outrage and, in turn, to help the group forge new coalitions".
"We're seeing this on every wavelength, every flavour of hate," says Ms Squire, who's been researching Proud Boys activity across the country. "They're just all glomming onto anti-trans sentiment."
And as they did during the Capitol riots, the Proud Boys have shown up at these anti-drag events ready to be the "far-right muscle," says Chuck Tanner, research director of the Institute for Research and Education on Human Rights.
"They're not the movement thinkers out in front, they chase a lot of issues," he says.
What next for the group?
Before Thursday's verdict, Mr McInnes, the Proud Boys founder, told the BBC that the five defendants "did something wrong" by entering the Capitol, but said he believes their actions amounted to relatively minor offences.
He said that if they are given long prison sentences they will become "martyrs for the cause", and insisted the group will continue despite its current lack of leadership.
"It's just set in stone and you can't kill it. There's no top, there's no head," he said.
Expert observers largely agree.
Samantha Kutner, a researcher who's written about the group and is co-founder of Glitterpill LLC, an anti-extremism consultancy group, says that given the increasing politicisation after the Capitol riots, the convictions may give the Proud Boys a boost.
"It will give them more momentum," she says. "Every time they lose it furthers their martyrdom and persecution complex."
In an audio interview on Twitter which Tarrio joined via phone from his jail cell just after arguments ended in the court case, the former Proud Boys leader accused authorities of "weaponising" the justice system and likened the current US government to the regime in Nazi Germany.
"This is not the end of the Proud Boys," Ms Kutner says. "Their threat now is as a larger and more decentralised network."
Ms Squire of the Southern Poverty Law Center agrees, and says the Proud Boys will still survive, even without their leader.
"The trial is a morale hit, but a small one," she says. "They're going to keep doing what they're doing. I don't see them going away any time soon."
Source: https://www.bbc.co.uk/news/world-us-canada-65217171?at_medium=RSS&at_campaign=KARANGA