NY grand jury hearing on Trump hush money case delayed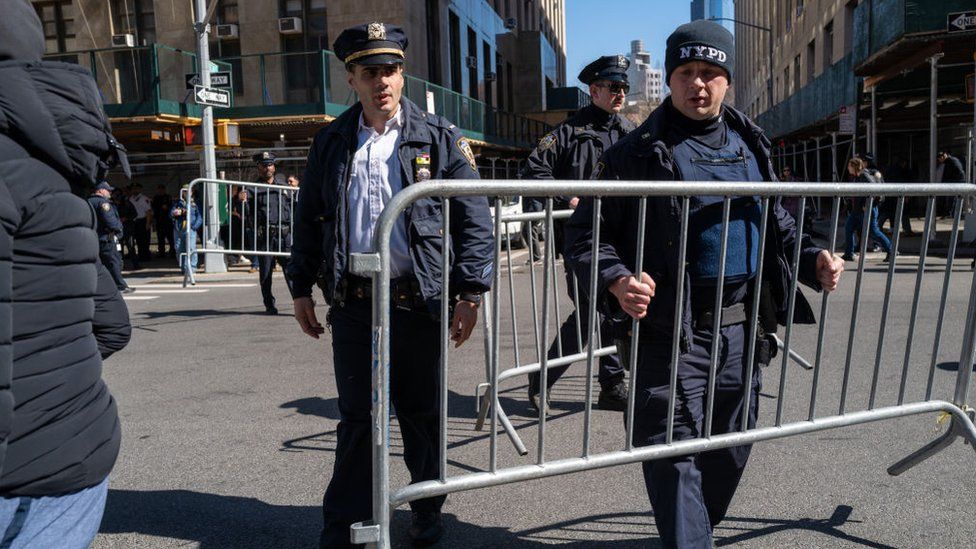 A New York grand jury considering whether to approve charges against Donald Trump over a hush-money payment to a porn actress has delayed an expected hearing.
The grand jury did not meet as planned on Wednesday, US media reported citing law enforcement sources.
A Manhattan prosecutor may charge Mr Trump over how he declared a payment to keep quiet about an alleged affair.
It would be the first criminal case brought against a former US president.
It is unclear why the grand jury – which is set up by a prosecutor to determine whether there is enough evidence to pursue a prosecution – was asked not to reconvene.
It is scheduled to meet again on Thursday, but law enforcement sources told US media it is unlikely there will be a vote on whether to indict Mr Trump by the end of the week.
The grand jury has recently heard from the president's former lawyer, Michael Cohen, as well as from Robert Costello, a legal ally of Mr Trump. Mr Costello told media earlier this week that he offered testimony refuting allegations that the former president directed the pay-off.
It is not known if the grand jury will hear from any other witnesses in the case.
CBS, the BBC's US partner, reported on Tuesday that Mr Trump was huddling with advisers at his Florida Mar-a-Lago home preparing for different scenarios.
On Saturday, Mr Trump said that he expected he would be arrested this week. In a post on his Truth Social platform on Wednesday, however, he said he believed charges against him "can't be brought".
Police in major US cities are preparing for potential unrest in case he is arrested as part of the hush-money inquiry.
Barricades have been set up outside the Manhattan criminal court and district attorney's offices.
Mr Trump has vowed to continue his campaign to become the Republican nominee in the 2024 presidential election regardless of any possible indictment.
He is scheduled to appear at a rally in Waco, Texas, on Saturday, in support of his presidential bid.
The hush-money case involving adult film actress Stormy Daniels is just one of several legal battles Mr Trump is facing.
In a separate development on Wednesday, a lawyer for the former president was ordered by a judge to turn over notes to prosecutors related to a federal investigation into alleged mishandling of classified documents.
Lawyer Evan Corcoran had told investigators last year that a "diligent search" for sensitive records at Mr Trump's Florida home, at Mar-a-Lago, had been conducted. Weeks later the FBI executed a search warrant at the property and left with around 100 documents marked classified.
Attorney-client privilege normally protects lawyers' notes, but a judge can order the records released if there is a chance that the legal services were used to commit crimes.
Mr Trump is also facing investigation related to his efforts to overturn the 2020 election result.
Source: https://www.bbc.co.uk/news/world-us-canada-65017128?at_medium=RSS&at_campaign=KARANGA