The prison experience Elizabeth Holmes is desperate to avoid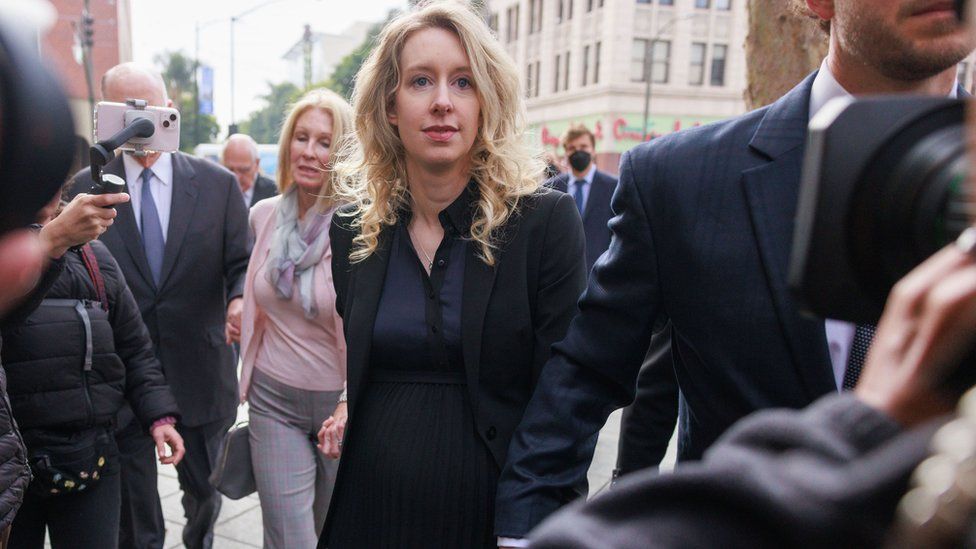 By Holly Honderich
in Washington
A US judge in California is deciding whether Elizabeth Holmes, the disgraced founder of medical testing company Theranos, can delay the start of her 11-year prison sentence while she appeals her conviction – in part due to her two young children. Her case points to what experts say is a blind spot in the prison system: the routine separation of new mothers from their babies.
Last week, Angelica Zaragoza sat on a large black bus as it drove two hours south from Dallas to a women's prison in Gatesville, Texas. Ms Zaragoza, 44, was joined by a dozen young girls, all travelling to see their mothers.
Emotions were high, Ms Zaragoza said, a giddy excitement that lasted for the four-hour visit, arranged each month by the Dallas non-profit where she works. But when the time was up, their sadness set in.
"We had a little girl, it was her first trip and when we went to leave she says: 'Why can't my mommy come with me?" Ms Zaragoza said.
Years before, Ms Zaragoza had been the one left behind. She was 25 years old, starting an 18-month sentence in another Texas jail for drug offences. Soon after intake, she learned she was three months pregnant.
Until she reached her eighth month of pregnancy, Ms Zaragoza remained in a regular prison unit, sleeping in a colourless room with a rotating cast of cellmates. She was shuffled to and from health check-ups in shackles, she said, the weights on her hands and feet straining her swollen body. The shackles stayed on while she gave birth in a prison medical facility in Galveston, one leg and one arm bound to the hospital bed at all times.
Afterwards, she was given 15 minutes to hold her infant daughter, named Jalyssa, before they were separated. They would not meet again until her release. Ms Zaragoza's aunt, who agreed to take care of Jalyssa, said the three-hour drive to the prison was too long and too expensive to bring the baby.
"It takes a toll on a mother," Ms Zaragoza said. "A mother loses her kids, she loses her hope."
As the United States' prison population has climbed, the number of incarcerated women has surged. In the last two decades the number of women in lock up has grown more than 700% – double the rate of men. The majority are mothers, many single mothers and the sole caregivers of young children. They include an estimated 58,000 pregnant women who enter jails and prisons each year.
But experts say pregnant prisoners and women who have recently given birth remain a blind spot in a prison system designed for men.
"With the exploding [prison] population, you had an unprecedented number of women also entering," said Jill Morrison, a law professor at Georgetown. "But the system was not ready to accommodate them. I don't think the system had any real interest in accommodating them."
In the US, incarcerated people have a constitutional right to healthcare. But there are no mandatory health guidelines, and no national standards for pregnant or postpartum prisoners.
"There's no standardisation and there is so much variability," said Dr Carolyn Sufrin, a gynaecologist and obstetrician, who leads the Pregnancy in Prison Statistics Project at Johns Hopkins University. "Every prison and jail kind of does its own thing."
In some places, conditions have improved since Ms Zaragoza gave birth to her daughter in 2003. Twenty-two states, including Texas, now prohibit the shackling of women during active labour and delivery in most circumstances. Federal prisons have a similar ban.
And a quarter of US states, including California, Illinois and New York, have state prisons with mother-baby units for women who give birth in prison – essentially nurseries where babies can stay with or near their mothers for as long as 18 months, a more common practice in countries like the UK and Canada.
But the vast majority of American prisoners do not have this option. The US remains one of four countries that routinely separates mothers from their newborns, a list that also includes the Bahamas, Liberia and Suriname.
"In most cases, women are separated soon after birth," said Dr Sufrin. Some women will be allowed to stay with their baby in hospital for up to three days after delivery. But many will be rushed back to jail "as soon as possible", she said.
And there is no prison nursery option at all for new mothers like Holmes, who give birth before their sentence begins.
Nearly nine out of 10 fathers in prison report that their child's mother is the primary caregiver. But for women behind bars, almost half of whom are single mothers, their child is more likely to be sent to live with a grandparent.
From there, visits are rare and dependent on both the institution's particular rules and the child's caregiver – how often they can make what is often a lengthy and expensive trip. Many mothers will not have any in-person visits with their children at all.
"It's not like these visits aren't happening because the parents don't want to see their children or their guardians don't want them connected," said Brittany Barnett, founder of the non-profit Girls Embracing Mothers (Gem), where Ms Zaragoza now works. "It's just the distance and the cost. People cannot afford to take off the whole day of work to make that trip."
Ms Barnett's own mother was incarcerated when she was 22 years old. Speaking to the BBC, she recalled the first visit to her mother in prison, separated from her by a thick wall of plexiglass. She leaned her forehead against the glass and saw an imprint of a tiny set of lips.
"It just told me some other younger child had tried to reach their own mother before me," Ms Barnett said. "Even as a young adult, my mother's incarceration was emotionally, physically, and materially devastating… So how could a child possibly bear this weight?"
The visits were a "survival line", Ms Barnett said, inspiring her to create Gem 10 years ago. The organisation now provides monthly four-hour visits for 25 girls and their mothers in Texas prisons.
Ms Zaragoza did not find the programme herself until her third and final jail term – two years, for failing to pay her probation fees. By then her daughter was 10, she said, old enough to understand and old enough to blame her mother for going away.
"The first couple of visits were hard. She wouldn't speak to me," Ms Zaragoza said. But a few months in, Jalyssa began to warm to her mother again.
"She opened the door a little bit and we grew from there," Ms Zaragoza said.
In the case of Elizabeth Holmes, who has not disclosed the age of her second child, experts said her fate will rest on the discretion of Judge Edward Davila.
The judge will soon decide whether Holmes can remain home with her children as she appeals her conviction or report to federal prison (the location is so far undisclosed) on 27 April. 
At a hearing on Friday, Judge Davila said that he will announce a decision on her jailing and how much money she must repay to her defrauded investors sometime in the first week of April.
"Defendants are sometimes granted a delay for reporting to prison to deal with medical issues, so it is possible that this request will be granted," said Barbara McQuade, a former US attorney, in an email to the BBC.
But many said that an exception or delay to her more than 11-year sentence would mark a significant break from the norm, one that may be linked to Holmes' relative celebrity and privilege.
Inmates in the US are disproportionately people of colour and poor. Holmes is white and wealthy (her husband, hotel heir William Evans, is reportedly worth $10m (£8.3m)).
A ruling in Holmes' favour would be "stunning", said Georgetown University's Professor Morrison. "And it certainly [would be] an indictment of the system, and how racialised our system is if she could extract that type of treatment because she is so high profile, when we know that is not the experience of hundreds of thousands of other women who are pregnant or parenting."
For her part, Ms Zaragoza said a ruling in Holmes' favour would "infuriate" her.
"We weren't given that opportunity. But then again, you've got to think about it like this: if they change it for her, maybe it could start a big old change."
Source: https://www.bbc.co.uk/news/world-us-canada-64970156?at_medium=RSS&at_campaign=KARANGA