NBA All-Star Game: Team Giannis beats Team LeBron as Jayson Tatum scores record 55 points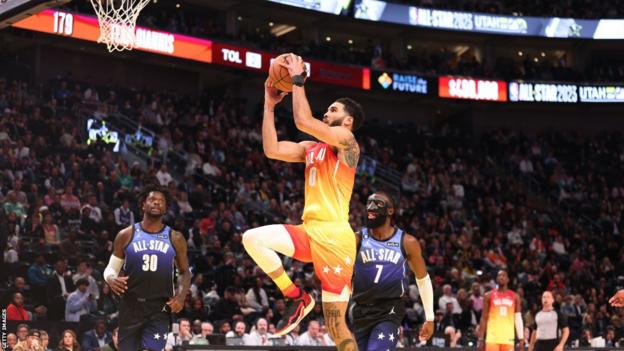 Jayson Tatum scored an All-Star Game record 55 points to lead Team Giannis to a 184-175 victory over Team LeBron in the NBA's annual showcase.
Boston Celtics forward Tatum was named most valuable player (MVP) as he broke the previous record of 52 points, set by Anthony Davis in 2017.
Opposition captain LeBron James missed the second half after injuring the little finger of his right hand.
"It means the world," Tatum, now a four-time All-Star, said of his record.
"You think of all the legends and great players that have played this game.
"In all honesty, records are made to be broken. I'll hold it as long as I can but I'm certain somebody will come along in a couple years and try to break it."
Tatum's Celtics team-mate Jaylen Brown led Team LeBron with 35 points and a game-high 14 rebounds, while James exited on 13 points after hitting his finger against the rim while trying to block a shot.
Los Angeles Lakers star James now shares the All-Star selections record of 19 with Kareem Abdul-Jabbar, but defeat in Salt Lake City on Sunday was his first of six All-Star games as captain.
Winning captain Giannis Antetokounmpo scored the first points of the night with a dunk after 15 seconds, before sitting out the rest of the game having sprained his right wrist in the Milwaukee Bucks' final regular-season game.
With Team Giannis leading 158-141 at the end of the third quarter, a target score for victory of 182 was set – this 24 points higher than the winning side's score at that stage, an addition representing Kobe Bryant's shirt number during much of his career with the Los Angeles Lakers.
And it was Damian Lillard of the Portland Trail Blazers drained the decisive three-pointer to secure the victory.
Source: https://www.bbc.co.uk/sport/basketball/64701884?at_medium=RSS&at_campaign=KARANGA