Hakeem Jeffries: What to expect from the man who'll replace Nancy Pelosi as House Speaker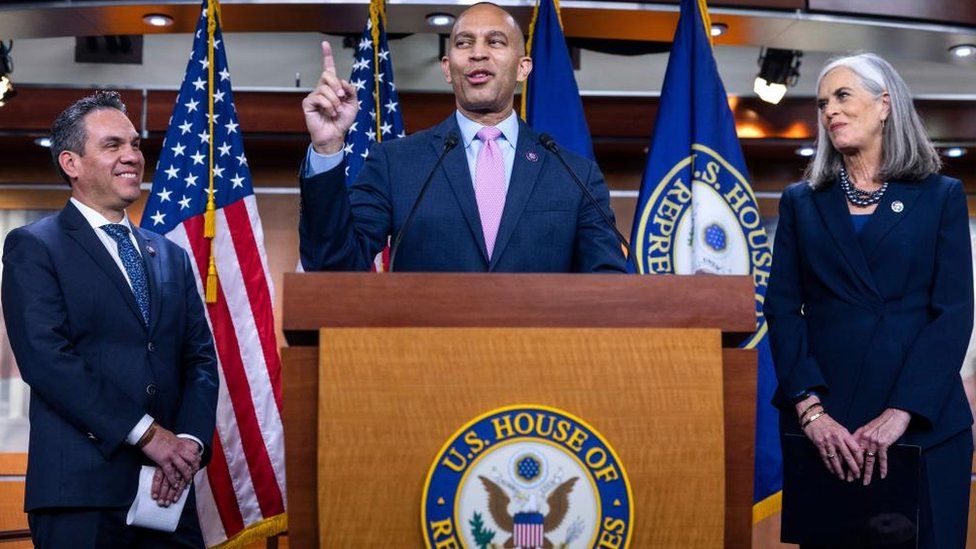 By Gary O'Donoghue
Washington correspondent, BBC News
There is, unquestionably, a generational shift taking place in the top echelons of the Democratic Party.
Out go House of Representatives Speaker Nancy Pelosi, 82, and her second in command, Steny Hoyer, 83 – who were more or less in charge of the caucus for almost 20 years.
Thirty years their junior, New York Congressman Hakeem Jeffries has been not so much elected as effortlessly anointed successor to Ms Pelosi, facing no competition whatsoever and receiving the unanimous support and effusive blessing of the outgoing leadership.
Mr Jeffries is the first black American to hold such a high-ranking position in Congress. And with the appointments of Representatives Katherine Clark of Massachusetts and Pete Aguilar of California in the next two leadership roles, the Democratic top table will be devoid of white men for the first time in any party's history in Congress.
That is a milestone. But before everyone gets too carried away with predictions of change, it's worth stopping and asking whether the party's approach will be any different as it faces at least two years in the minority.
A swift look at Mr Jeffries' resume shows his is a thoroughly traditional political journey: first a lawyer, then a stint in New York's state house and onward to Congress.
Despite him being a member of the Congressional Progressive Caucus (CPC), some on the left have already dubbed him just another "corporate Democrat". And despite his insistence that he's a "black progressive Democrat", he also told one interviewer: "There will never be a moment where I bend the knee to hard-left democratic socialism."
That will put Mr Jeffries at odds, rhetorically at least, with the Bernie Sanders wing of the party which has grown ever more influential over the past six years, particularly among young voters.
It will also not have gone unnoticed on the left that he and two allies set up the Team Blue political action committee, designed to protect incumbent Democrats facing primary challenges from the left.
Having said that, it is curious that the CPC was not able to run a credible candidate of its own for the top job – an indication perhaps that the moderates are currently in the ascendancy, with a number of Biden legislative successes under their belts from these past two years: The American Rescue plan, infrastructure measures and even a modest gun control law. They can also claim some credit off the back of that for having seen off a widely predicted red wave in the midterm elections, with Republicans significantly underperforming the norms for opposition parties facing an incumbent president whose popularity ratings have been stuck in the very low 40s.
As for Mr Jeffries' number two, Katherine Clark, 59, she has also trod a fairly traditional path. She too is a member of the Congressional Progressive Caucus, but not one of its stalwarts.
Mr Jeffries can point to some issues where he is sympathetic to some aims dear to the left of the party. He's not directly opposed to Medicare for all and has backed the idea of a $15 per hour federal minimum wage.
But with Democrats now in the minority in the House, there will be little chance for them to steer any of their legislative priorities onto the statute book in any case.
In his acceptance speech, Mr Jeffries promised to reach across the aisle whenever possible and to resist extremism when necessary. But the success or otherwise of the new team, which takes over on 3 January, will lie in its ability to exploit the wafer-thin majority the Republicans will have, and to ensure the promised investigations by Republicans into Joe Biden's record and into his family are robustly fought across the influential House committees.
Above all, the single digit majority Republicans will be holding in the 118th congress is a huge and unexpected opportunity for Mr Jeffries and his team come 2024.
Presidential contests of course play their part in who gets the upper hand in Congress, but with the speakership so clearly within reach in two years' time, the key pressure is undoubtedly on Mr Jeffries to get his party into a position where it can take back the House at the next time of asking.
Source: https://www.bbc.co.uk/news/world-us-canada-63815549?at_medium=RSS&at_campaign=KARANGA