How Truss destroyed her own premiership within weeks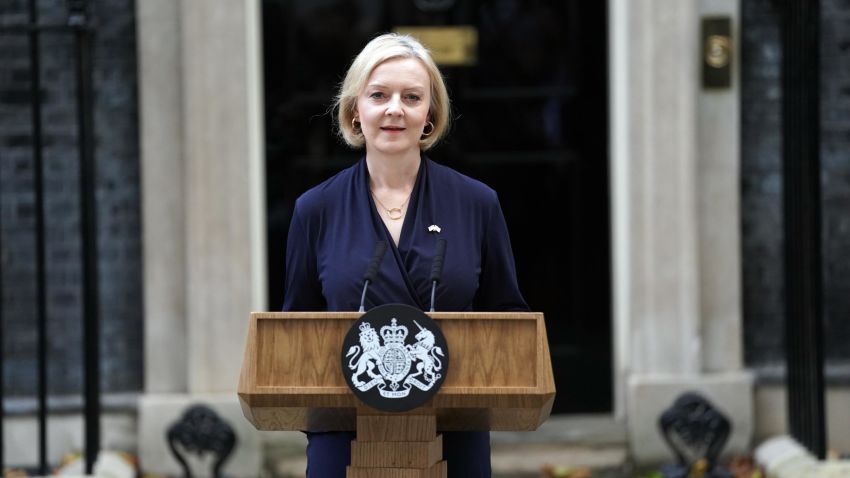 Watch UK PM Liz Truss' resignation speech
01:30 – Source: CNN
Liz Truss has resigned as Britain's prime minister after a disastrous six-week tenure.
Truss will be the UK's shortest-serving leader ever, with another Conservative leadership election due to take place within a week.
Her announcement in Downing Street came hours after Suella Braverman, Truss' home secretary, dramatically resigned with a blistering attack on the PM's leadership.
Truss fired her finance minister just last week after a disastrous and since-ditched financial plan caused turmoil on the markets.
British Prime Minister Liz Truss meets with U.S. President Joe Biden during a bilateral meeting at the United Nations General Assembly Hall on September 21, in New York City.
Toby Melville/Getty Images
US President Joe Biden thanked British Prime Minister Liz Truss "for her partnership on a range of issues" in a statement Thursday following her resignation, and he pledged that the close relationship between the US and UK "will never change." 
"The United States and the United Kingdom are strong Allies and enduring friends — and that fact will never change," Biden said in a statement Thursday. "I thank Prime Minister Liz Truss for her partnership on a range of issues including holding Russia accountable for its war against Ukraine." 
Biden said the US would continue its "close cooperation with the U.K. government as we work together to meet the global challenges our nations face."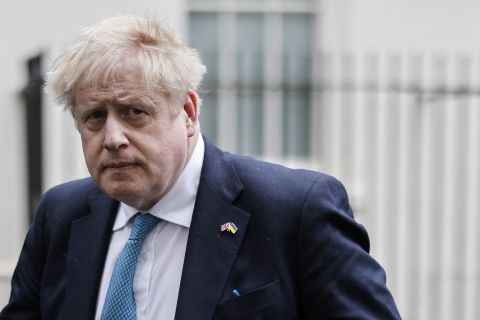 Boris Johnson leaves 10 Downing Street, in London, on March 2.
Tolga Akmen/AFP/Getty Images
Members of Parliament who supported and in some cases worked on Boris Johnson's first candidacy in 2019 think that the former prime minister will stand in the leadership contest that will follow Liz Truss' resignation, according to two sources who worked on the 2019 campaign.
Multiple allies have made the case that Johnson could be unity candidate who could bring stability to the country, despite the fact he resigned in disgrace only a few months ago after a series of scandals came together, making his position untenable.
One MP who campaigned for Johnson in the 2019 leadership campaign, when asked how they could justify Johnson standing to be PM again, told CNN: "Socialists will destroy our economy and if you don't understand that then I genuinely fear for our future."
Another MP who supported Johnson in 2019 said he was the only candidate who could comfortably win over both Conservative MPs and members of the Conservative party.
Johnson's closest allies said they were aware he was being actively lobbied in the hours after Truss' resignation speech, making the case to him that he represented the party's best shot at stability in the medium term.
A morning commuter passes the Bank of England in the City of London, UK, on October 17.
Jason Alden/Bloomberg/Getty Images
A revolt among members of Liz Truss' Conservative Party sealed her fate as the shortest-serving prime minister in Britain's history.
But the failure of her fleeting leadership was really written by financial markets. Investors immediately protested her disastrous "growth plan" when it was revealed in September.
UK government bond yields rose at their fastest rate on record, sending borrowing costs surging, upending the country's mortgage market and forcing the Bank of England to make three successive interventions to rescue overstretched pension funds.
The pound at one point hit an all-time low against the US dollar, falling to almost $1.03. At a time when traders were already feeling anxious about the potential for a global recession, plans to dramatically slash taxes while ramping up borrowing fed concerns about the sustainability of the United Kingdom's finances.
At one point, UK medium-term borrowing costs leaped above those of Greece and Italy, two countries that are notoriously seen as riskier bets for investors because of their high levels of debt.
Jeremy Hunt, who replaced Kwasi Kwarteng as the country's finance minister last Friday, soothed markets when he announced Monday that he would reverse almost all the tax cuts from the so-called "mini-budget."
But the dismantling of Truss' flagship economic package to placate investors spelled the end of her premiership.
Markets usually hate uncertainty. But on Thursday, they shrugged. UK bonds held their ground. The pound ticked up 0.4% to $1.125.
"Although the resignation of Liz Truss as Prime Minister leaves the UK without a leader when it faces huge economic, fiscal and financial market challenges, the markets appear to be relieved," said Paul Dales, chief UK economist at Capital Economics.
Labour leader Sir Keir Starmer delivers a key note speech to delegates at the Trades Union Congress at Brighton Centre on October 20, in Brighton, England.
Chris J Ratcliffe/Getty Images
The British people deserve "so much better" than this "revolving door of chaos," UK Labour leader Keir Starmer said on Thursday, calling for a general election after UK Prime Minister Liz Truss resigned.
"Each one of these crises was made in Downing Street but paid for by the British public. Each one has left our country weaker and worse off," the opposition leader said in a statement posted on Twitter. 
"The Tories cannot respond to their latest shambles by yet again simply clicking their fingers and shuffling the people at the top without the consent of the British people," he added. "They do not have a mandate to put the country through yet another experiment; Britain is not their personal fiefdom to run how they wish."
Starmer said the British public deserves a proper say in the country's future, adding that Labour plans to "sort out their [Conservative party's] mess."
"We must have a chance at a fresh start. We need a general election – now," he concluded in the statement. 
Prime Minister Liz Truss delivering her keynote speech at the Conservative Party annual conference at the International Convention Centre in Birmingham, England, on October 5.
Aaron Chown/PA Images/Getty Images
The governing Conservative party will hope that Liz Truss' resignation draws a line under the chaos of her short premiership and brings the UK some economic stability.
Her short time in office was defined by market meltdowns and constant speculation about her long-term future after mini-budget full of unfunded tax cuts caused turmoil in the British economy.
But even when she leaves office, a week from now, her successor will inherit a mess that is unlikely to improve.
The truth is, the Conservative party has been divided for years. It started with Brexit, splitting the party in two, and has got worse ever since.
The factionalism breaks on more lines than can be counted on one hand: From Boris Johnson loyalists to libertarians to anti-immigration Conservatives.
It is hard to see how any single candidate could be accepted by all tribes of the party. It's even harder to see how they could appoint a Cabinet that wouldn't split on multiple issues. And it's almost impossible to imagine how party discipline could be imposed on members of parliament who want so many different things.
The answer to this would traditionally be a to call a general election, and let the voters sort it out. But Conservative MPs don't want that – they are so far behind in the opinion polls that most accept they would lose.
Under these circumstances, given that calling an election is in the government's gift, it seems unlikely it will do so.
That means Truss' successor will have a serious credibility problem. They will be the second PM imposed on the UK by the Conservative party without any say by voters, and arguably lacking much of a mandate.
Things could get worse very fast for the new leader if these issues are not addressed. So, given the next election might be as late as January 2025, it's entirely possible that this chaotic mess drags on for a couple more years, simply to spare the political blushes of Conservatives.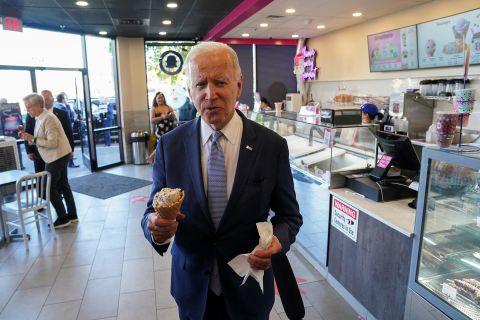 U.S. President Joe Biden speaks to reporters during a visit to an ice cream shop in Portland, Oregon, on October 15.
Kevin Lamarque/Reuters
The ongoing political crisis in the UK has generated concerns inside the White House at the potential global economic fallout, people familiar with the situation say.
This concern emerged in US President Joe Biden's highly unusual criticism of former Prime Minister Liz Truss's economic plans last weekend,
The statement, made in an Oregon ice cream shop, broke the standard of avoiding discussing other countries' politics — particularly those of the United States' top ally. It reflected a deeply skeptical view of Truss' policies that had been simmering inside the White House since she took office six weeks ago. 
White House officials mostly declined to expand on Biden's comments. But privately many officials have voiced concerns at the chaos within Britain's ruling party and the effect that could have on global issues. 
The Biden White House shed few tears for Boris Johnson when he resigned and there was a perception that Truss would follow in his policy mold, even as she lacks the personal drama — or charisma — of Boris.
The chaos and economic turmoil that ensued once she took office was eye-opening for many US officials, who viewed the situation cautiously. 
Truss's hardline approach to Brexit also set off relations with Biden on a sour note. The President has taken a personal interest in the particular issue of the Northern Ireland Protocol, a post-Brexit arrangement that requires extra checks on goods moving between Northern Ireland and the rest of the UK.
The rules were designed to keep the border between Northern Ireland and the Republic of Ireland open and avoid a return to sectarian violence. But Truss has moved to rewrite those rules, causing deep anxiety in both Brussels and Washington.
Biden, who makes frequent references to his Irish ancestry, has made his views clear on the issue, even though it does not directly involve the United States. Congressional Democrats have similarly voiced concern at any steps that could reignite the Northern Ireland conflict. 
In their first phone call as counterparts earlier this month, Biden raised the matter with Truss, according to the White House. A US readout of their conversation said they discussed a "shared commitment to protecting the gains of the Belfast/Good Friday Agreement and the importance of reaching a negotiated agreement with the European Union on the Northern Ireland Protocol."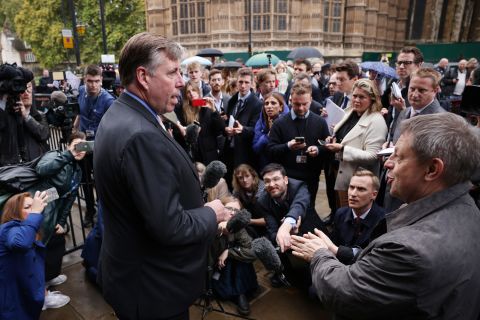 Chairman of the 1922 Committee, Sir Graham Brady, speaks to the press following the resignation of Liz Truss as Prime Minister on October 20.
Dan Kitwood/Getty Images
A new British prime minister should be in place by Friday October 28, according to the Conservative party official responsible for the process.
Graham Brady, leader of the so-called 1922 Committee, which represents rank-and-file Conservative Members of Parliament, said. Speaking outside the House of Commons, Brady said further details of the process would be announced later today. Grassroots Conservative party members will get a say in some form, he added.
"It will be possible to conduct a ballot and conclude a leadership election by Friday 28 October," Brady told reporters.
That would put a new prime minister in Downing Street ahead of a crucial economic statement by Britain's finance minister, set for October 31.
Liz Truss's resignation has already re-ignited calls for an early general election in Britain.
The opposition Labour Party, which opinion polls put on course for a landslide victory, is leading that charge.
"After 12 years of Tory failure, the British people deserve so much better than this revolving door of chaos," its leader Keir Starmer said after Truss resigned. "We need a general election, now."
But a fresh election is no certainty, even as Britain prepares for its fifth leader in just over six years – and its third since the last ballot.
As long as the government can command the confidence of the House of Commons, it can decide when to call an election. For all their turmoil, the Conservatives have a healthy working majority of 71 in Parliament and it's unlikely their MPs would voluntarily opt for an election that could see them lose their jobs.
Currently, the Conservatives are trailing Labour in opinion polls by virtually historic levels, indicating a near wipe-out for the group.
The next nationwide poll does not need to take place until January 2025 at the latest, and has been generally expected to occur in mid-2024, which is the time of the year that general elections usually take place in Britain.
A government needs Parliament to green-light plans for a new vote, and as soon as that happens, a six-week election campaign period begins.
But the issue of a general election is certain to dominate British politics and dog the new prime minister, given the whirlwind of changes at the heart of government since the last vote.
A new leadership contest will take place within a week, Liz Truss said in her resignation speech.
This will be the fifth Conservative prime minister in just over six years – and the third within this parliamentary term.
But who might the next leader be? Here are the main runners and riders.
Rishi Sunak
Sunak has proved to be something of a prophet of the government's demise, as many of the predictions he made during this summer's leadership about Truss's economic plan came to pass.
The former Chancellor of the Exchequer (finance minister) warned that Truss's unfunded tax cuts would lead to a run on sterling, a panic in the bond market and concern from the International Monetary Fund. Perhaps even he would have been surprised by the pace with which he was proved right.
Sunak has experience of economic crisis-fighting, having guided the UK through the Covid-19 pandemic. He is also popular among MPs, having secured more votes within Parliament than Truss before the choice between the final candidates was put to the members, and only losing narrowly in the final vote.
The trust he has among MPs – and the vindication his predictions have gained – may make him the most likely next set of hands to steer the ship.
Penny Mordaunt
The Leader of the House of Commons may have had a dress rehearsal for being prime minister this week, after stepping in for an absent Liz Truss at a debate.
"The prime minister is not under a desk," Mordaunt confirmed Tuesday – in a performance that seemed as much about pitching herself as it did about helping the PM.
Mordaunt came third in the last leadership election, narrowly missing out on being put before the members – among whom she was expected to do well, in part due to her military credentials. Mordaunt is a reservist of the Royal Navy.
Like Sunak, she is from the more moderate wing of the party. There was even talk among MPs of the two forming a "dream team" ticket, although this is yet to materialize – and it is unclear if Sunak would settle for being chancellor again.
Grant Shapps
It is a sign of the disorder of the last days of Truss's government that she elevated Grant Shapps to home secretary – despite not offering him a ministerial role of any sort when she first took office.
Shapps served as transport secretary under Boris Johnson. He put himself forward to succeed him in the previous leadership election – only to withdraw from the race three days later, after failing to secure the requisite 20 MPs votes to proceed to the next round.
Kemi Badenoch
Badenoch came fourth in this summer's leadership election – but was consistently rated by pollsters as a favorite among Conservative grassroots.
One of the younger MPs in the running, Badenoch quickly won the endorsement of long-serving Tory grandee Michael Gove, who praised her as the "outstanding talent" in the party.
Badenoch is from the right of the Tory party – and in her previous leadership bid suggested that the government's climate targets might prove too costly.
Boris Johnson
Only a few months ago, Johnson commanded a comfortable majority in Parliament and even claimed he was even considering his third term – to widespread derision. Despite being beset by a seemingly endless string of scandals, Labour still lagged behind in the polls – and Johnson did not have an obvious competitor in the party.
In his final speech as Prime Minister outside 10 Downing Street, Johnson made one of his characteristic allusions to ancient history. He said he would "return to his plough" like the Roman statesman Cincinnatus – suggesting a quieter life on the backbenches.
But that's not how Cincinnatus saw out his days. He was called back from his plough to return to Rome for a second term – this time as a dictator.
The memories of "Partygate," the prolonged scandal that eventually resulted in his downfall, may prove too fresh for MPs to call Johnson back yet.
But, as the Tory party faces electoral oblivion, the man who delivered an 80-seat majority in 2019 may prove a tempting option for many MPs.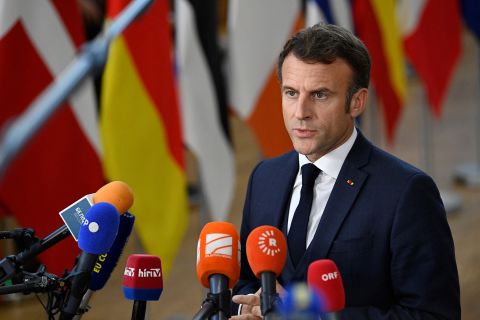 French President Emmanuel Macron arrives for the first day of a EU leaders Summit at The European Council Building in Brussels, Belgium, on October 20.
John Thys/AFP/Getty Images
French President Emmanuel Macron called for political stability in Britain after UK Prime Minister Liz Truss announced her resignation Thursday. 
"I want to say that France, as a nation and as a people who are friends of the British people, wishes above all for stability in the context that we know, which is a context of war," Macron told the media while attending an EU summit in Brussels.
"Personally, I am always sad to see a colleague leave, but what I want is to see this stability return as soon as possible," he added.
Remember: Truss created controversy during the Conservative leadership contest when she said "the jury is still out" when asked whether Macron is a "friend or a foe" of the UK.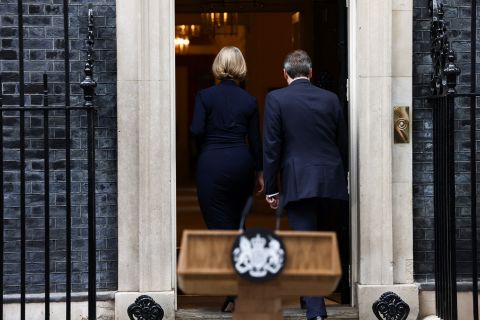 British Prime Minister Liz Truss walks with her husband Hugh O'Leary, after announcing her resignation, outside Number 10 Downing Street, London, on October 20.
Henry Nicholls/Reuters
Liz Truss's tenure as prime minister has ended in record time, and an accelerated leadership contest has been announced to replace her.
In her resignation speech, Truss said a contest would take place within a week. While the exact process for the contest has yet to be revealed, it seems unlikely that there will be a repeat of the two-month marathon contest that followed the toppling of Boris Johnson.
Under current Conservative Party rules, those wishing to stand for leader must put themselves forward to a vote by the 357 members of the parliamentary party. The top two candidates from that process go forward to a second round of grassroots party members.
It's possible that won't happen this time. Instead, there is speculation that a new leader will likely be chosen by Conservative MPs alone, without going to the membership.
A so-called unity candidate who can claim to mend the fissures in the party will likely look to garner enough support among MPs to win the race quickly.
Details of how exactly the contest will occur will be announced soon.
But such a rushed process will only increase opposition calls for a general election; it is virtually unprecedented, in peacetime, for a third prime minister to take charge since the last general election.
Truss was chosen by a few thousand Conservative members – if her successor is chosen by just 357 Tory MPs, the Labour Party will undoubtedly demand the leader seek a fresh mandate at the ballot box.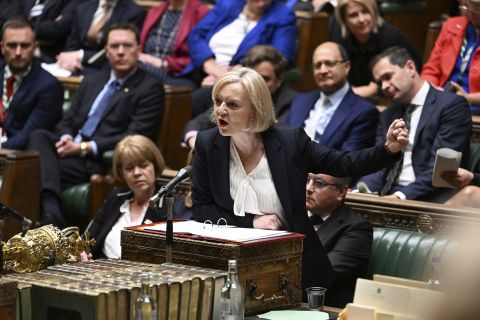 Britain's Prime Minister Liz Truss speaks during Prime Minister's Questions in the House of Commons in London, on October 19.
Jessica Taylor/UK Parliament/AP
Liz Truss's resignation brings to an ignominious end her catastrophic tenure in Downing Street, which appeared doomed ever since Truss's flagship economic agenda sent markets into panic and led to a fall in the value of the pound.
She won support from Conservatives members by promising low-tax, pro-growth policies – derided by her critics as a lurch towards trickle-down economics – but within weeks of coming to power she disavowed the plans in a humiliating pivot, firing her Chancellor Kwasi Kwarteng and ditching virtually all of the fiscal agenda in the wake of a market backlash.
It came after investors rejected an announcement by the Truss government in late September that it would slash taxes while ramping up borrowing in a bid to produce faster growth, citing concerns that the plan would push up inflation just as the Bank of England wants to bring it down. 
Fears also crept in about the sustainability of government debt at a time of rapidly rising interest rates. 
The pound crashed to a record low against the US dollar, while bond prices slumped, sending yields soaring. That pushed mortgage rates much higher, and brought some pensions funds to the brink of default. 
The Bank of England was forced to announce three separate interventions to avoid a full-scale meltdown in the UK government bond market.
Truss meanwhile failed to regain control of an increasingly mutinous Conservative Party, and her Home Secretary Suella Braverman launched a blistering attack on her leadership after leaving the role on Wednesday.
A final chaotic display saw Truss allies accused of manhandling lawmakers to force them to vote against a fracking ban on Wednesday evening.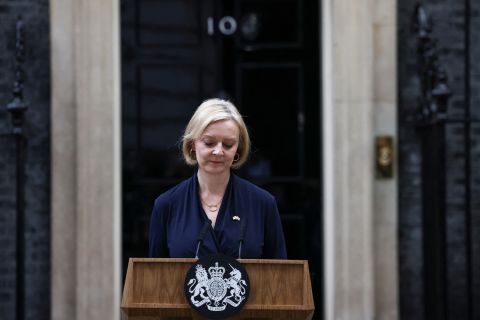 British Prime Minister Liz Truss announces her resignation, outside Number 10 Downing Street, London, on October 20.
Henry Nicholls/Reuters
Liz Truss's departure ensures a fresh power struggle within the ruling Conservative Party, which has hemorrhaged public support for the past year and has now overthrown Boris Johnson and Truss in the space of a few months. 
A trickle of Conservative MPs called on her to go and Truss ultimately bowed to the pressure on Thursday. 
Britain now faces the prospect of a third different leader entering office since its last general election, an unprecedented scenario in modern peacetime that will lead to serious questions about the mandate of the government and increase a growing clamor for a fresh vote. 
It is a spectacular fall from grace for a party that won a landslide victory under Johnson in a December 2019 election that was won on the then-leader's promise to deliver Brexit.
A new leadership contest will take place on an expedited timetable soon, with Truss saying a new leader will be chosen within a week. Figures who could be in the running include Rishi Sunak, the former chancellor who lost to Truss during the summer race; Penny Mordaunt, the leader of the Commons who was second in the leadership contest behind Sunak until Truss overtook them both in the final round of voting; and Jeremy Hunt, the current finance minister who Truss turned to after sacking Kwarteng on Friday. 
And a potential return to frontline politics for Boris Johnson has not been ruled out, with some of Johnson's allies in the Commons claiming in recent weeks that moving to remove him was a mistake.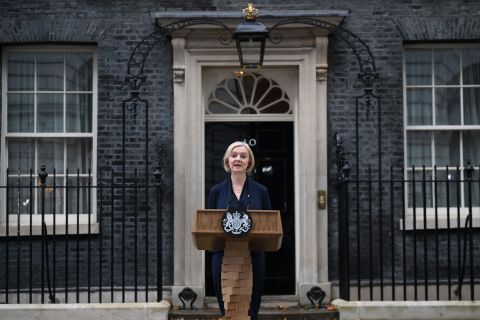 Britain's Prime Minister Liz Truss delivers a speech outside of 10 Downing Street in central London on October 20.
Daniel Leal/AFP/Getty Images
Liz Truss said outside Downing Street that she "set out a vision for a low-tax, high-growth economy that would take advantage of the freedoms of Brexit."
"I recognise though, given the situation, I cannot deliver the mandate on which I was elected by the Conservative party," she said.
Truss said she has tendered her resignation to the King, and a leadership election will take place within a week.
That timeline would make her, by some distance, Britain's shortest-serving prime minister ever.
WATCH LIZ TRUSS RESIGN: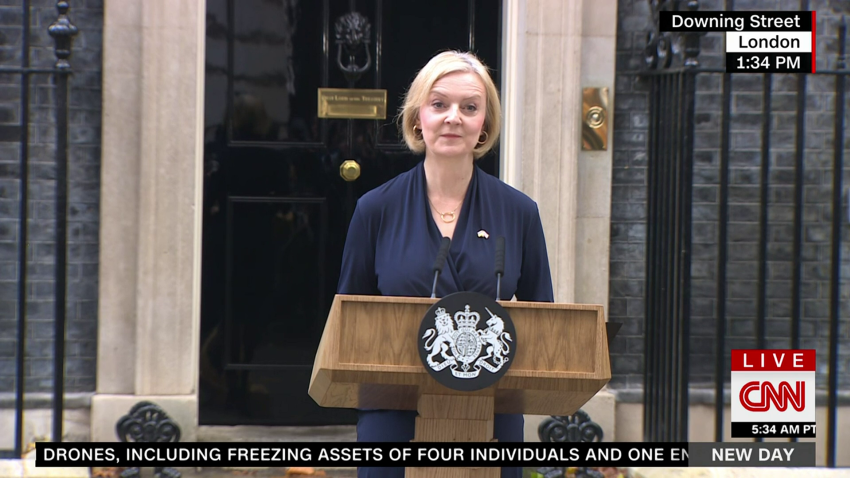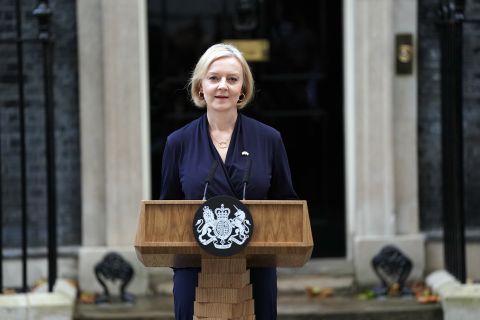 Prime Minister Liz Truss making a statement outside 10 Downing Street, London, where she announced her resignation as Prime Minister on October 20.
Kirsty O'Connor/PA Images/Getty Images
Liz Truss is set to become Britain's shortest-serving prime minister ever, after announcing her intention to resign just six weeks into a disastrous term.
Liz Truss is expected to give a statement in Downing Street amid calls for her to resign as Britain's prime minister after a disastrous six-week tenure.
Truss earlier met with the chair of the 1922 Committee of the backbench Conservatives, Graham Brady, Downing Street said on Thursday, according to PA Media. The group decides whether to call a vote of no confidence in the prime minister.
Truss's government was earlier told it had "12 hours" to "turn the ship around" by Conservative lawmaker Simon Hoare, after a vote on whether to ban controversial fracking for shale gas descended into chaos.
Lawmakers reported that aides for Truss manhandled MPs into the voting lobby to force them to vote against the ban. The government initially presented the vote as a confidence motion in Truss's government, but confusion remains about whether it was. A Downing Street spokesperson said on Thursday that Conservative lawmakers who didn't participate in Wednesday evening's vote will face disciplinary action, PA Media said.
Source: https://www.cnn.com/uk/live-news/liz-truss-prime-minister-intl-gbr#h_f4adb01680d03002865c15f90c1c8806