New report finds evidence that Russia used torture chambers and civilians as human shields in Ukraine
9 hr 32 min ago
New report finds evidence that Russia used torture chambers and civilians as human shields in Ukraine
From CNN's Jeremy Herb, Ellie Kaufman and Kylie Atwood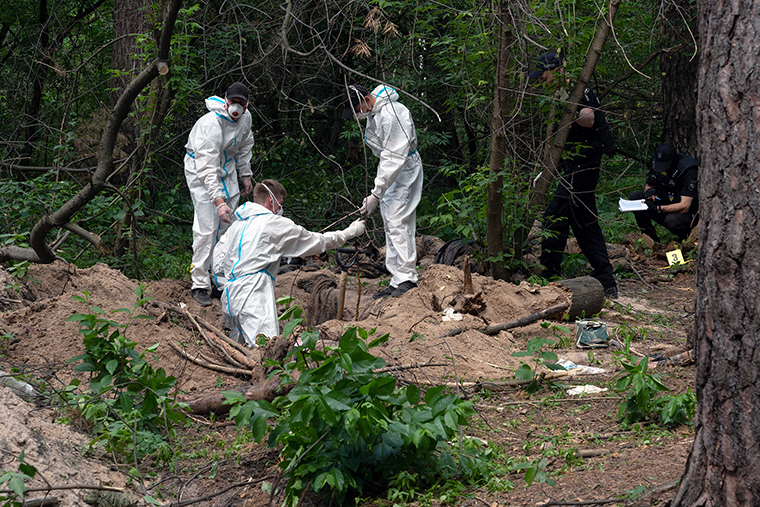 A new report from the Organization for Security and Cooperation in Europe documents the discovery of torture chambers at a summer camp in Bucha, Ukraine.
This report — OSCE's second one — covered the period between April 1 to June 25. The OSCE experts traveled to Ukraine to collect evidence, including visiting the towns of Bucha and Irpin, which the report said were "two emblematic examples of the breaches of International Humanitarian Law under the Geneva Conventions and their Additional Protocols, which constitute war crimes."
The experts noted that photographic and video evidence showed Russian forces carried out "targeted, organized killings of civilians in Bucha" who were found shot dead with their hands tied behind their backs.
The report documented a "series of torture chambers separated by concrete walls" discovered at a summer camp in Bucha, including a room that the report said appeared to be used for executions with bullet holes in the walls.
In another room where experts said there was evidence of torture and waterboarding, five dead men were found. "They were covered with burns, bruises, and lacerations," the report said.
In a village in the Bucha district, the bodies of 18 men, women and children were discovered in a basement.
The report said that "some had their ears cut off, while others had their teeth pulled out."
The OSCE mission wrote that reports of women and girls being raped and sexually abused by Russian forces "have become abundant," especially in territories newly occupied by Russian forces.
The report noted several particularly atrocious cases, including a report from the Ukrainian Commissioner for Human Rights Lyudmyla Denisova, who said that 25 girls aged 14 to 24 years old were kept in a basement in Bucha and gang-raped. Nine became pregnant, the report said.
The report also documented instances of Ukrainian civilians being used as "human shields," being forced to fight alongside Russians against their own country in the ongoing war and being displaced to Russia without their consent. 
The report noted: "Russian soldiers used over 300 Ukrainian civilians as human shields and held them captive for 25 days in March in the basement of Yahidne School, where a major Russian military camp was located."
9 hr 42 min ago
Experts document crimes against humanity committed by Russian forces in Ukraine
From CNN's Jeremy Herb, Ellie Kaufman and Kylie Atwood
A new report from the Organization for Security and Cooperation in Europe found that patterns of violent acts by Russian forces in Ukraine meet the qualification of crimes against humanity, detailing horrific actions by Russian forces.
The new report released Thursday is the latest documentation of potential war crimes committed by Russian forces. The OSCE experts who put together the report traveled to Kyiv and met with Ukrainian authorities there as well as Bucha and Irpin, where they found "grave breaches" of international humanitarian law and the Geneva Convention. 
The report "found credible evidence" that suggested "some patters of violent acts which had been repeatedly documented during the conflict," including "killing, rape abductions or massive deportations of civilians, qualified as a widespread or systematic attack against a civilian population." 
The OSCE mission that compiled the report wrote that 1.3 million Ukrainian citizens have been deported against their will to Russia and said there was evidence that tens of thousands of civilians had been detained at so-called "filtration centers" before being transported to Russian-controlled areas of eastern Ukraine.
"Approximately 2,000 children from various orphanages and children's institutions" have been "purportedly transferred to Russia, even though they have living relatives and were in the institutions only for medical care," the report stated.
US Ambassador to the OSCE Michael Carpenter said in a statement that the report "gives us an opportunity to pull back and document the unconscionable atrocity crimes, human rights violations, and abuses members of Russia's forces have committed."
This week's report is the second that OSCE has released documenting atrocities committed against the Ukrainian population. In April, the group released its first report with similar findings of "credible evidence" suggesting violations of "even the most fundamental human rights."
Together, both reports "comprise the most comprehensive accounting of evidence to date of Russia's human rights abuses, international humanitarian law violations," US State Department Spokesman Ned Price said in a statement after the second report's release Thursday. 
"The United States and our partners will seek to hold accountable those responsible for all human rights abuses and violations of international humanitarian law, including war crimes, they commit in Ukraine," Price added in the statement.
The report noted that it had identified "numerous violations" of international humanitarian law that constituted war crimes, "if the responsible individuals can be found."  
"These violations included mistreatment of prisoners of war, deliberate killing of civilians, deliberate attacks against civilians and against civilian objects, including schools, hospitals or cultural property, or the failure to respect the principles of distinction, proportionality, and precautions," the report said. 
Conscription, meaning forced military service, "was imposed on all local men between the age of 18 and 65 in areas under Russian control in the Donbas as well as of the oblasts of Kharkiv, Kherson, and Sumy," the report added. 
11 hr 31 min ago
Missile strike in Vinnytsia leaves a trail of destruction on scene
Images from the scene of the missile strike in Vinnytsia, central Ukraine, have been released by Ukrainian Emergency Services.
The strike killed at least 23 people, officials said. On the ground, images shows scorched cars as firefighters search through rubble of a damaged building.
View the images here: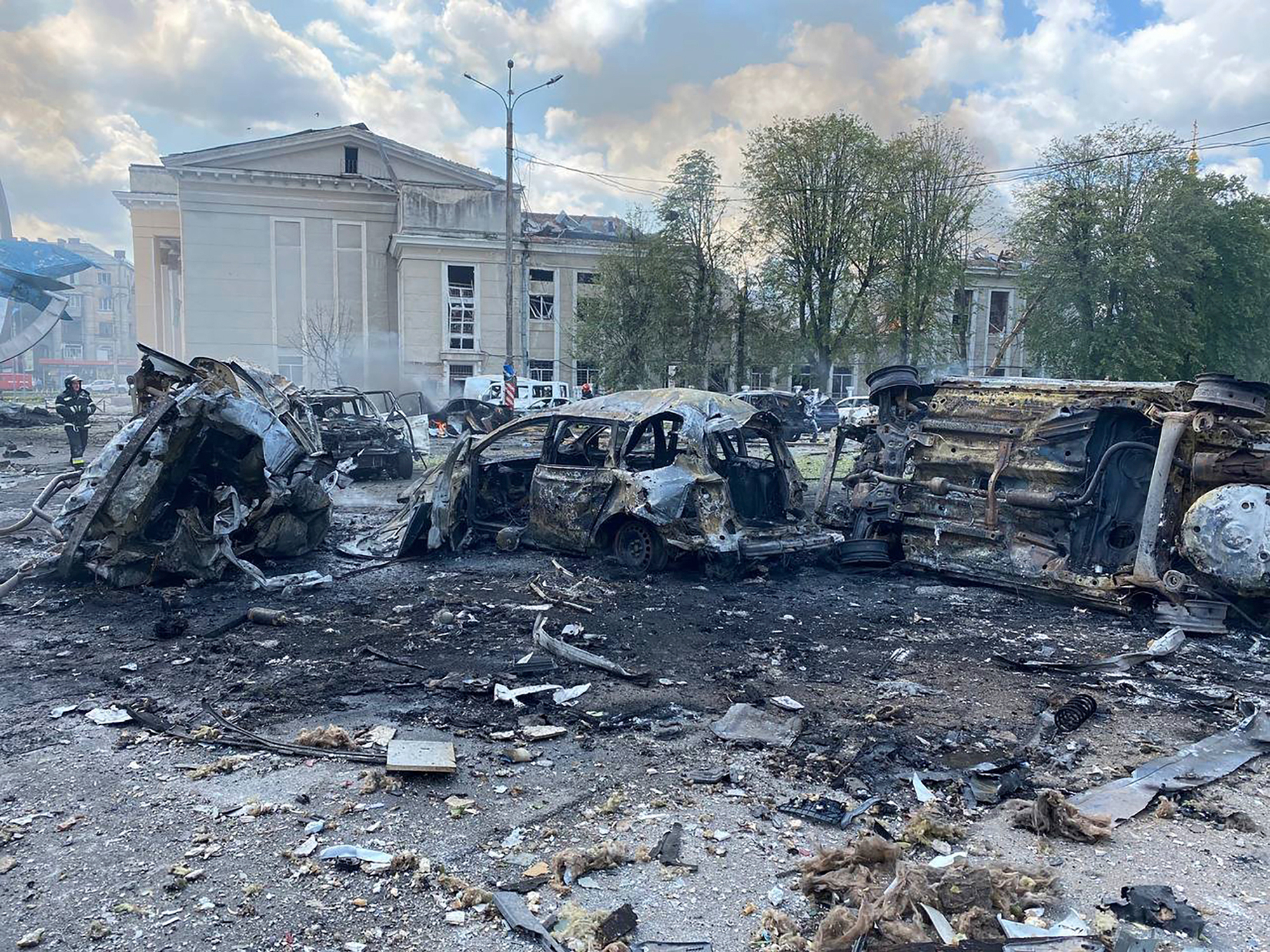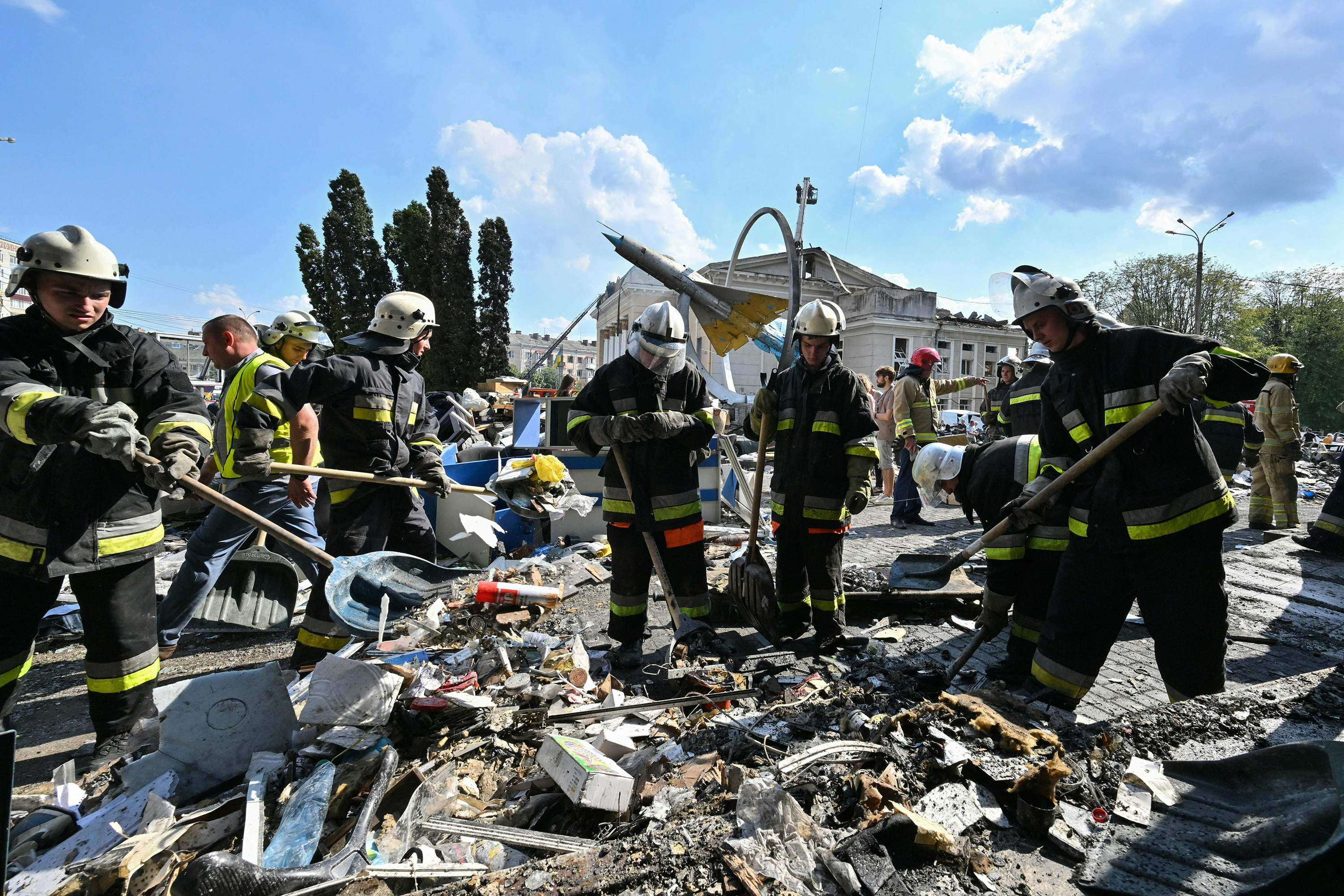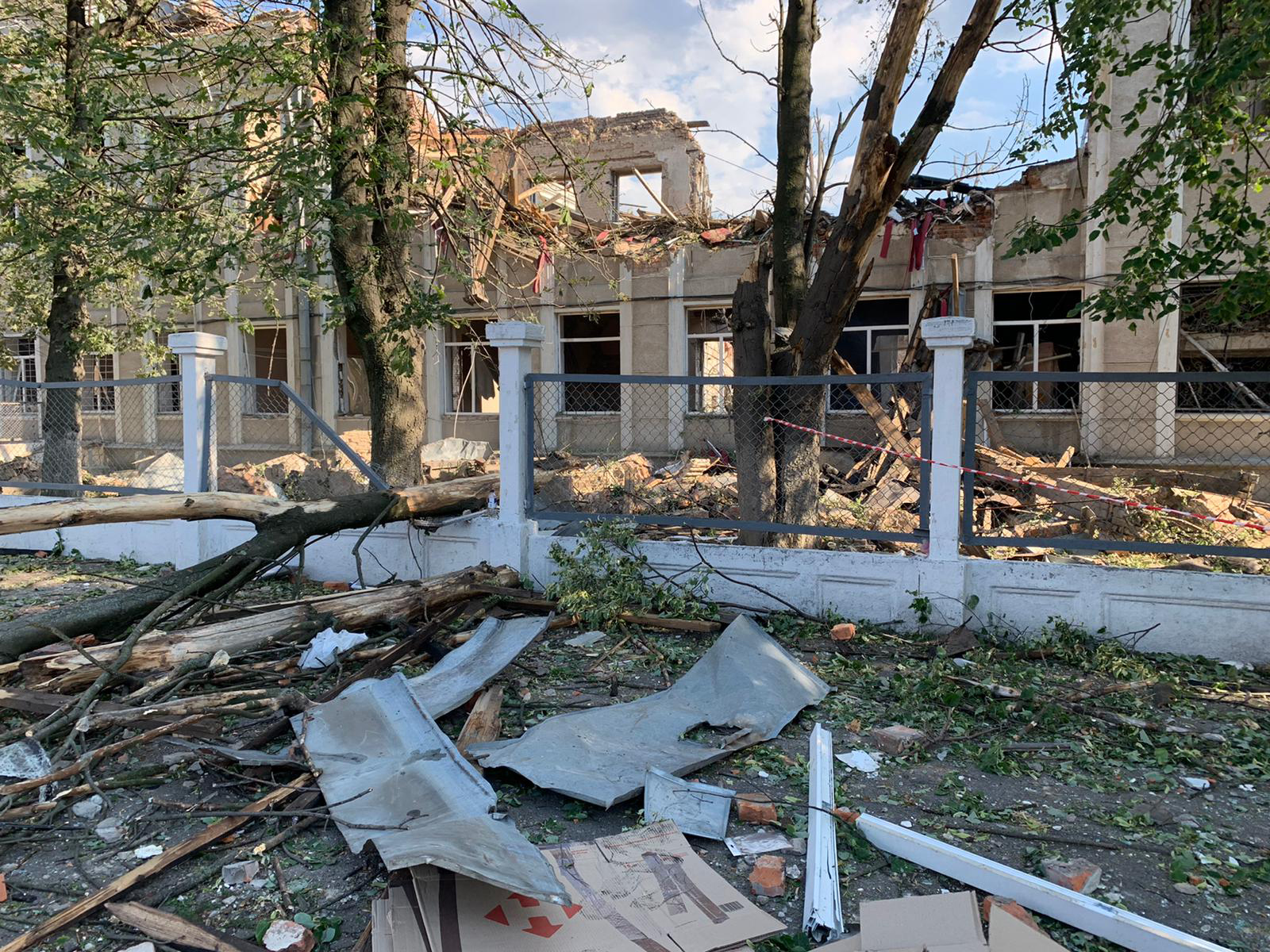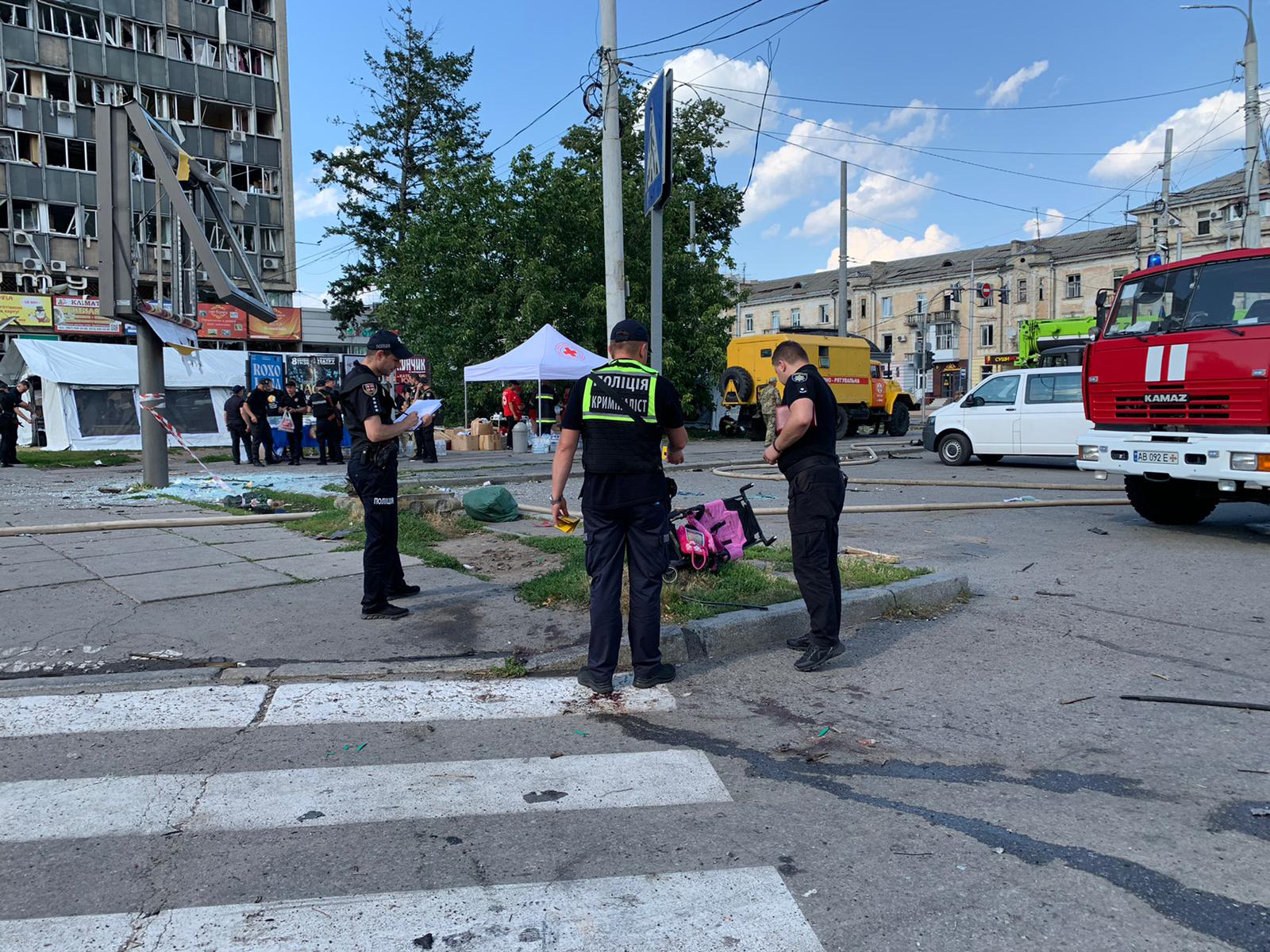 11 hr 30 min ago
Russian cruise missiles from Black Sea killed at least 23 people in attack on Vinnytsia, Ukraine says
From CNN's Sebastian Shukla, Julia Presniakova and Sharon Braithwaite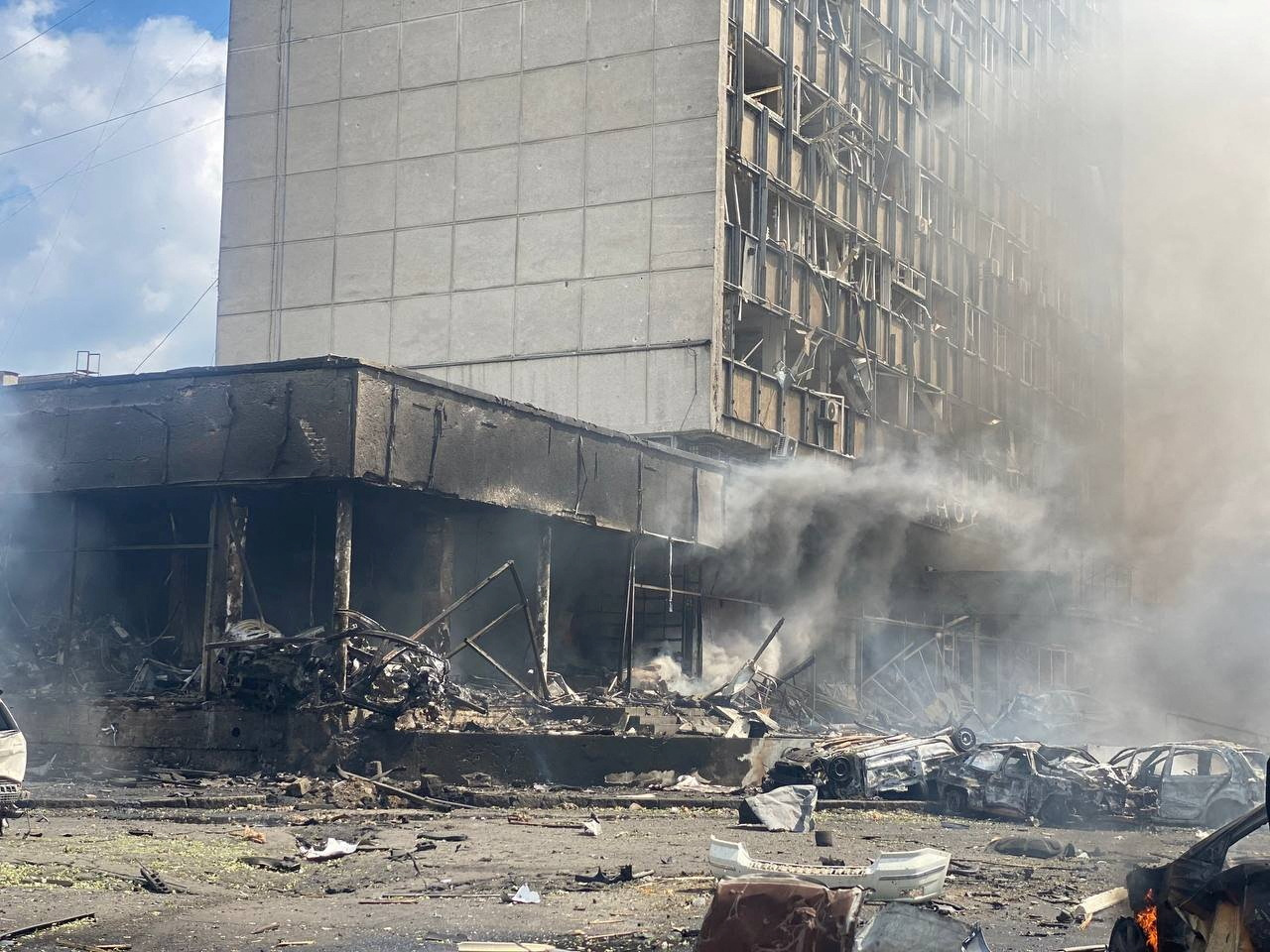 At least 23 people have died in an attack on the central Ukrainian town of Vinnystia, according to Chief of Ukraine's National Police Ihor Klymenko. 
The number of dead includes three children, and dozens of people are still unaccounted for, according to Ukraine's State Emergency Service (SES).
A further 64 people, including four children, have been hospitalized — 34 of whom are in a serious condition and five in critical condition, SES said, adding that the search continues for 42 people who are unaccounted for.
Klymenko said only six of the bodies had so far been identified, and DNA tests may be required to identify others.
More than 50 buildings and more than 40 cars were damaged by the strikes, Klymenko added.
The attack was carried out with Russian Kalibr cruise missiles that were launched from submarines stationed in the Black Sea, according to Kyrylo Tymoshenko, the deputy head of the Office of the President of Ukraine.
"The enemy continues to keep ready 32 cruise missiles of the 'Kalibr' type on three surface and two submarine ships, and two big landing ships are also present" in the Black Sea, the Operational Command South of the Ukrainian Armed Forces had said on Monday.
Dmytro Kuleba, Ukraine's foreign minister, described the missile attack as "terrorism."
"Already 20 civilians have been confirmed dead following a Russian missile strike on Vinnytsia. Three children, including a toddler, in the photo. This is terrorism," Kuleba tweeted.
"Deliberate murder of civilians to spread fear. Russia is a terrorist state and must be legally recognized as such," he added.
More reaction: The United Nations secretary-general said he is appalled by the missile attack in Vinnytsia.
"The Secretary-General condemns any attacks against civilians or civilian infrastructure and reiterates his call for accountability for such violations," a spokesperson for Secretary-General Antonio Guterres said.
In a joint statement, European Union foreign policy chief Josep Borrell and EU Commissioner for Crisis Management Janez Lenarčič condemned the strike.
"We have both witnessed the horrific destruction Russia brought on Ukraine and its people with our own eyes. The civilian population continues to pay a high toll in this war, due to Russia's fundamental disregard of international humanitarian law, facing death, violence, including sexual violence, forced deportations and destruction," they said.
There can be no impunity for these actions and all those responsible will be held accountable, they added.
See what the scene looks like on the ground:
13 hr 14 min ago
More than 40 settlements in Kherson region back in Ukrainian control, official says
From CNN's Tim Lister
Dmytro Butriy, the acting head of the Kherson region military administration, said that 44 settlements in the largely occupied area have been liberated.
Butriy gave no timescale. A Ukrainian offensive in Kherson began in May and has since recovered a number of villages, but no towns of any size.
Butriy said at a news briefing that the settlements were still suffering as they were under constant Russian bombardment.
"We urge people to evacuate to protect themselves and their families. Russian occupiers are not human," he said.
Butriy alleged that the Russians had shot civilian cars in convoys as they tried to leave the region. CNN has previously reported on the shelling of convoys of civilian vehicles as they have tried to leave Russian-occupied areas.
Butriy also claimed that "there were times when civilians were discovered dead with traces of torture."
Deputy Prime Minister Iryna Vereshchuk said that "people can leave the occupied territories of Kherson region through the occupied Crimea or through [the] Vasylivka [checkpoint] towards Zaporizhzhia. It is necessary to leave, despite the fact that it is difficult. It is much more dangerous to stay in the occupied territory than to dare to go through all the checkpoints and leave."
Other Ukrainian officials have said it's increasingly difficult for people to leave through the Russian checkpoint at Vasylivka, with people spending several days waiting to get through. 
14 hr 22 min ago
Russia turning to Iran for drones because "sanctions are biting," US official says
From CNN's Mostafa Salem in Abu Dhabi  
Russia looking to Iran to supply drones "speaks volumes" about the isolation of both nations from the international community and Russian President Vladimir Putin's "problems in terms of replenishing his own defense needs," National Security Council coordinator for strategic communications John Kirby told CNN's Becky Anderson on Thursday. 
"Russia turning to Iran for the help speaks volumes about the degree to which both nations, for their actions into different areas of the world, have been increasingly isolated by the international community," Kirby said.
Newly declassified US intelligence indicates that Iran is expected to supply Russia with "hundreds" of drones — including weapons-capable drones — for use in the war in Ukraine, with Iran preparing to begin training Russian forces on how to operate them as early as late July, according to White House officials.
"We know the sanctions are biting; we know the export controls are biting. We know his ability to replenish munitions and now UAVs are limited because of the pressure that the rest of the world is putting on Mr. Putin," Kirby added.
"Clearly, they have the domestic production capability. I don't know the parameters of the deal that Mr. Putin struck; I can't speak with specificity about how well Iran will be able to step up to this requirement," Kirby said.
Kirby said that Biden's "preferred option" with Iran still remains diplomatic, but the US "will not take any option off the table."
11 hr 30 min ago
Ukraine's foreign minister calls for creation of a special tribunal to investigate Russia's "crime of aggression"
From CNN's Radina Gigova and Anastasia Graham-Yooll in London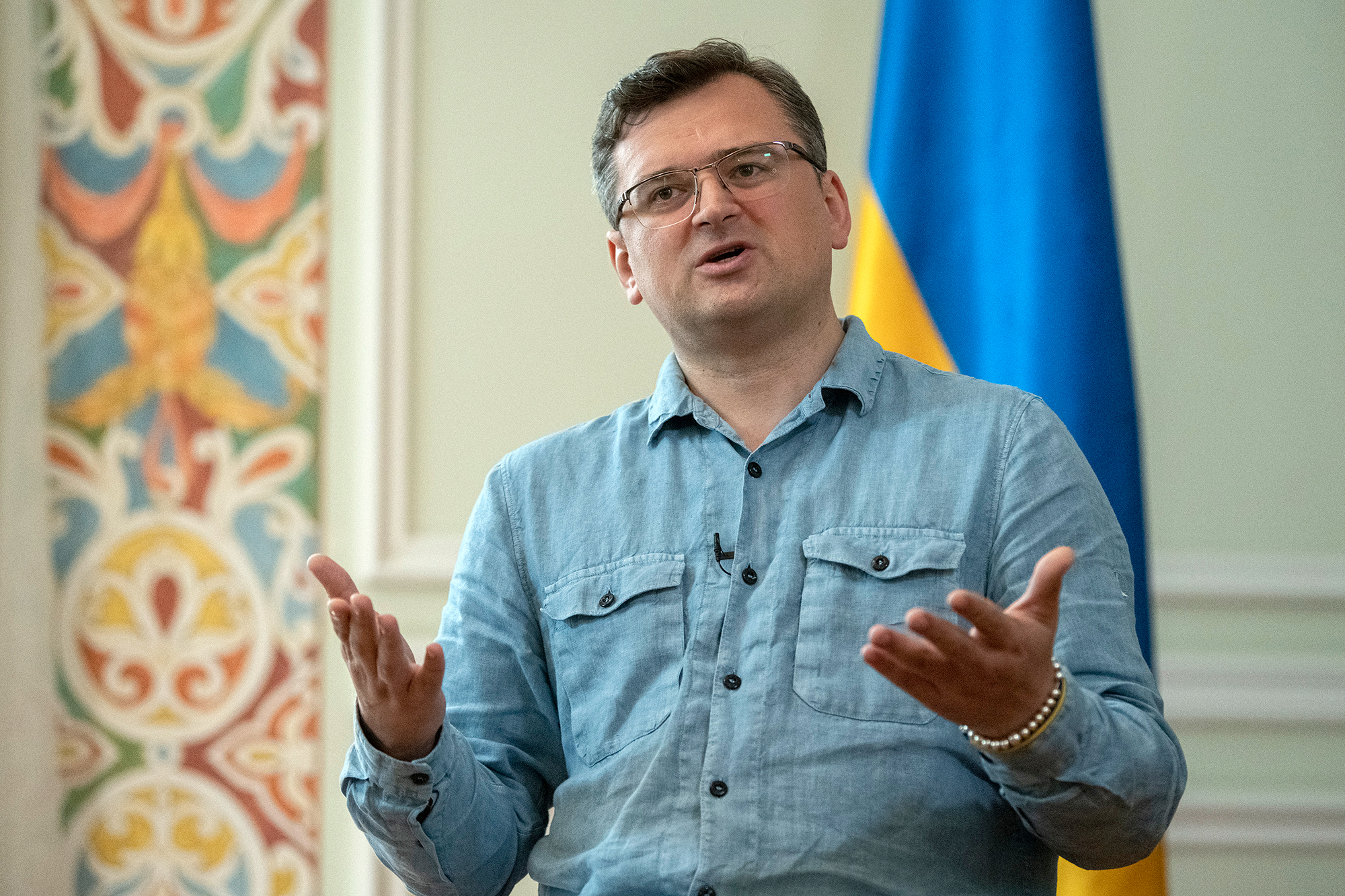 Ukrainian Foreign Minister Dmytro Kuleba called on Thursday for the creation of a special tribunal "on the crime of aggression against Ukraine" that will bring to account Russia's "top military and political leadership."
"Together with other countries, organizations and institutions, we shall use all available tools to get justice for the thousands of innocent victims of this crime, and we shall not rest until the guilty are brought to justice," Kuleba said in his address to an international conference in The Hague on crimes committed in Ukraine.
While the international criminal justice system is sufficiently equipped to investigate war crimes, crimes against humanity and the crime of genocide, the available institutions face legal difficulties investigating the crime of aggression against Ukraine, he said, adding that "it is necessary to create a Special Tribunal capable of holding the Russian leadership accountable for this kind of crime."
"In the absence of appropriate tools to allow justice to be done, we shall return to the beginnings of international criminal justice in order to create these," Kuleba said. 
Kuleba said the initiative to create a Special Tribunal has been already supported by the Parliamentary Assembly of the Council of Europe, the European Parliament, the NATO Parliamentary Assembly, the OSCE Parliamentary Assembly and the Sejmas of the Lithuanian Republic.
The initiative to create a Special Tribunal is not intended "to replace or weaken the important efforts of the International Criminal Court and other international courts and tribunals," but rather "supplement" them, he told the conference Thursday.
The ad-hoc Tribune's mandate would be investigate and prosecute crimes of aggression against Ukraine since Feb. 24, covering all individuals — including state heads and officials, Kuleba detailed.
"Justice is also required for the international community as a whole in order to punish this greatest violation of international law since the Second World War. We must put an end to impunity and leave future generations with a world where the rule of law is always supreme," he added. 
Dutch Foreign Minister Wopke Hoekstra, who is chairing the conference, echoed Kuleba's comments, saying a Special Tribunal would fill a legal "vacuum" to prosecute perpetrators of war crimes committed in Ukraine.
11 hr 16 min ago
Putin signs law introducing special economic measures to support the military 
From CNN's Uliana Pavlova and Radina Gigova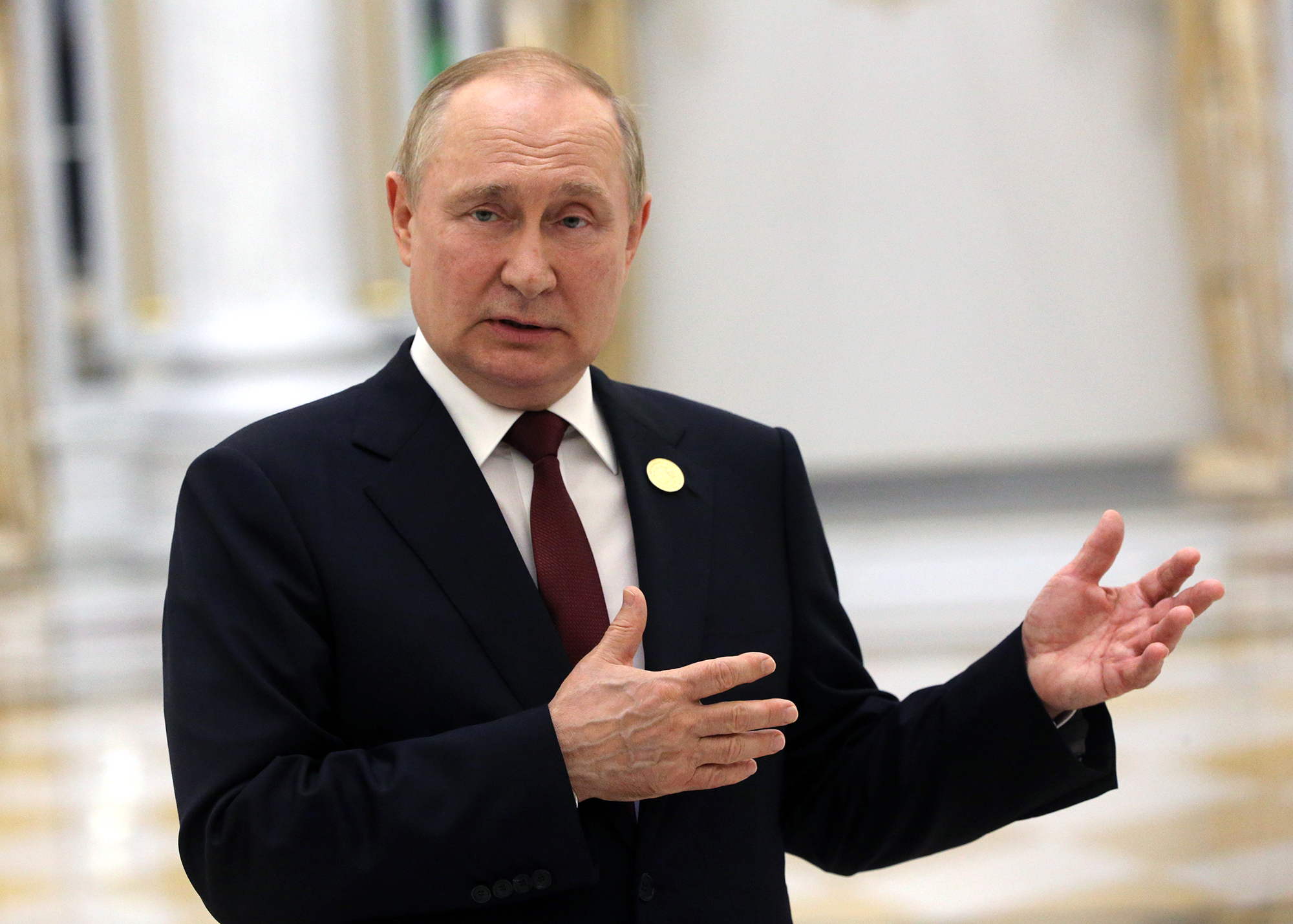 Russian President Vladimir Putin signed a law on Thursday allowing the government to introduce special economic measures to support the Russian armed forces during "counter-terrorism and other operations" outside the country.
As the special measures get adopted, companies will not be able to refuse government contracts and employees will have to work at night and on holidays. 
The government also received the right to temporarily reactivate mobilization capacities and facilities and the right to unbook the material assets of the state reserve.
Although the Russian government continues to reject framing the conflict in Ukraine as a war, the new measures effectively mean the country is re-shaping its industry in support of the ongoing invasion. 
On Thursday, Putin also signed additional laws that include tougher measures for individuals or entities considered foreign agents by Russia, and expanding criminal liability for defection to high treason. 
14 hr 43 min ago
Griner hearing concludes without verdict and is set to resume Friday, US official says
From CNN's Kylie Atwood, Anna Chernova and Chris Liakos
WNBA star Brittney Griner's hearing at a Russian court near Moscow has concluded today without a verdict and is due to resume tomorrow at 10 a.m. local time (3 a.m. ET), according to a US official.
The hearing was held at the Khimki court of the Moscow region a week after Griner pleaded guilty to drug charges. This is Griner's third appearance over the past three weeks at the court.
The two-time US Olympic basketball gold medalist was arrested Feb. 17 at a Moscow airport, a week before Russia invaded Ukraine, on accusations of alleged attempted drug smuggling, which is an offense punishable by up to 10 years in prison.  
One of Griner's lawyers, Maria Blagovolina, told reporters in a statement that during today's hearing, Maxim Ryabkov, the director of BC UMMC Ekaterinburg — the basketball club that Griner played for in Russia — "gave a positive description of Brittney Griner during his speech in court, noting her outstanding abilities as a player and personal contribution to strengthening the team spirit, which allowed the team to achieve the highest results in the Russian basketball premier league and in international competitions for many years."  
Elizabeth Rood, charge d'affaires of the US embassy, also attended the hearing.
Source: https://www.cnn.com/europe/live-news/russia-ukraine-war-news-07-14-22/h_c0aae7af379352e9ed57608044509206