Zelensky calls strike 'one of the most daring terrorist acts in European history'
1 min ago
Russia claims missile strike in Kremenchuk hit Western-made weapons and ammunition
From CNN's Tim Lister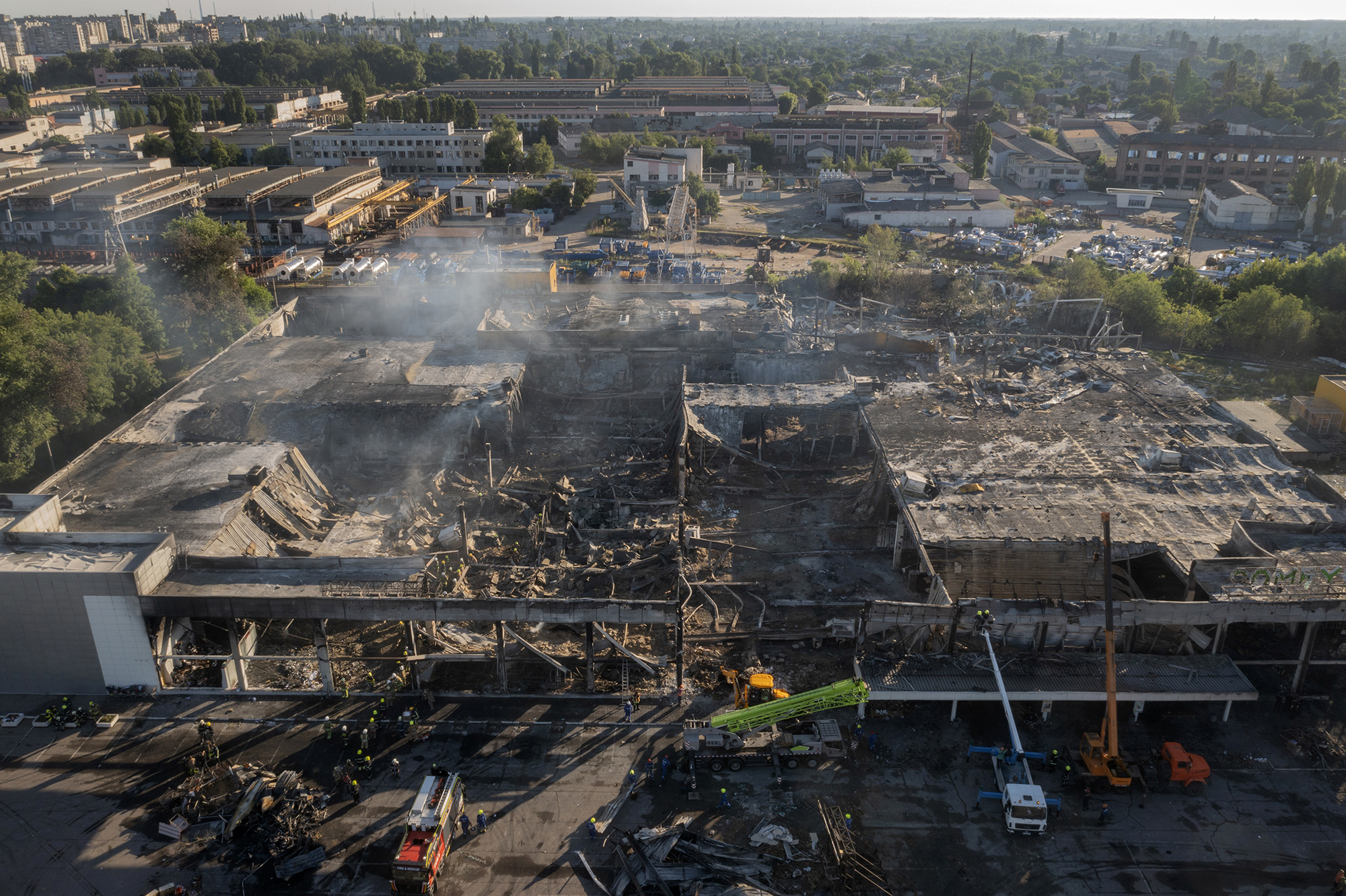 The Russian Defense Ministry has for the first time referred to its missile strike on the Ukrainian city of Kremenchuk.
The strike hit a shopping mall on Monday, killing at least 18 people and leaving dozens more still missing.
On its Telegram channel, the ministry said Russian "Aerospace Forces launched a strike with high-precision air-based weapons on hangars with weapons and ammunition received from the United States and European countries," hitting a plant of "road machines."
"As a result of a high-precision strike, Western-made weapons and ammunition, concentrated in the storage area for further shipment to the Ukrainian group of troops in Donbas, were hit."
The ministry blamed "the detonation of stored ammunition for Western weapons" for causing a fire in what it described as a "non-functioning" neighboring shopping mall.
Extensive video from Kremenchuk shows that a shopping mall in the heart of the city was obliterated by one of the two missiles that were fired. Despite an air raid siren, dozens of people were still inside the mall when the missile struck.
It's unclear what "road machine" plant the Russian Defense Ministry is referring to.
32 min ago
EU condemns Kremenchuk mall attack, calls it a "heinous act"
The European Union has said it condemns "in the strongest possible terms" the Russian missile strike on a shopping mall in Kremenchuk, central Ukraine, calling it a "heinous act."
The number of people killed in the attack rose to 18 on Tuesday, a regional official said, with search and rescue operations still underway.
A statement released Tuesday morning said: "The EU condemns in the strongest possible terms the Russian missile strike on a shopping centre in the Ukrainian city of Kremenchuk.
"Hundreds of innocent civilians were reportedly present at the centre at the time of the attack. Our thoughts are with the victims and their families.
"This is yet another heinous act in a series of attacks on civilians and civilian infrastructure by the Russian Armed Forces, including most recently missile attacks on civilian buildings and infrastructure in Kyiv and other regions. The continued shelling of civilians and civilian objects is reprehensive and totally unacceptable and amounts to war crime.
"Russia bears full responsibility for these acts of aggression and all the destruction and loss of life it causes. It will be held accountable for them.
"The EU reiterates its full solidarity with the Ukrainian people. The EU will continue to provide strong support for Ukraine's overall economic, military, social and financial resilience, including humanitarian aid."
Some context: Hundreds of people had been at the mall minutes before the strike, which Ukrainian officials say was by a Russian KH-22 missile. The KH-22 can carry an explosive warhead weighing up to 1 ton (2,240 pounds). 
1 hr ago
3 civilians killed by rocket fire as missile attacks hit Mykolaiv and Odesa
From CNN's Tim Lister, Julia Kesaieva and Olga Voitovych
Officials in the southern city of Mykolaiv said "about 11 missiles" were fired on Monday night — part of a spike in Russian missile attacks across Ukraine.
Vitalii Kim, head of the Mykolaiv regional military administration, said some missiles had been shot down by air defenses but provided no further details.
Three people were killed in a rocket attack on the coastal town of Ochakiv, southwest of Mykolaiv, including a 6-year-old girl, Kim said. Six others were wounded.
Natalia Humenuk, spokesperson for the armed forces in southern Ukraine, said "so far there is no information about casualties" from the missile attacks on Mykolaiv.
The Russians, Humenuk said, had used KH-22 missiles — the same type that struck the Kremenchuk mall on Monday — against the southern Odesa region.
"These are old-style missiles, and their guidance is completely aimless, they have a wide range. That's probably why such an absolutely illogical hit in private houses [in Odesa] happened," she said.
Elsewhere in the south: Humenuk said Ukrainian strikes against Russian air defenses on Snake Island continued, and their radar station was not working.
She said in Kherson "we are slowly moving forward" despite Russian artillery and air strikes.
Humenuk said the Russians did not "have large reserves left to transfer" in the southern theater. "They gather forces in small groups to [try to] retrieve lost positions," she said.
Earlier on Tuesday, the General Staff of the Ukrainian military said Russian efforts in the south focused on holding their positions in the Kherson and Mykolaiv regions.
1 hr 49 min ago
Biden to announce $2.76 billion to address global food shortages as part of larger G7 commitment
From CNN's DJ Judd
G7 leaders are announcing up to $5 billion funding in global food security Tuesday, in the latest effort to counter global effects from Russian President Vladimir Putin's invasion of Ukraine.
More than half of the funds will come from the United States. 
As part of Tuesday's announcement, the Biden administration is committing $2.76 billion in funding "to support efforts in over 47 countries and regional organizations."
It will include $2 billion in direct humanitarian aid and $760 million "for sustainable, near and medium-term food assistance to help enhance the resilience and productivity of food systems around the world, particularly in vulnerable regions," a senior administration official told reporters Tuesday.
Russia's invasion pushing millions into poverty: According to White House estimates, Russia's invasion of Ukraine and the subsequent destruction of agriculture equipment and blockade of grain shipments will push up to 40 million into poverty in 2022.
"Obviously, Putin's actions have been at the core, and the thing from which you can draw a direct line to all of the vulnerabilities that we're seeing around the world in terms of food security — his actions have strangled food and agricultural production, using food as a weapon of war," the official said.
The US' commitment will come from the second Ukraine supplemental assistance package lawmakers passed last month, and is expected to be allocated and delivered by the end of the fiscal year.
1 hr 56 min ago
Ukrainian officials investigate air raid response before shopping mall airstrike
From CNN's Tim Lister and Olga Voitovych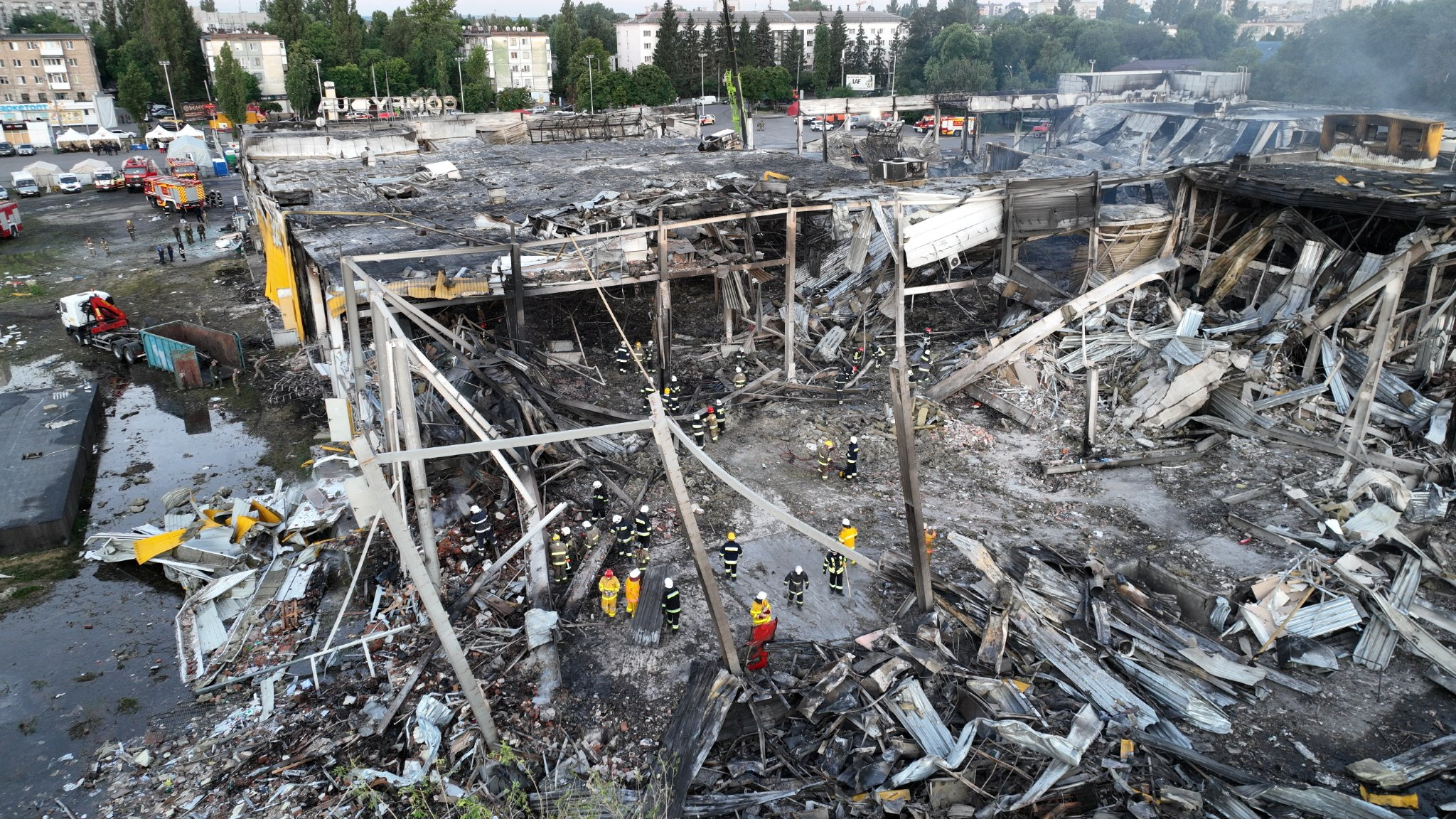 Ukrainian officials are investigating the air raid response at the Amstor shopping mall in Kremenchuk, before a Russian missile struck killing at least 18 people.
Hundreds of people had been at the shopping center before the air raid was announced on Monday afternoon.
"To ignore the air raid alarm is a crime, which once again was showed by the tragedy in Amstor," said Vitalii Maletskyi, Mayor of Kremenchuk.
"Visitors and staff must be evacuated to shelters during air raid alarms. In case of violation of this requirement, we will take measures, including criminal cases and closure of institutions."
Maletskyi said Ukraine's prosecutor general had visited the scene of the attack.
"We worked on strengthening the responsibility of the owners of shopping malls, shops and other crowded places for non-compliance with the rules of evacuation during the air raid alarm," Maletskyi said.
The mayor noted that on June 23, the mall had posted on social media that it would not close during an alarm. "From today [June 23] the shopping center is not closed during the air raid [siren.] The shopping center is open from 8 a.m. to 9 p.m. without breaks," the post read.
"What happened is the greatest tragedy in the modern history of Kremenchuk. The Kremenchuk community demands that those responsible for the war and the attack on civilians be brought to justice," Maletskyi said.
1 hr 58 min ago
Zelensky says Ukrainian sovereignty extends to "entire territory"
From CNN's Tim Lister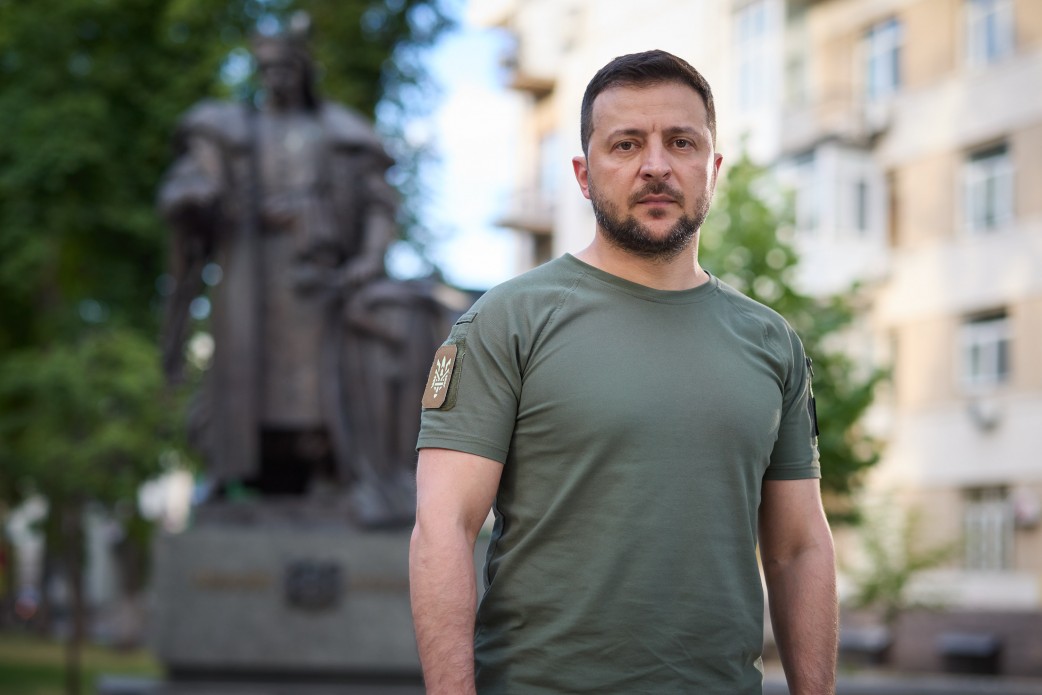 In a message to mark Ukraine's Constitution Day on Tuesday, President Volodymyr Zelensky said Ukrainian sovereignty "extends to the entire territory."
"We defend Ukraine, which is a sovereign, independent, democratic, social and legal state," he said.
"God is on our side and says that defending your home from evil is not a sin. It is a sin not to defend it."
Zelensky said Ukraine is a "unitary state" and "our territory within the existing borders is integral and inviolable."
2 hr 4 min ago
France to send Ukraine "significant quantities" of armored personnel carriers
From CNN's Dalal Mawad in Paris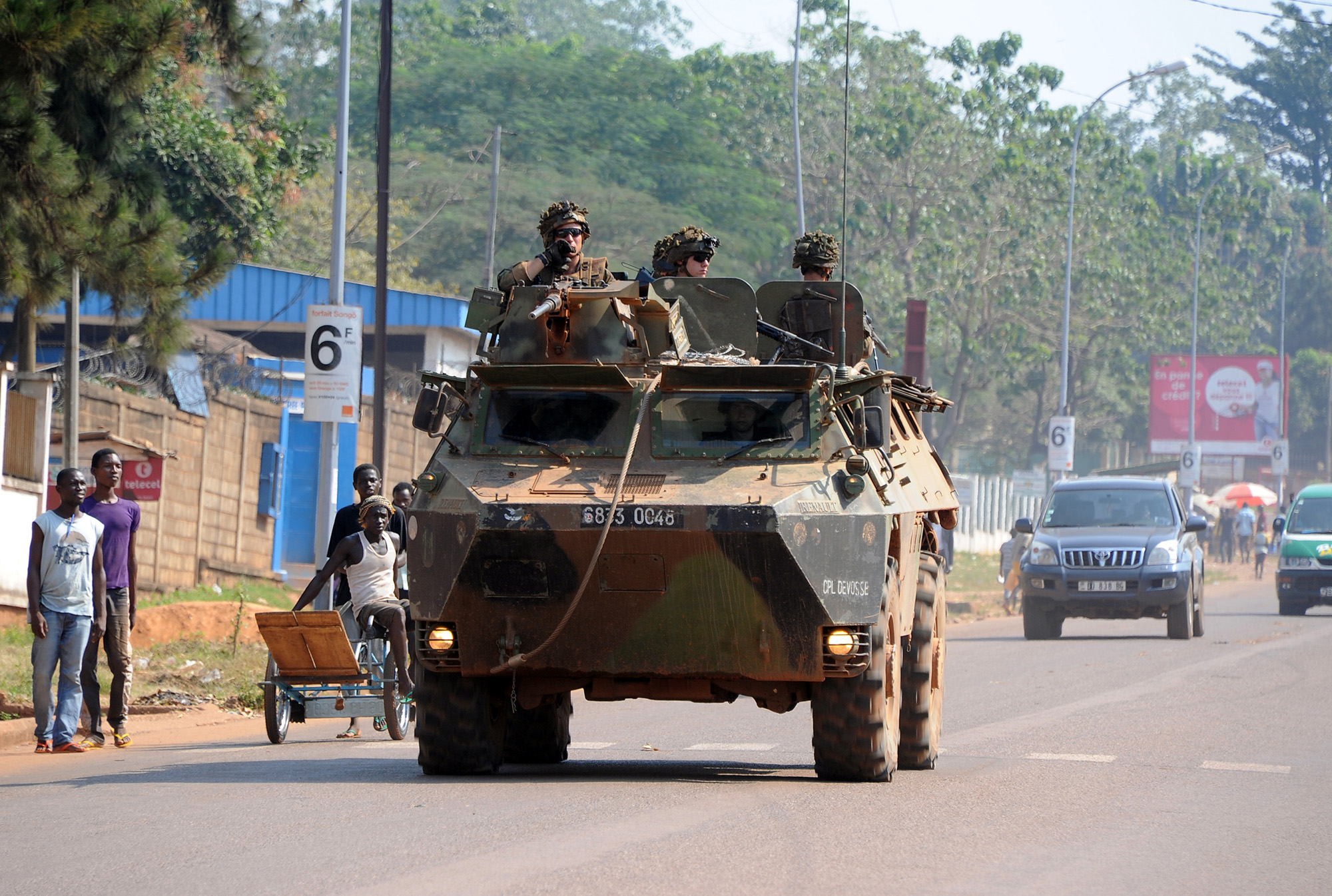 France will send Ukraine "significant quantities" of French-made armored personnel carrier and support vehicles, known as VAB, according to the country's armed forces minister.
"To move quickly in areas under enemy fire, armies need armored vehicles," Sébastien Lecornu said in an interview Monday evening in Le Parisien newspaper.
"France will deliver, in significant quantities, transport vehicles of this type, VAB, which are armed."
The VAB is a wheeled armored personnel carrier and support vehicle. It was developed in the early 1970s by French manufacturers Saviem and Renault and first used in 1976. 
The minister did not say when these vehicles would be delivered.
Lecornu added that France was also examining the possibility of delivering to Ukraine French-built anti-ship Exocet missiles.
2 hr 33 min ago
Moody's says Russia has defaulted on its debt
From CNN's Clare Sebastian 
Credit rating agency Moody's says Russia has defaulted on its debt, despite Moscow rejecting the claim.
In a statement posted late Monday, Moody's said the "missed coupon payment constitutes a default."
"On 27 June, holders of Russia's sovereign debt had not received coupon payments on two eurobonds worth $100 million by the time the 30-calendar-day grace period expired, which we consider an event of default under our definition," it said.
The statement came after Russia denied it was in default, saying the payments had been made, in dollars and euros, on May 27 and the money was stuck with Euroclear, a settlement house based in Belgium.
The historic default — the first time Russia has defaulted since 1918 — had been widely anticipated after half the country's foreign reserves were frozen and the US Treasury ended a carve-out from sanctions that had allowed US bondholders to be repaid by Russia.
Moody's warned that further defaults by the Russian government could occur.
"Further defaults on future coupon payments are likely. A June 22 Russian presidential decree introduced a procedure to pay foreign debt in rubles. We have held the view that we would likely treat payments in rubles as a default for bonds that do not allow for such redenomination in the contractual terms," it said.
2 hr 43 min ago
Death toll from Russian missile attack on mall rises to 18, regional official says
From CNN's Tim Lister and Olga Voitovych
The number of people killed in a missile strike on a shopping center in the central Ukrainian city of Kremenchuk has risen to 18, a regional official said on Tuesday, as search and rescue operations continue.
Dmytro Lunin, head of Poltava region military administration, said rescuers continued to work at the site.
"Another 36 people are missing. We continue the search," Lunin said. 
Hundreds of people had been at the mall minutes before the strike, which Ukrainian officials say was by a Russian KH-22 missile. The KH-22 can carry an explosive warhead weighing up to 1 ton (2,240 pounds).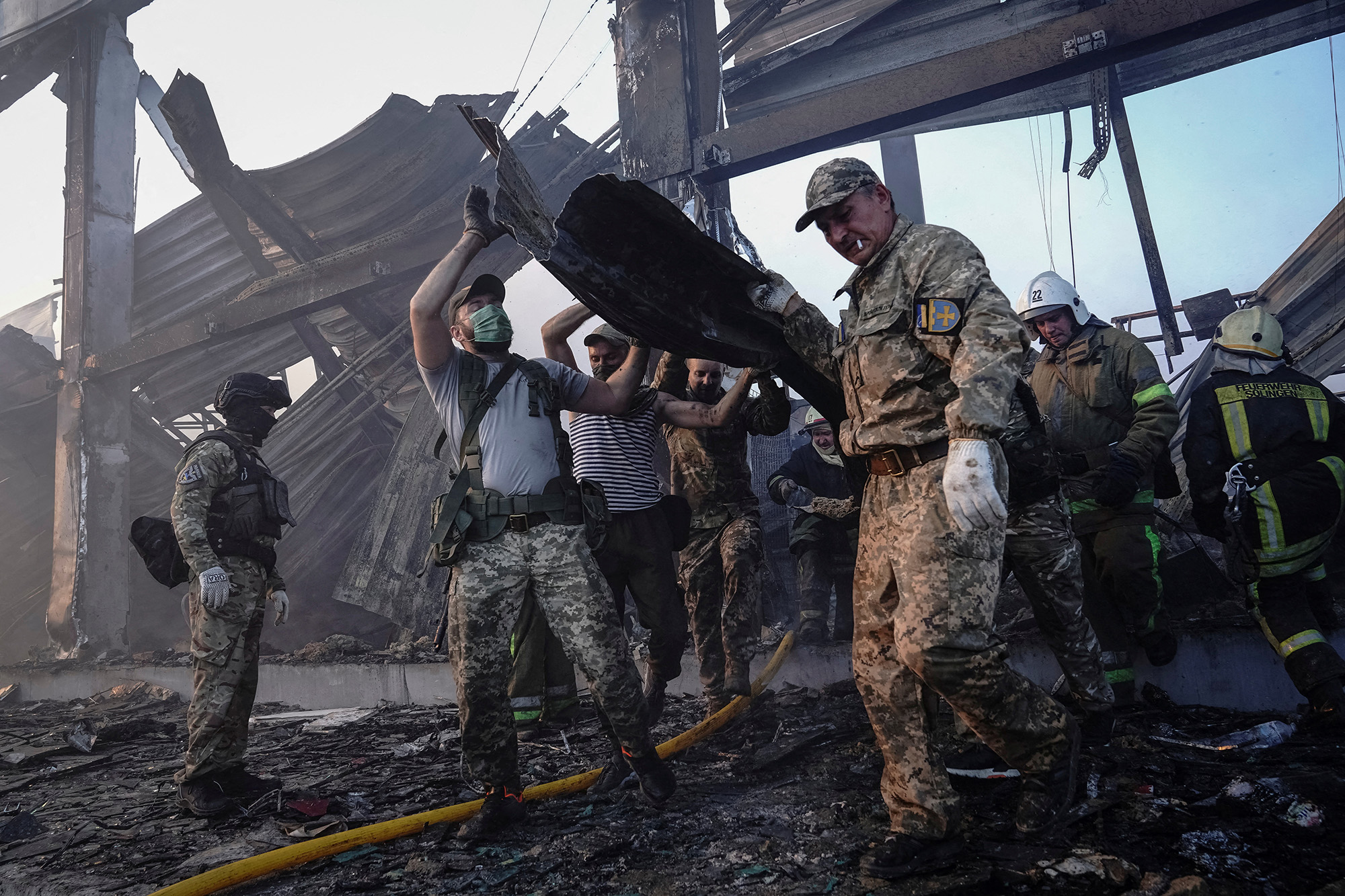 "The dismantling of damaged building structures is ongoing with the help of heavy engineering equipment and small machines," Lunin said.
He added that 25 people were admitted to intensive care at the hospital in Kremenchuk.
"More than a thousand people worked all night — rescuers, police, medics and volunteers," he said.
Source: https://www.cnn.com/europe/live-news/russia-ukraine-war-news-06-28-22/index.html