Voters are heading to the polls in West Virginia and Nebraska in key GOP primaries
1 min ago
Democratic Sen. Manchin was in ad for West Virginia Republican facing Trump-endorsed rival in primary
From CNN's Veronica Stracqualursi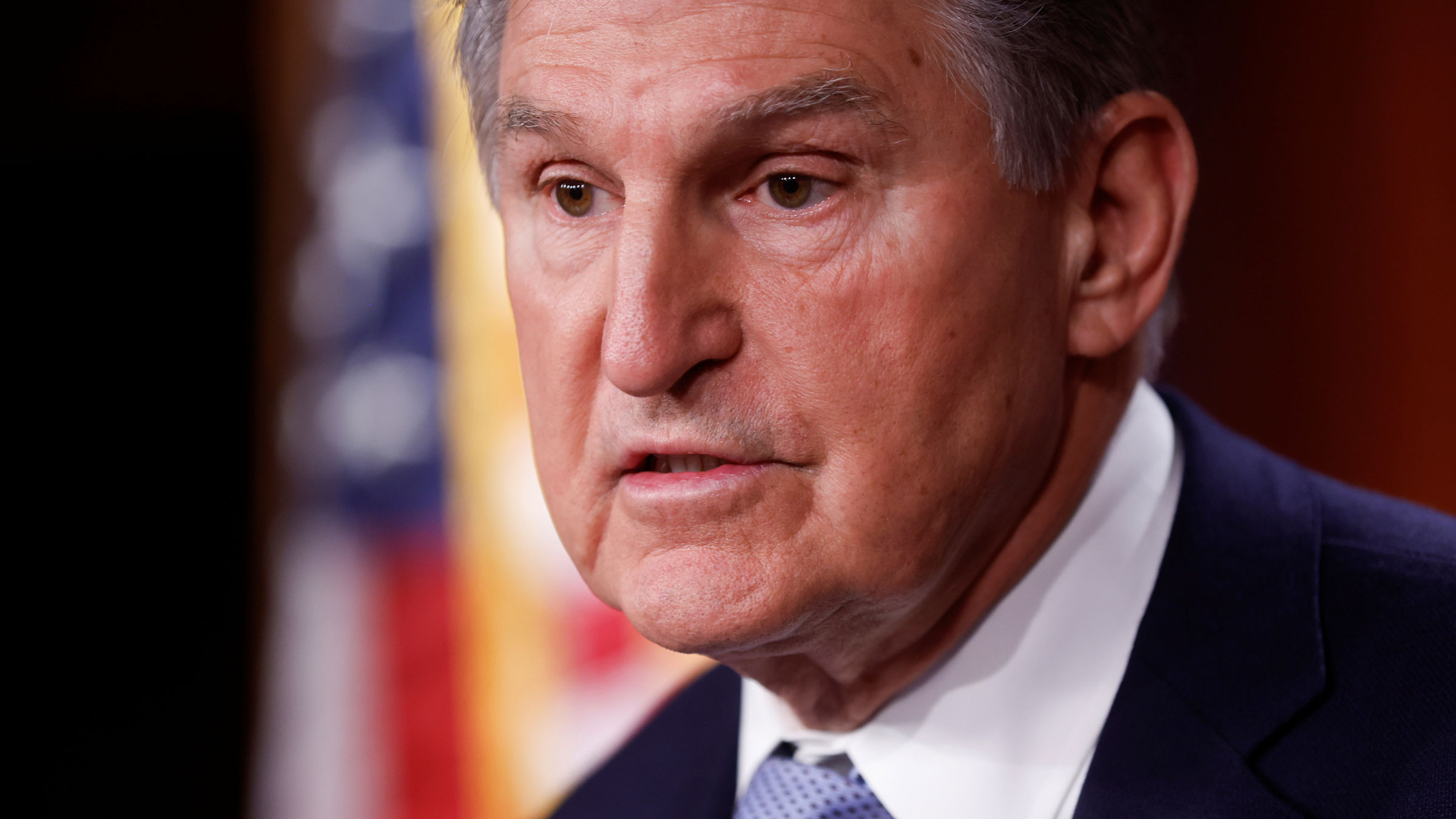 Democratic Sen. Joe Manchin appears to be taking sides in the bitter Republican primary in his home state of West Virginia that pits US Rep. David McKinley against Trump-backed Rep. Alex Mooney.
In a 30-second video ad released in April, Manchin says, "Alex Mooney has proven he's all about Alex Mooney. But West Virginians know David McKinley is all about us."
McKinley and Mooney are facing off in Tuesday's Republican primary for West Virginia's 2nd Congressional District after the state lost a seat in redistricting following the 2020 census.
Former President Trump endorsed Mooney last year after he voted against a $1.2 trillion bipartisan infrastructure bill, which was a key part of President Biden's economic agenda. McKinley voted for the infrastructure package, which Biden later signed into law.
In the ad, Manchin accuses Mooney and his "out-of-state supporters" of suggesting McKinley supported Biden's sweeping Build Back Better plan, saying it was an "outright lie."
"David McKinley has always opposed reckless spending because it doesn't make sense for West Virginia," says Manchin, who also did not support the President's climate and social spending plan.
CNN reached out to McKinley's campaign for comment.
Asked if Manchin was endorsing McKinley, the senator's spokesperson Sam Runyon told CNN that the "ad speaks for itself."
Read more here.
20 min ago
Ohio's Senate primary was the first major midterm test of Trump's endorsement power — and his candidate won 
From CNN's Eric Bradner, Dan Merica and Gregory Krieg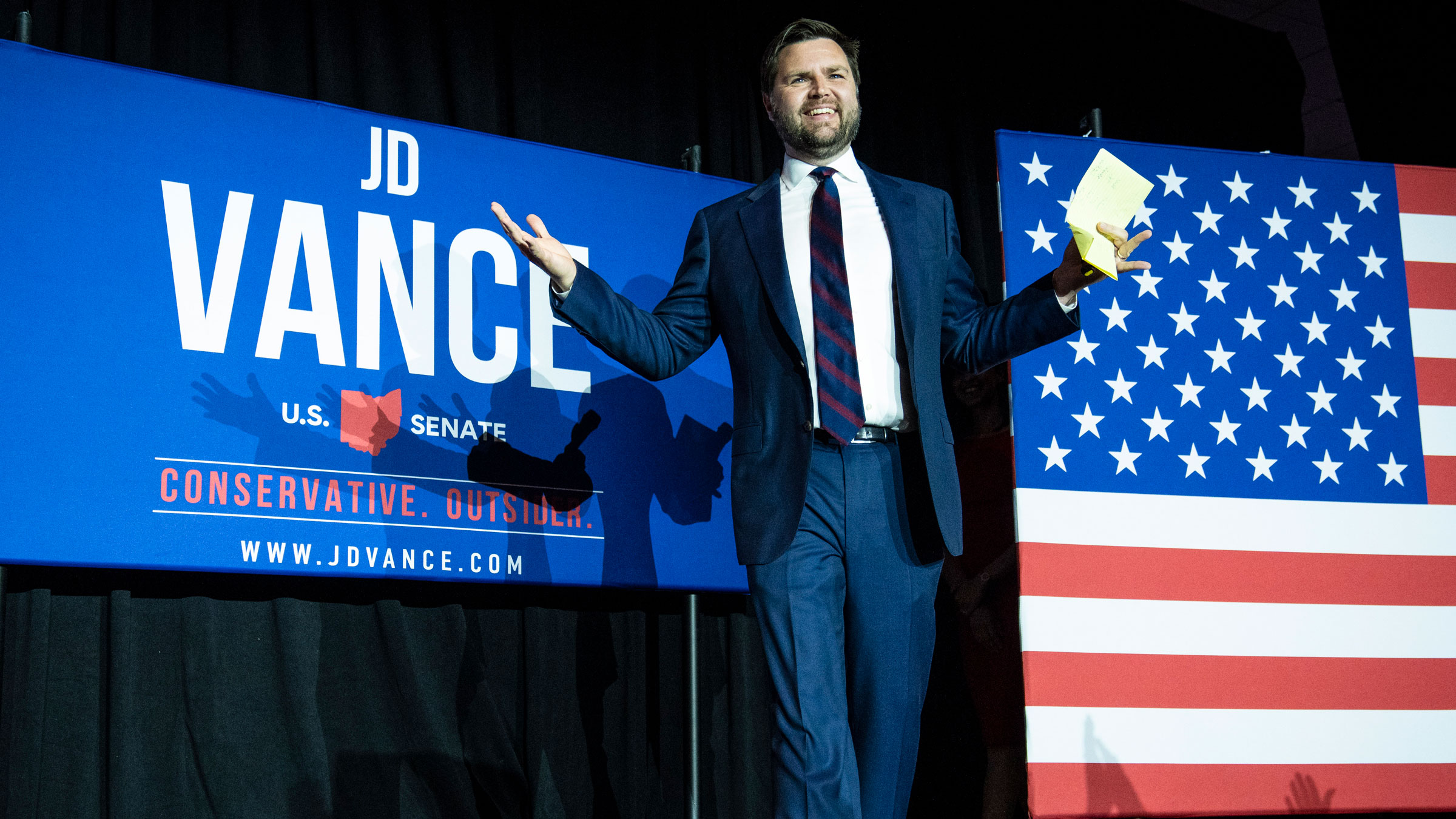 Primary season continues to roll on with contests Tuesday in West Virginia and Nebraska. GOP primaries in both states will again test the power of former President Trump's endorsement.
Last Tuesday, Ohio's Republican Senate primary was the first major midterm test of Trump's enduring influence over the Republican Party — and Trump's candidate won.
J.D. Vance, the venture capitalist and "Hillbilly Elegy" author, emerged from a well-funded field of Republicans vying to replace retiring Sen. Rob Portman.
It was the marquee contest of primaries in Ohio and Indiana last Tuesday in which incumbents and establishment-backed figures otherwise largely prevailed. Ohio Gov. Mike DeWine easily bested Republicans who had criticized his handling of the coronavirus pandemic, while Democratic Rep. Shontel Brown cruised to victory in her Cleveland-area congressional district in a rematch against progressive Nina Turner.
Vance was languishing in the polls and written off by several of his rivals — until Trump stepped into the race. With his mid-April endorsement, the former President delivered Vance what nearly everyone else in the race had coveted and built their campaign around trying to secure.
The shift was immediate. At Vance's campaign stops, some attendees said they were persuaded by Trump. At his rivals' events, voters said they had planned to vote for someone else — but Trump's endorsement had given them pause.
Vance's victory underscored the former President's role as the kingmaker in the Republican Party. Though it's not clear whether Trump will succeed in his effort to oust incumbent Republicans he believes have wronged him, Ohio's results demonstrated that in open-seat races, his endorsement might be the most important factor.
The political press, Vance said at his victory party Tuesday night, "wanted to write a story that this campaign would be the death of Donald Trump's 'America First' agenda. Ladies and gentlemen, it ain't the death of the 'America First' agenda."
How Vance did it: Vance tapped into an anti-establishment message, taking constant aim at China and slamming Democrats over border security problems that he blamed for Ohio's opioid crisis. He also copped to his biggest liability in the primary, telling Republican crowds bluntly that his past criticism of Trump had been wrong.
It didn't hurt that the Republican primary was a months-long demolition derby. At an early debate, former state treasurer Josh Mandel and businessman Mike Gibbons — who at the time were jockeying for first place in the polls — nearly fist-fought. No one consistently topped 30% in the polls, and a huge portion of the primary electorate was undecided.
Vance's ready-for-television personality and ease at the microphone were obvious. He had the backing of billionaire tech mogul Peter Thiel, who pumped millions of dollars into a television advertising campaign to boost Vance. And he had already won over Trump's GOP acolytes — he campaigned with Florida Rep. Matt Gaetz, Georgia Rep. Marjorie Taylor Greene and Donald Trump Jr.
But all of that wasn't enough to overcome his previous critiques of the former President — until Trump himself endorsed Vance and said at a rally in Delaware County last month that he didn't mind that Vance had once "said some bad sh*t about me."
"I want to pick somebody that's going to win, and this man is going to win," Trump said at the rally.
Read takeaways from last week's Ohio and Indiana primaries here.
37 min ago
More tests of Trump's sway are coming today
From CNN's Eric Bradner, Dan Merica and Gregory Krieg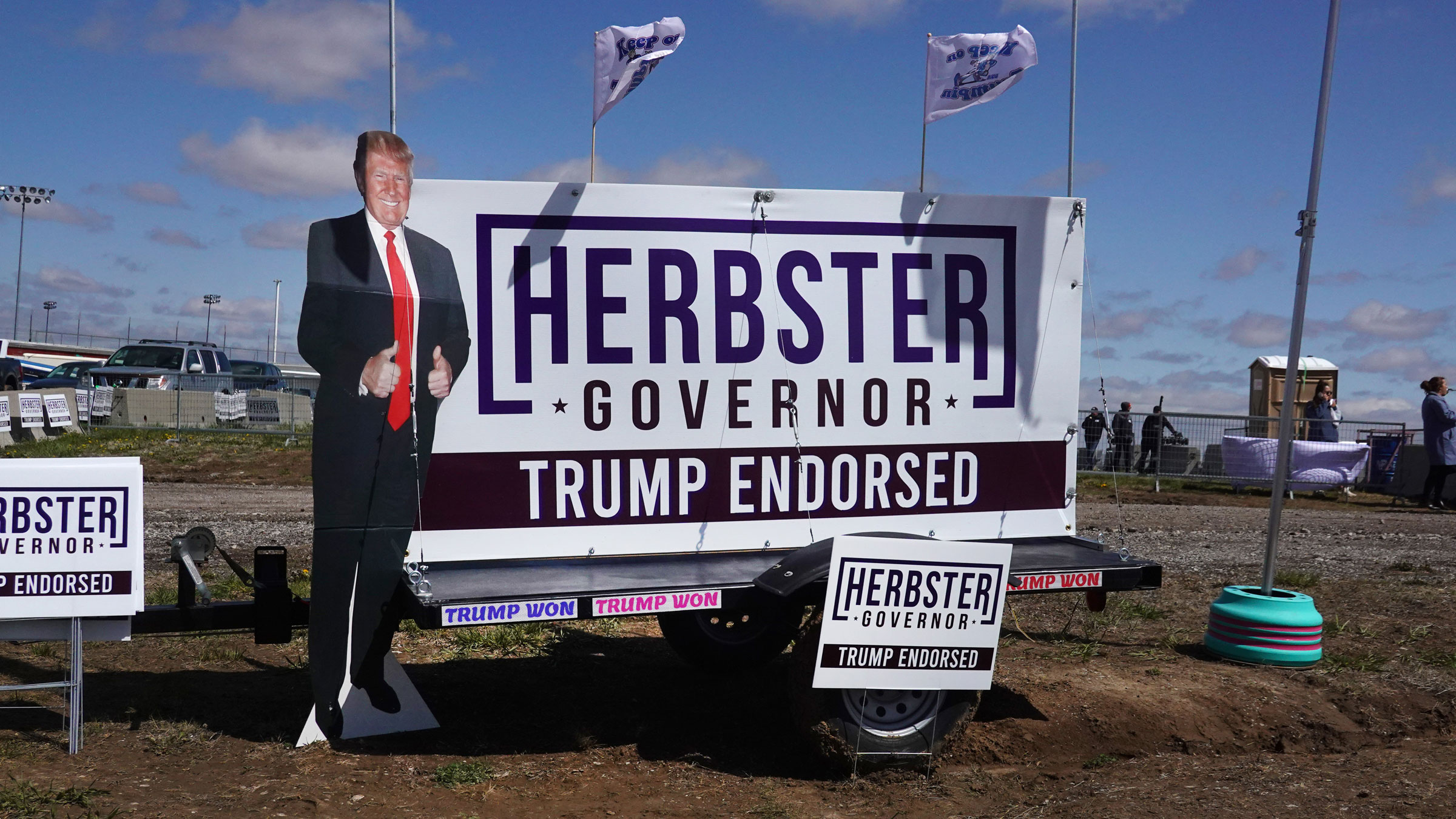 The 2022 primary calendar is set to accelerate, with contests in Nebraska and West Virginia today. And in both states, former President Trump is playing a prominent role in marquee races.
In Nebraska's race to replace term-limited Republican Gov. Pete Ricketts, Trump has endorsed Charles Herbster, a candidate who has faced more than a dozen sexual misconduct allegations and denied them.
Trump defended Herbster at a rally earlier this month. "He's been badly maligned and it's a shame. That's why I came out here," Trump said. "It would have been easy for me to say, 'I'm not gonna come.' I defend my people when I know they're good."
The full-throated defense came just days after the Nebraska Examiner reported that seven women, including Republican state Sen. Julie Slama, had accused Herbster of groping them at political events or beauty pageants, with an additional woman accusing him of kissing her forcibly.
In six cases, at least one eyewitness corroborated the women's allegations, the publication reported. Herbster has denied the allegations, calling them "100% false." He filed a lawsuit Friday against Slama — who says that Herbster reached up her skirt during a Republican fundraising dinner in 2019 — and claimed to have suffered "grievous harm to his reputation" from her accusation.
West Virginia, meanwhile, lost a seat in the House after the 2020 census, leading to two congressmen, Reps. Alex Mooney and David McKinley, squaring off for a single seat.
Trump endorsed Mooney, and conservative groups have lined up behind his campaign. McKinley, meanwhile, has establishment support — including from Democratic Sen. Joe Manchin, who appeared in a television ad on McKinley's behalf.
46 min ago
What you need to know about West Virginia's primaries
From CNN's Ethan Cohen and Melissa Holzberg DePalo
Key race to watch: West Virginia will hold the country's first incumbent vs. incumbent primary of the 2022 cycle, featuring GOP Reps. David McKinley and Alex Mooney. The Republicans were drawn into the new 2nd congressional district after the state lost a House seat following the 2020 census.
The matchup will be an early test of how strong former President Trump's kingmaker status is in the Mountain State since Trump endorsed Mooney last year. The bipartisan infrastructure bill, which McKinley supported but Mooney opposed, has become one of the key issues in the race. While McKinley's support of the bill earned Trump's ire, it helped win him endorsements from West Virginia's GOP Gov. Jim Justice and Democratic Sen. Joe Manchin.
McKinley also broke from Mooney in opposing objections to Pennsylvania's Electoral College votes and voting in favor of an independent Jan. 6 commission.
There are no statewide races on the ballot in West Virginia this year.
Campaign finance: Mooney has maintained a large fundraising advantage against McKinley, despite McKinley giving his campaign a large sum of money, according to the most recent Federal Election Commission report.
Poll closing times: Polls close at 7:30 p.m. ET.
Voter eligibility: The deadline to register to vote was April 19. West Virginia primaries are open to registered party members and to unaffiliated voters.
West Virginia voters must have a reason to vote by mail, and absentee ballot applications must have been received by May 4. Mail-in ballots must be received by the County Clerk by the start of the county canvass on May 16. Hand-delivered ballots must be received by May 9.
All voters could vote early in-person between April 27 and May 7.
Counties begin processing mail ballots before Election Day and can begin counting on Election Day before polls close. The order of results reported will vary by county.
46 min ago
What you need to know about Nebraska's primaries
From CNN's Ethan Cohen and Melissa Holzberg DePalo
Key races to watch: Term-limited GOP Gov. Pete Ricketts asked former President Trump to stay out of the Republican primary, but Trump endorsed businessman Charles Herbster last fall. Herbster, the CEO of Conklin Co., has spent millions on his gubernatorial campaign. In April the Nebraska Examiner reported that several women, including a state senator, accused Herbster of touching them inappropriately. Herbster has denied the allegations.
Ricketts has backed Jim Pillen, a member of the University of Nebraska board of regents, to replace him. A third candidate, state Sen. Brett Lindstrom, started as a long-shot but seems to be gaining steam. Last month, groups associated with Herbster and Pillen's campaigns sent mailers calling Lindstrom a liberal. Over his time in the state legislature, Lindstrom has supported bills to remove voter ID requirements, end the death penalty in the state and increase the gas tax.
Nebraska was also slated to feature a competitive GOP primary in the 1st congressional district between Rep. Jeff Fortenberry and state Sen. Mike Flood. However, Fortenberry resigned from office in March, leaving Flood as the favorite for the seat. Fortenberry remains on the ballot and if he were to win, he'd have the option of declining the nomination and allowing his party to pick a replacement. Flood has already been selected as the GOP candidate for the June special election to fill the vacant seat.
Campaign finance: Trump-endorsed candidate Herbster boasts a sizable fundraising advantage over Pillen and Lindstrom. However, Herbster has self-funded much of his campaign.
Poll closing times: Polls close at 9 p.m. ET. Most of Nebraska uses central time but the western part of the state is on mountain time. However, polls open and close simultaneously across the state.
Voter eligibility: The deadline to mail in a voter registration application was April 22 but voters could have registered in person through May 2.
Any registered voter can vote by mail. Voters must have submitted their mail ballot request by May 2. Mail ballots must be received by the time polls close on Election Day (9 p.m. ET).
All voters can vote early in-person between April 11 and May 9.
The Nebraska Republican primary is open to only registered party members, while the Democratic primary is open to registered party members and unaffiliated voters.
Counties can open mail-in ballot envelopes 10 days before Election Day. Counting can begin one day before the election (May 9). Many counties will report mail and early votes first.
Source: https://www.cnn.com/politics/live-news/primary-election-results-west-virginia-nebraska-2022/index.html