Ukrainian commander says forces at steel factory where hundreds of civilians are said to be sheltering have 'only a few days, or even hours, left'
3 hr 50 min ago
Ukrainian commander requests international evacuation effort at Mariupol plant as situation is "critical"
From CNN's Olga Voitovych, Julia Presniakova and Nathan Hodge in Lviv
Maj. Serhii Volyna, commander of Ukraine's 36th Separate Marine Brigade, spoke by phone with CNN from the besieged city of Mariupol Tuesday evening and requested that a third country provide evacuation for troops and civilians trapped in the Azovstal steel plant under heavy Russian bombardment. 
"I have a statement to the world," Volyna said. "It may be my last statement, because we have only a few days, or even hours, left. We appeal to world leaders to apply the extraction procedure to the military of the Mariupol garrison, to the civilians who are with us here at the plant. We ask you to take us to the territory of a third country and provide us with security."
Ukrainian forces inside the besieged city have consolidated around the massive Azovstal steel factory. 
Ukrainian officials have said hundreds of civilians are sheltering in the basements of the massive steelworks. A Mariupol police official told CNN food and water supplies were dwindling amid heavy bombardment. 
Asked how an evacuation might be facilitated, Volyna said, "This should be at the level of agreements. If we talk about practical application, it could be a ship with helicopters, for example, that could pick us up. Or an international humanitarian mission that can come to us and guarantee our security and accompany us on the way to the state that will make such commitments."
Volyna described the situation at the plant as "critical," with a large number of wounded troops and limited medical care. 
"We are completely surrounded," he said. "There are about 500 wounded military, it is very difficult to provide them with medical care. They literally rot. There are civilians on the territory. They are also suffering from explosions, blasts on them, next to them. They [the Russians] use heavy aircraft bombs against us and strike with artillery."
"This happens all the time. The city is destroyed. Enemy groups outnumber us dozens of times, they have a complete advantage in air, artillery, equipment, manpower. We fight to the last, but we have very little time left," he continued.
The Ukrainian commander estimated that there were "hundreds of civilians" sheltering on the territory of the plant. 
"We appeal to absolutely all world leaders: Whoever will be able to make such commitments, whoever will be able to succeed in the short term in agreeing on such a procedure," he said. "We know that there are some developments and talks with the Turkish side that it is acting as a guarantor. Probably the United States, because we believe that this is a very powerful state with a strong leader, [President Joe] Biden, and that he can personally resolve this issue in the shortest possible time. Or this issue can be resolved with his help in a short time."
Volyna declined to comment on the number of military holding out at Azovstal. 
"If the world hears us, if the world leaders hear us, we very much hope so, and the extraction procedure will be carried out, then everyone will understand the quantitative composition of the people who were in captivity," he said. 
4 hr 22 min ago
Top US general held virtual meeting with US allies about ongoing Russian invasion of Ukraine
From CNN's Ellie Kaufman
Gen. Mark Milley, chairman of the Joint Chiefs of Staff, held a virtual meeting with several US allies on Tuesday.
The military leaders "shared assessments of the ongoing Russian invasion of Ukraine, including multilateral security assistance to help Ukraine regain and defend their sovereignty," a readout of the meeting from spokesperson Col. Dave Butler said.
The call included leaders from Australia, Canada, Denmark, France, Germany, Greece, Italy, Netherlands, Norway, Portugal, Sweden, Turkey, and the United Kingdom, the readout said.
Milley "urged Allies to continue to expedite additional military assistance to Ukraine and reaffirmed the importance of engagements with Allies and partners to meet urgent needs for Ukraine," the readout added.
5 hr 6 min ago
Biden says he doesn't know if he'll travel to Ukraine
From CNN's DJ Judd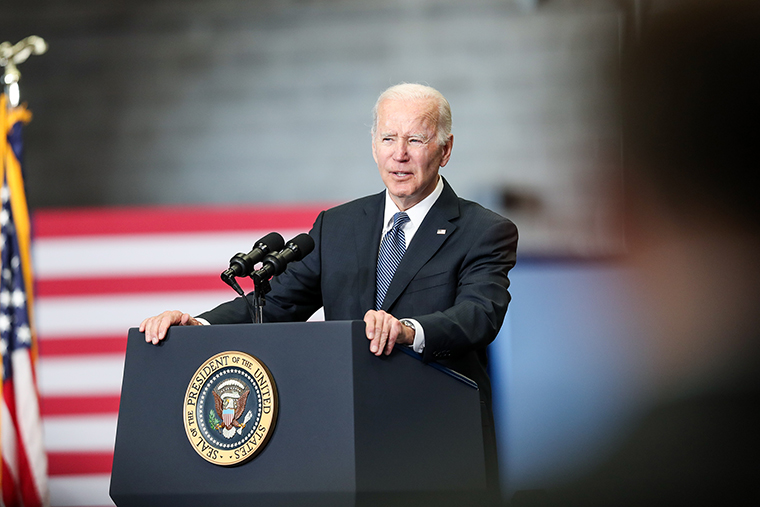 US President Joe Biden told reporters in Portsmouth, New Hampshire, Tuesday he's not sure if he'll travel to Ukraine.
"The answer is, I don't know," Biden told reporters following his remarks on infrastructure, later adding, "I've been to Ukraine many times, just haven't been there recently."
"More than any other — I'm the only one who's spoken to the Rada twice," he said, referring to the parliament of Ukraine.
Previously, the White House has said there are no plans for the President to travel to Ukraine, but added if there were, they were unlikely to preview a trip due to security concerns.
"If anyone were to go," Psaki told reporters Monday, "We would not outline from here or anywhere from the government, who, if, and when, for security reasons, so we wouldn't have any details to preview regardless."
Last Thursday, Biden said he was still working with his team to determine whether he should dispatch a senior member of his administration to Ukraine, a potentially dramatic show of support for the nation as it comes under attack from Russia.
Since Russian forces withdrew from the region surrounding Kyiv, a number of Western leaders have made their way to the Ukrainian capital to demonstrate support.
British Prime Minister Boris Johnson made a surprise visit to Kyiv earlier this month.
CNN's Kevin Liptak contributed reporting to this post.
5 hr 27 min ago
Ukrainian forces have repelled "numerous" Russian attempted advances in Donbas, UK defense intelligence says  
From CNN's Mia Alberti and Sugam Pokharel 
Ukrainian forces have repelled "numerous attempted advances" by Russian forces on the Donbas line of control as Moscow's shelling and attacks in the area "continue to increase" on Tuesday, according to the latest British defense intelligence update.
"Russia's ability to progress continues to be impacted by the environmental, logistical and technical challenges that have beset them so far, combined with the resilience of the highly-motivated Ukrainian armed forces," the UK Ministry of Defence tweeted. 
Russian forces have not been able to "stamp out resistance" in Mariupol, despite several "indiscriminate" attacks, which is "indicative of their failure to achieve their aims as quickly as they would like," it added.
5 hr 35 min ago
Pentagon: Ukraine has gotten additional aircraft and aircraft parts to increase their fleet size
From CNN's Michael Conte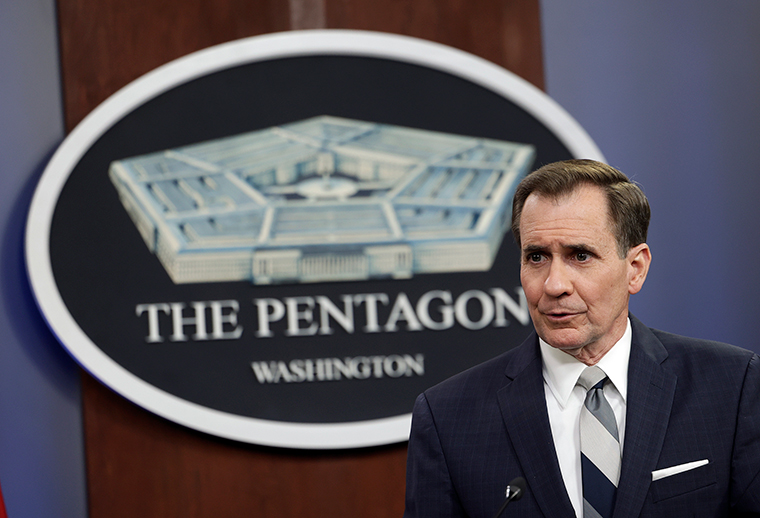 Ukraine has received additional fighter aircraft from other countries not including the US, as well as additional aircraft parts to allow them to get more planes in the air, according to a Defense Department spokesperson.
"I would just say, without getting into what other nations are providing, that they have received additional platforms and parts to be able to increase their fleet size, their aircraft fleet size. I think I'd leave it at that," said Pentagon Press Secretary John Kirby.
More context: A White House official told CNN Saturday that shipments from the Biden administration's latest security assistance package to Ukraine "have begun arriving,"
US President Joe Biden last week approved an additional package of $800 million worth of weapons, ammunition, and security assistance to Ukraine.
The US has, for the first time, agreed to provide Kyiv with the types of high-power capabilities some Biden administration officials a few short weeks ago viewed as too great of an escalation risk, including 11 Mi-17 helicopters; 18 155 mm Howitzer cannons[ and 300 more Switchblade drones.
2 hr 41 min ago
Ukrainians dismiss claim made by Russian defense ministry of opening evacuation corridors around Azovstal
From CNN's Olga Voitovych and Nathan Hodge in Lviv
The Russian Ministry of Defense issued a statement Tuesday claiming that Russian forces had opened an evacuation corridor around the besieged Azovstal steel plant in Mariupol, a claim dismissed by a Ukrainian police official on the scene.
"Given the catastrophic situation that has developed at the Azovstal metallurgical plant in the city of Mariupol, and also guided by purely humane principles, from 14:00 (2:00 p.m. Moscow time) on April 19, 2022, the Russian Armed Forces opened a humanitarian corridor for the withdrawal of Ukrainian military personnel who voluntarily laid down their arms and militants of nationalist formations," the statement read. "For this purpose, a 'ceasefire mode' has been introduced, any hostilities have been stopped, units of the Russian Armed Forces and the formations of the Donetsk People's Republic along the entire perimeter of Azovstal have been withdrawn to a safe distance."
The statement also repeated a call for Ukrainian forces to surrender. "Realizing that the commanders of Ukrainian units may not receive such orders and commands from Kyiv authorities, we urge them to make the decision on their own and lay down their arms," it said.
Myhailo Vershynin, chief of the Mariupol Patrol Police, called the Russian conditions "unacceptable" the Ukrainian forces holding out in the plant. 
"No one will agree to them," he said. "Exits, corridors, etc., they have already announced this a thousand times." 
Vershynin said the Azovstal plant, where Ukrainian defenders are holding out and civilians are sheltering, was being hit with "super-powerful bombs. And this will continue." 
Video of women and children, purportedly sheltering in the basement of the Azovstal plant in the besieged Ukrainian port of Mariupol, emerged Monday evening on social media. Vershynin said the Russians had allowed some civilians to leave, but others were reluctant to exit the city via evacuation routes that led into Russian-controlled territory. 
"Those who remained in [Azovstal] shelters are people who categorically do not want to go to the DPR [the separatist Donetsk People's Republic], they want to go to Ukraine," Vershynin said.
"That is why we are requesting: Organise a corridor, the safety of the civilians must be guaranteed. The Russians believe it's fake. It's not fake. This is a real video filmed in the shelters of the plant. We cannot go to all the shelters due to constant shelling. We have filmed in a shelter that we could reach. And there are hundreds of such people all over the territory. They [the Russians] are declaring humanitarian corridors, a ceasefire. They say, come out, surrender, get the civilians out of here. Those civilians who wanted to leave, have left. Those who stayed they will not go to the Russians. That is why we are asking for a humanitarian corridor to Ukrainian side," Vershynin said.
Russia claims evacuation corridors will be opened Wednesday: Later on Tuesday evening, the Russian Ministry of Defense issued a statement saying it was offering Ukrainian forces encircled in the besieged city of Mariupol a ceasefire effective Wednesday at 2:00 p.m. Moscow time (7:00 a.m. ET), claiming that Ukrainian forces had failed to take advantage of a previous offer to withdraw and lay down arms. 
The Russian statement said Russian armed forces and separatist Donetsk People's Republic formations would at that time cease combat operations along the entire perimeter of the besieged Azovstal steel factory and withdraw to a safe distance.
CNN's Josh Pennington contributed reporting to this post.
5 hr 42 min ago
Russia's invasion of Ukraine will continue to "take its toll" on the global economy, Biden says
From CNN's Betsy Klein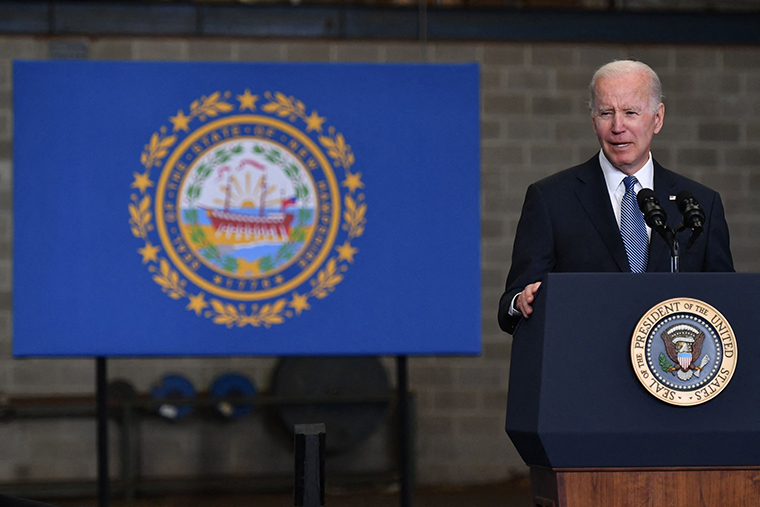 US President Joe Biden hit the road Tuesday, touting his domestic accomplishments in Portsmouth, New Hampshire, as he acknowledged 40-year high inflation. He pointed to the economic disruption of the Covid-19 pandemic and Russia's invasion of Ukraine as he warned the ongoing war would continue to "take its toll" on the global economy.
"Look, we've made a lot of progress and we have an incredible opportunity ahead of us but we know that families are still struggling with higher prices," he said in remarks at the Port Authority of New Hampshire. 
Biden cast blame directly on Russian President Vladimir Putin as a "big reason for inflation."
"The invasion of Ukraine has driven up gas prices and food prices all over the world. The two major breadbaskets of wheat in the world are Ukraine and Russia … What we saw in the most recent inflation data was last month about 70% of the increase in inflation was a consequence of Putin's price hike, because of the impact on gas and energy prices," he said.
Biden added that he was doing everything he could to drive down prices, pointing to the release of gas from the Strategic Petroleum Reserves and his coordination with US allies and partners, prompting applause.
"The fact is that we are in a situation where the war in Ukraine is going to continue to take its toll on the world economy. It's going to take its toll on energy. It's going to take its toll relative to food … An awful lot of people are hurting. It makes a big difference, it makes a big difference, the cost of a dozen eggs, the cost of a gallon of gasoline, it matters," Biden said.
"We're going to build this economy from the bottom up and the middle out," the President continued.
5 hr 42 min ago
British and Kurdish leaders discuss exporting energy to help reduce Europe's reliance on Russian oil and gas
From CNN's Alex Hardie and Sugam Pokharel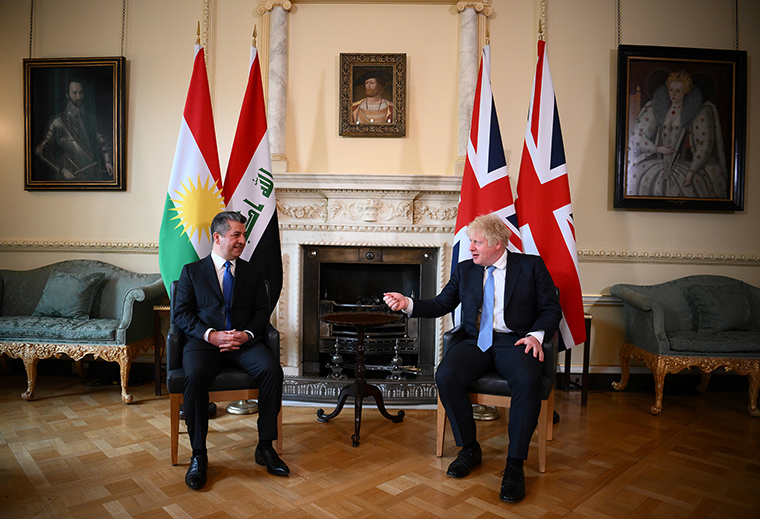 On Tuesday, the British and Kurdish leaders held a meeting in London where the two leaders discussed exporting energy to Europe as a way to reduce its reliance on Russian oil and gas, according to a UK government statement. 
Prime Minister Masrour Barzani of the Kurdistan Region of Iraq met British Prime Minister Boris Johnson at Downing Street, and the Kurdish leader "spoke about his aspiration to export energy to Europe" and Johnson "lauded his efforts to help reduce Western reliance on Russian oil and gas."
The pair also discussed Johnson's recent visit to Kyiv and "the need for the international community to continue to push back against Russia's unprovoked invasion of Ukraine," the statement added.  
Johnson expressed his "enduring commitment to Iraqi stability and the counter-Daesh operations across the Middle East," Downing Street said.
"The leaders highlighted the strength of their relationship, recognizing the UK's deep ties with the Kurdish people. They noted the significant opportunities for greater partnerships across trade and investment," the statement continued.
6 hr 11 min ago
US defense secretary will meet with Polish and Czech counterparts at Pentagon to discuss war in Ukraine
From CNN's Ellie Kaufman
US Secretary of Defense Lloyd Austin will meet with his Polish and Czech counterparts in separate bilateral meetings at the Pentagon on Wednesday and Thursday this week.
Ukraine will be a focus in both meetings, Pentagon press secretary John Kirby said during a briefing at the Pentagon on Tuesday.
Austin will meet with his Polish counterpart, National Defence Minister Mariusz Błaszczak, at the Pentagon on Wednesday. He will meet with his Czech counterpart, Defence Minister Jana Černochová, at the Pentagon on Thursday. 
Both bilateral meetings will be focused "not only on our relationships with these individual countries but of course what's going on in Ukraine," Kirby said.
Source: https://www.cnn.com/europe/live-news/ukraine-russia-putin-news-04-19-22/h_8929b6c8af71595eec6c74cc2ccf4215