Austrian Chancellor: Putin believes he's winning the war
6 min ago
Putin believes he's winning the war, Austrian chancellor says
From CNN's Jennifer Deaton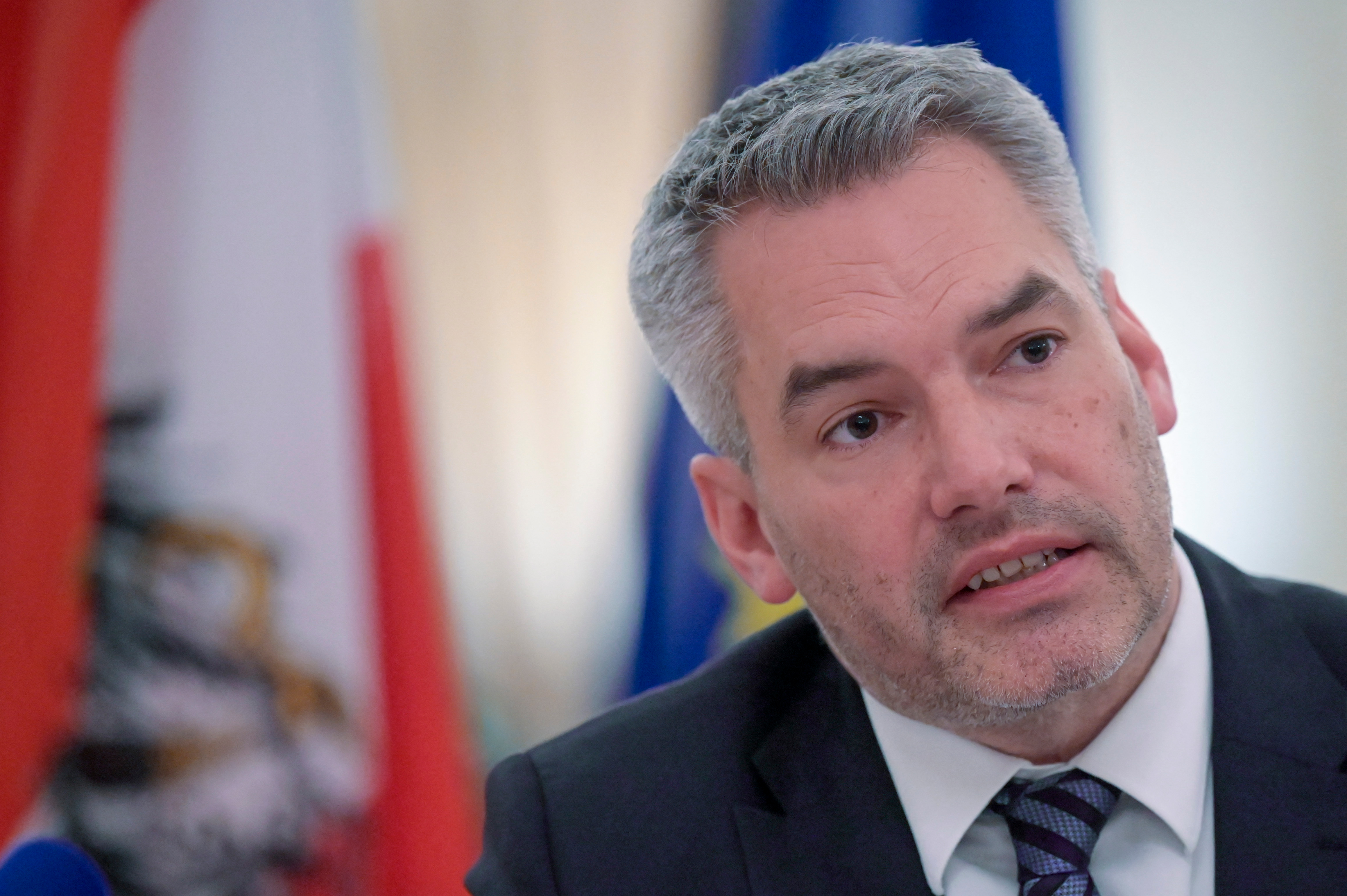 Austria's chancellor said Sunday that Russian President Vladimir Putin believes he's winning the war.
Austrian Chancellor Karl Nehammer told NBC's "Meet the Press" that he couldn't fully explain Putin's rationale, but did say Putin had his "own war logic," adding the Russian leader "sent me clear messages about his concerns," and that he seemed to have a full grasp of what was unfolding on the ground.
"I think he is now in his own war logic. He thinks the war is necessary for security guarantees for the Russian Federation. He doesn't trust the international community. He blames the Ukrainians for genocide in the Donbas region. So, um, well, he is now in his world, but I think he knows what is going on now in Ukraine," Nehammer said.
Nehammer said that Putin switched to German in their face-to-face meeting to warn that it would be better for the war to end sooner rather than later.
41 min ago
Five killed in renewed rocket attacks against Kharkiv, Ukrainian official says
From CNN's Tim Lister, Kostan Nechyporenko and Olga Voitovych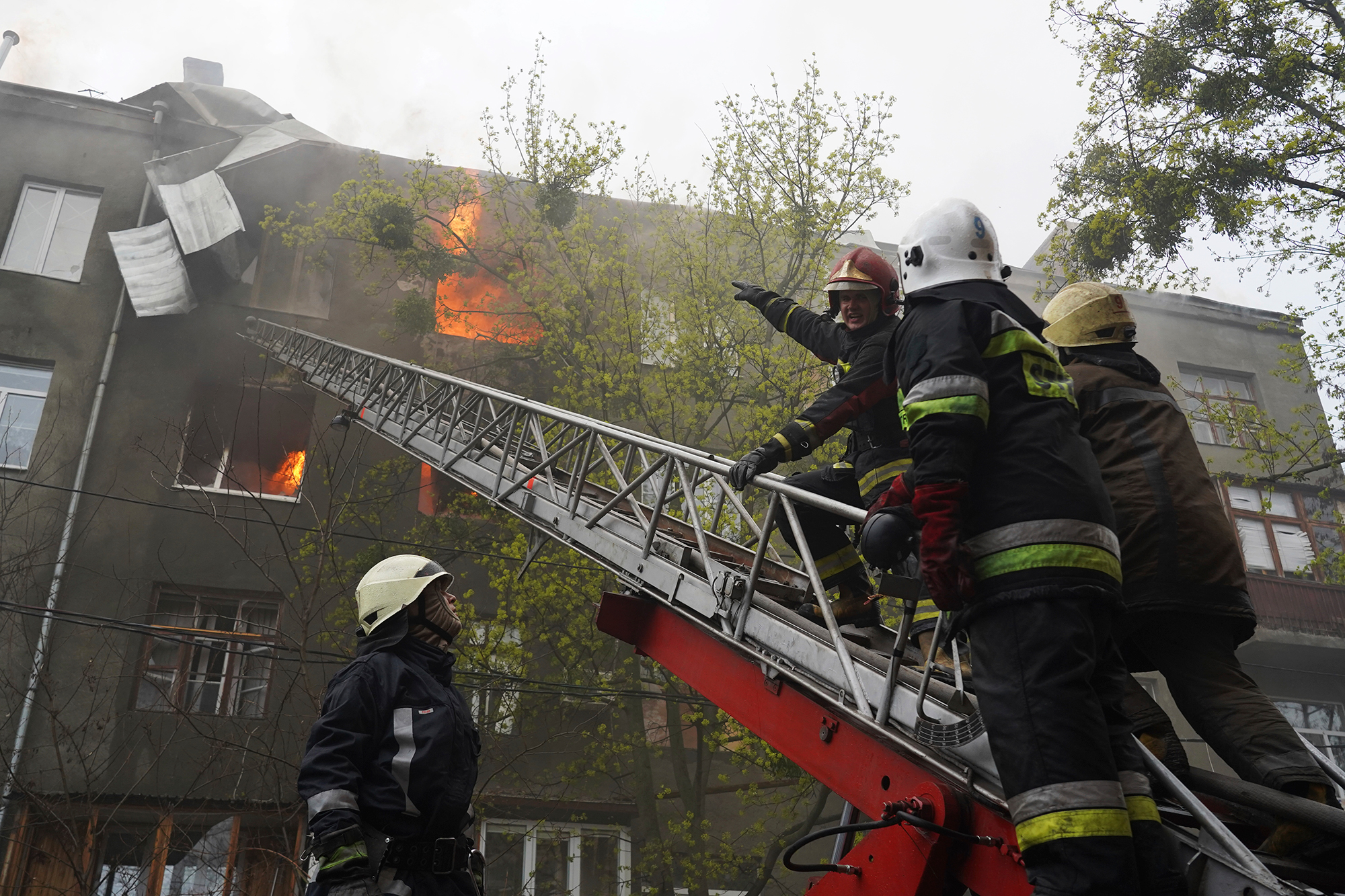 Ukrainian officials have reported more civilian casualties Sunday amid rocket and artillery attacks in the Kharkiv and Luhansk regions.
Anton Gerashchenko, an adviser to the Minister of Internal Affairs of Ukraine said five people had died and 13 were wounded during renewed rocket attacks against Kharkiv. 
Gerashchenko said on his Telegram account: "The city center was shelled around 13.30 and 14.00. The occupiers fired at the city from multiple rocket launchers. Residential and administrative buildings were damaged. There are fires in different locations in the city center."
In the neighboring Luhansk region, Serhii Haidai, head of the military administration, said a handful of people had been evacuated from the cities of Lysychansk and Severodonetsk. "It was impossible to agree with the occupiers on a ceasefire along the evacuation routes today," he said. 
Haidai said that in the same area, the town of Zolote came under fire. Two people were killed.   
"There's nothing around the place except the residential houses." he said. "The Russians deliberately hit civilians."
Lyudmila Denisova, Ukrainian Parliament Commissioner for Human Rights, said bread vans had been targeted in Lysychansk. And the town of Novodruzhsk in the same area had also been hit by shelling. One house was destroyed, she said 
Denisova said that altogether in the 24 hours to Sunday midday, 16 residential buildings in Luhansk region had been destroyed.
48 min ago
Austrian chancellor describes tough face-to-face meeting with Putin after seeing "war crimes" in Bucha
From CNN staff
Austria's Chancellor Karl Nehammer spoke more about his tough face-to-face meeting with Russia's President Vladimir Putin last week, in an interview with NBC's "Meet the Press" that aired Sunday. 
Nehammer was the first Western leader to sit down with Russia's president since he launched his invasion in February.
Nehammer went to Moscow to confront Putin last week after viewing evidence of "war crimes" in Bucha, Ukraine, he said. 
Nehammer said to NBC's Chuck Todd of his visit to Bucha on the outskirts of Kyiv: "We saw the war crimes there. And Orthodox priests told us Russian soldiers shot civilians. And after the trip to Ukraine, I did a trip to Moscow to confront President Putin with what I saw."
Nehammer described that conversation as "not friendly," but "frank and tough."
I told him what I saw. I saw the war crimes. I saw the massive loss of the Russian Army. And I told him that there is a need for humanitarian corridors for civilians like in Mariupol or Kharkiv for example. Civilians need water and they have to take care of the wounded there," he said.
Nehammer also said that Putin said he would cooperate with an international investigation on the one hand, but that the Russian leader also said he doesn't trust the Western world.
Concern for more loss of life in Donbas region: Nehammer added that he came away from his meeting with Putin very concerned about the impending battle for the Donbas which would see "many losses of human lives".
"You know we can all see that there is the preparation of [a] massive battle in the Donbas region. The Ukrainian side is prepared for that. The Russian is prepared for that. And we will see many losses of human lives there, on the one hand."
But Nehammer also held out a sliver of hope because neither Ukraine nor Russia's leaders fully dismissed the 'peace talks' or negotiations, he said.  
2 hr 16 min ago
Ukraine's prime minister: Mariupol "still has not fallen"  
From CNN's Manveena Suri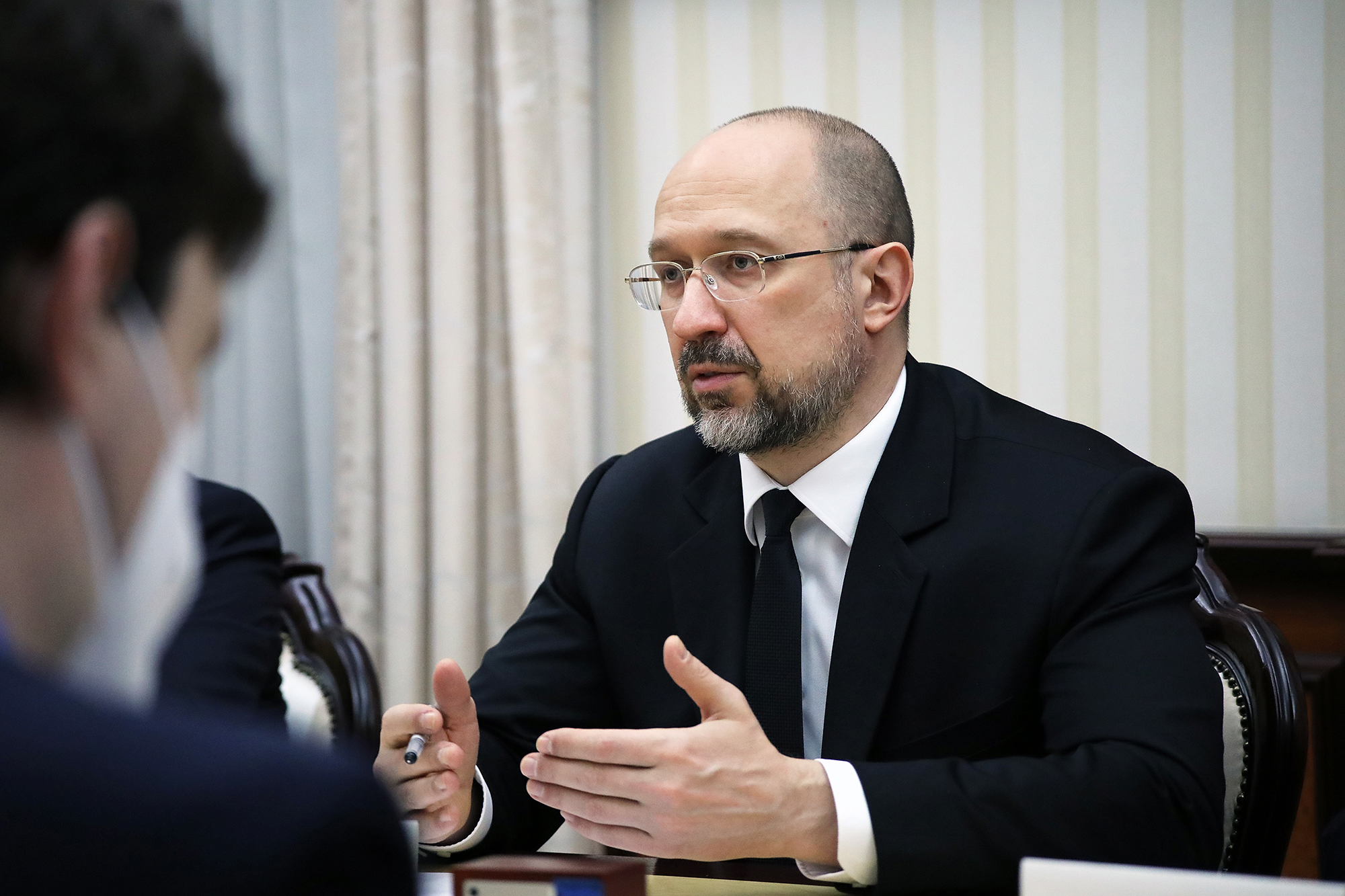 The Ukrainian forces in the southeastern port city of Mariupol are still fighting and have not surrendered, Ukrainian Prime Minister Denys Shmyhal said on Sunday.  
"The city (Mariupol) still has not fallen. There are still our military forces, our soldiers so they will fight until the end and as for now they are still in Mariupol," Shmyhal said on ABC News' "This Week" after a Russian-set deadline for Kyiv's forces in the city to surrender passed on Sunday.
"Not one big city in Ukraine has fallen. Only Kherson is under control of Russian military forces but all of the rest of the cities are under Ukrainian control," he continued, adding that some of the cities in the surrounding areas were "besieged but still under Ukrainian control."  
He said that more than 900 Ukrainian cities, towns and villages had been freed from the Russian occupation since Moscow took control after the invasion began in late February.     
"We still are fighting and we have battle in Donbas region right now but we do not have intention to surrender," Shmyhal said.
In response to a question on the current state of diplomacy, he said "Ukraine will prepare to stop this war" if a "diplomatic way is possible."  
However, if Russia was not willing to hold negotiations, he said "we will not surrender, we will not leave our country, our families, our land, we will fight absolutely till the end, till the win in this war."  
Shmyhal also thanked the United States and other partners for their support in providing ammunition, humanitarian and financial aid.  
"We have a deficit of the budget about $5 billion per month during every month of the war. So, we appreciate and we are so gratitude (grateful) for any financial support from the United States and all of our international partners," he said.  
Ukraine will seek financial support from the World Bank, the International Monetary Fund (IMF) and the US Treasury at meetings this week in Washington, according to the prime minister.
3 hr 29 min ago
Zelensky: "I don't believe the world, after we have seen what's going on in Ukraine"
From CNN's Jake Tapper / Written by CNN's Maureen Chowdhury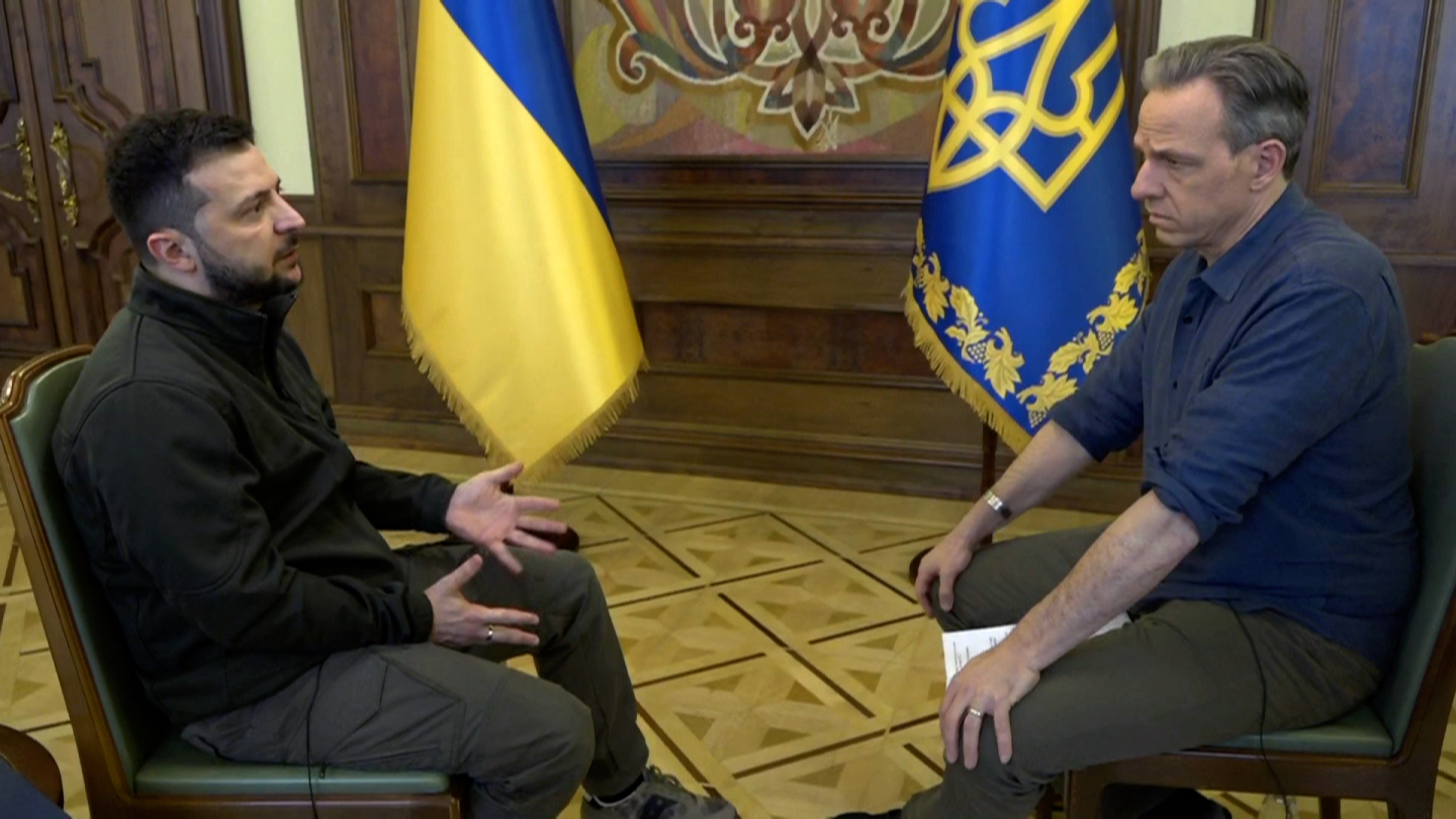 Ukrainian President Volodymyr Zelensky said that he has difficulty believing in the reliability of "some countries or some leaders" after the escalation of the war in his country.
CNN's Jake Tapper asked Zelensky during an exclusive interview about whether he finds statements when world leaders use the term "never again," a slogan that is associated with Holocaust and often uttered after crimes against humanity, "hollow" now.
"You lost ancestors in the Holocaust. Every year on Holocaust Remembrance Day, politicians put out statements that say, never again, never again. Those statements must seem really hollow right now to you. When the world says never again, do they ever mean it?" Tapper asked.
Zelensky responded, "I don't believe the world. After we have seen what's going on in Ukraine, we've — I mean that I don't believe to this feeling that we should believe to the — to the — some countries or some leaders. We don't believe the words. After the escalation of Russia, we don't believe our neighbors. We don't believe all of this."
The Ukrainian president went on to say that he doesn't even believe in documented security assurances and international law as the war in Ukraine rages, and with Russia accused of alleged war crimes.
"Even I don't believe documents, because we also have a Budapest Memorandum — I think you know all of the details of this. For me, that is just a piece of paper and costs nothing," Zelensky said
Zelensky told CNN that his faith and his belief lies with practical, tangible efforts and the Ukrainian people.
"We just believe contracted, pragmatic things. If you are our friends or partners, give us weapons, give us hand, give us support us, give us money and stop Russia, kick Russia. You can do it if you're a friend. If you think about this democracy and everything just of this moment because we have the same thoughts, if we are speaking about freedom, not because we want to have dialogue about freedom," he said.
Zelensky continued, "The only belief there is belief in ourselves, in our people, belief in our Armed Forces, and the belief that countries are going to support us not just with their words but with their actions. And that's it. Never again … Really, everybody is talking about this and yet, as you can see, not everyone has got the guts."
3 hr 51 min ago
41 bodies recovered so far in Borodianka apartment complexes destroyed by Russian shelling
From CNN's Katharina Krebs in London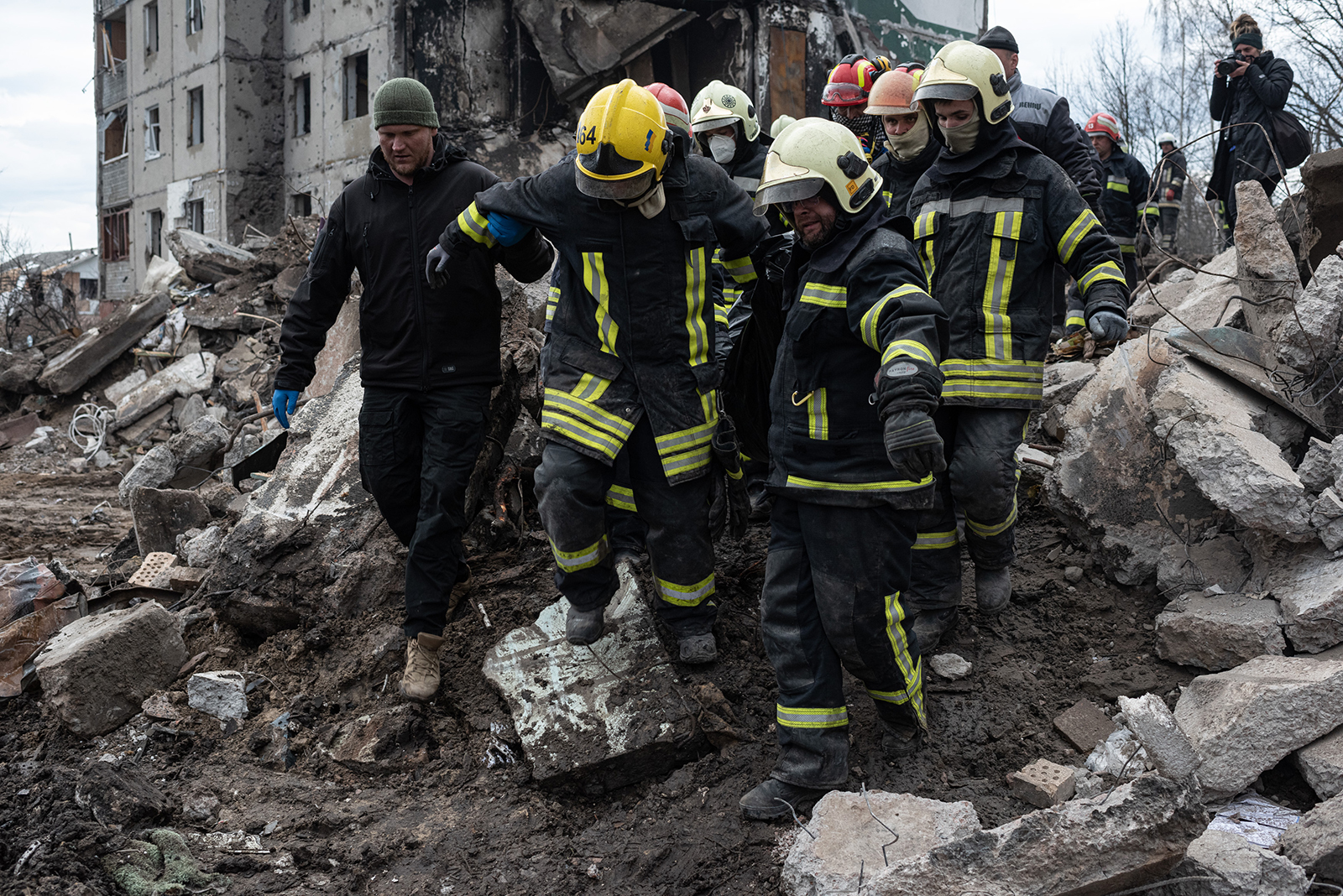 Ukrainian rescuers on Saturday found a body of a civilian in Borodianka, Kyiv, region, while dismantling the rubble of two high-rise apartment buildings destroyed by Russian shelling, raising the number of civilian casualties from the strikes to 41 dead, the country's State Emergency Service reported on its verified Telegram page on Sunday. 
On Saturday, rescuers finished dismantling the debris of two additional buildings destroyed by strikes, completing the search in five out of seven destroyed residential towers in the city since the efforts began on April 6.
4 hr 6 min ago
Ukraine's president won't give up territory in the east to end the war with Russia
From CNN's Jeremy Herb
Ukrainian President Volodymyr Zelensky told CNN that Ukraine is not willing to give up territory in the eastern part of the country to end the war with Russia, and Ukraine's military is prepared to fight Moscow's military in the Donbas region in a battle he says could influence the course of the entire war.
Zelensky said in an exclusive interview Friday with CNN's Jake Tapper from the office of the president in Kyiv that his country has no guarantee that Russia wouldn't try again to seize Kyiv if it is able to capture Donbas.
"This is why it is very important for us to not allow them, to stand our ground, because this battle … it can influence the course of the whole war," Zelensky said.
"Because I don't trust the Russian military and Russian leadership," he continued. "That is why we understand that the fact that we fought them off and they left, and they were running away from Kyiv — from the north, from Chernihiv and from that direction — it doesn't mean if they are able to capture Donbas, they won't come further towards Kyiv."
Some more context: It is more than seven weeks into Russian President Vladimir Putin's attack on Ukraine. Ukraine's military has seen successes resisting Russia's offensive that have come as a surprise to US intelligence — and a Kremlin that had planned for a quick and decisive victory.
Read more here.
4 hr 9 min ago
It's 3 p.m. in Kyiv. Here's what you need to know
Ukrainian soldiers surrounded in the devastated southeastern city Mariupol have refused Russia's demand to surrender "in order to save their lives" and continued fighting, according to the Russian Ministry of Defense.
Here are the latest developments:
Mariupol under siege: Russian officials said that Ukrainian soldiers holding out in a giant steel plant in the southeastern city of Mariupol ignored their "offer" to "voluntarily lay down arms and surrender in order to save their lives." An estimated 100,000 people remain in Mariupol and its immediate surroundings, which are reported to be largely under Russian control, with Ukrainian troops confined to pockets of resistance.
'Inhuman situation': On Saturday, Ukrainian President Volodymyr Zelensky called the situation in Mariupol "inhuman," saying he and his administration had been trying every day to end the weeks-long siege through both military and diplomatic channels.
No way out: Attempts to agree on safe evacuation routes for civilians trapped in fighting in southern and eastern Ukraine on Sunday have failed, but local officials urged people to leave the area nevertheless.
Zelensky open to talks: In an article posted on the presidential website, Zelensky said he was open to talks with his Russian counterpart Vladimir Putin — but said negotiations would become impossible if any further Russian war crimes surface.
The sunken warship: Russian state news agency TASS released video Saturday purportedly showing the commander-in-chief of the Russian Navy, Admiral Nikolai Evmenov, meeting with the crew of the sunk guided-missile cruiser Moskva in the city of Sevastopol. Russia has released no information about casualties aboard the Moskva. It was unclear how many crew members were aboard, or how many survived.
US aid arrives: Supplies from the US have begun arriving in Ukraine, a White House official said on Saturday. The Biden administration's latest aid package includes heavy-duty weaponry for the first time, including helicopters, cannons and drones.
5 hr 12 min ago
Ukrainian tennis players live "parallel lives" at the Billie Jean King Cup
From CNN's Kikue Higuchi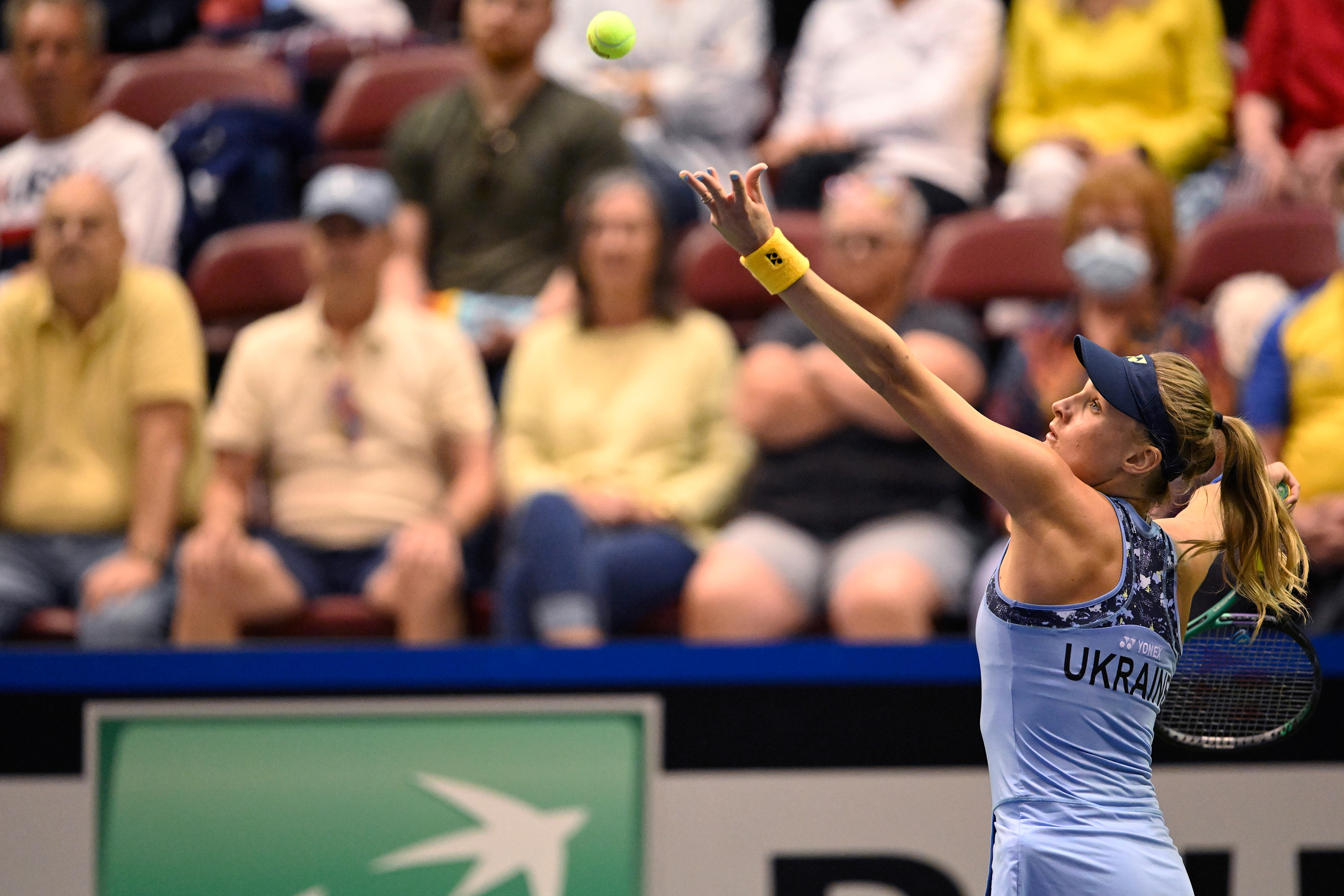 Wearing a shirt decorated with the Ukrainian flag in the shape of a heart, Lyudmyla Kichenok practiced her serve with teammate Dayana Yastremska in an empty arena under the watchful eyes of their captain Olga Savchuk on Thursday.
In Asheville, North Carolina, the Ukrainian women's tennis team is in the midst of their match against Team USA for the Billie Jean King Cup qualifiers.
Meanwhile, bombs rain down on their hometowns as war rages on in Ukraine.
"I feel like we have two different realities right now. The tennis court, an amazing atmosphere, amazing arena here. And then on the other side, we have people dying every day," Katarina Zavatska told CNN Sport.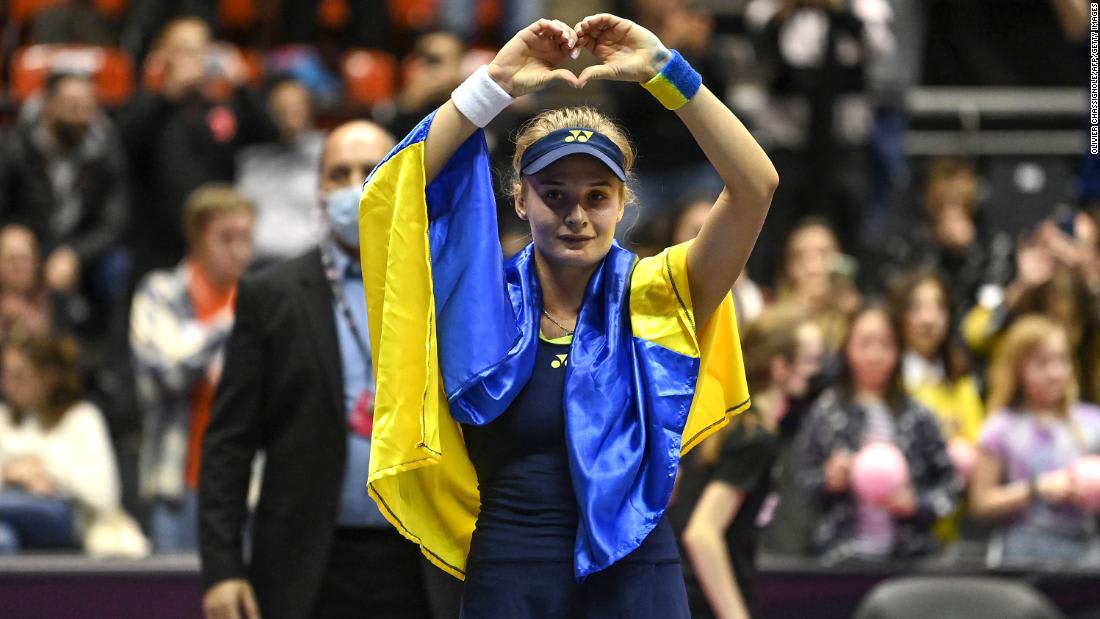 Source: https://www.cnn.com/europe/live-news/ukraine-russia-putin-news-04-17-22/h_c2789afaa290f5311aee5f14371ab176