Omicron is 'inherently milder' than Delta among children under 5, new study shows
2 hr 29 min ago
Omicron is "inherently milder" than Delta among children under 5, new study shows
From CNN's Deidre McPhillips
Researchers analyzed electronic health records for about 80,000 children under the age of 5 who were infected with Covid-19 for the first time in the United States. 
They found that the Omicron coronavirus variant is "inherently milder" among children under 5, with infection leading to "significantly less severe outcomes" than the Delta variant, according to a preprint study published Thursday.
The study also showed about 70% reduction in hospitalizations, intensive care unit admissions and mechanical ventilation among children infected with Omicron compared with those infected with Delta. They also found a 29% reduction in visits to the emergency room. Data on deaths was not included, as there were so few reported.  
About 1% of children infected with Omicron were hospitalized, compared with about 3% of children with Delta. 
The study also found that both variants disproportionately infected Black children, but especially the Omicron variant. More than a quarter (26%) of the children infected with Omicron were Black, but less than 15% of the children who had any encounter with the health care system during the same timeframe were Black. 
"Despite this encouraging result, further studies are needed to monitor the longer-term acute consequences from Omicron infection, the propensity for development of 'long COVID,' the rapidity of spread, potential for mutation, and how prior infections alter clinical responses," the researchers wrote. 
"Additionally, although infections from the Omicron variant, based on this analysis, appear to be milder, because of Omicron's increased transmissibility, the overall number of emergency department visits, hospitalizations, ICU admissions, and mechanical ventilator use in children may still be greater with the Omicron variant than the Delta variant," they continued.
Covid-19 hospitalizations among children have reached record highs in recent weeks. In the last week of December, there were about 10 hospitalizations for every 100,000 children under the age of 5, according to data from the US Centers for Disease Control and Prevention. 
More on the study: The study included about 7,000 children infected during a time when the Omicron variant was predominant and about 63,000 children infected when the Delta variant was predominant. Virus samples were not sequenced for each individual child, but were instead assumed based on broader sequencing data from the time. Omicron accounted for about 92% of samples during the two weeks ending January 6, while Delta accounted for 99% of samples between September and mid-November. 
2 hr 49 min ago
Alabama's largest school system announces it's switching to virtual learning because of staffing issues
From CNN's Paradise Afshar
Mobile County Public Schools, Alabama's largest school system, will switch to a virtual learning format starting next week because the uptick in Covid-19 cases has made it "difficult to staff many of our schools," according to the superintendent.
Superintendent Chresal Threadgill made the announcement in an email sent to parents and teachers on Thursday. The school system plans to reopen for in-person learning on Jan. 24.
"I made the decision to close a full week to allow nine consecutive days, including the weekends, for individuals to recover from illness," Threadgill said.
Regarding the Jan. 24 target date, Threadgill said he will "allow the numbers to inform further decisions being made within the district."
About 265 positive Covid-19 cases among students and staff in the school system were reported Thursday, according to the school system's website.
Threadgill said he believes switching to remote learning is "best for the health and safety" of the school system's roughly 54,000 students and 7,200 employees.
Here's a look at other school systems across the country that are shifting to remote learning.
1 hr 48 min ago
Walgreens and CVS temporarily close some US stores due to Covid-19 surge and staff shortages
From CNN's Alison Kosik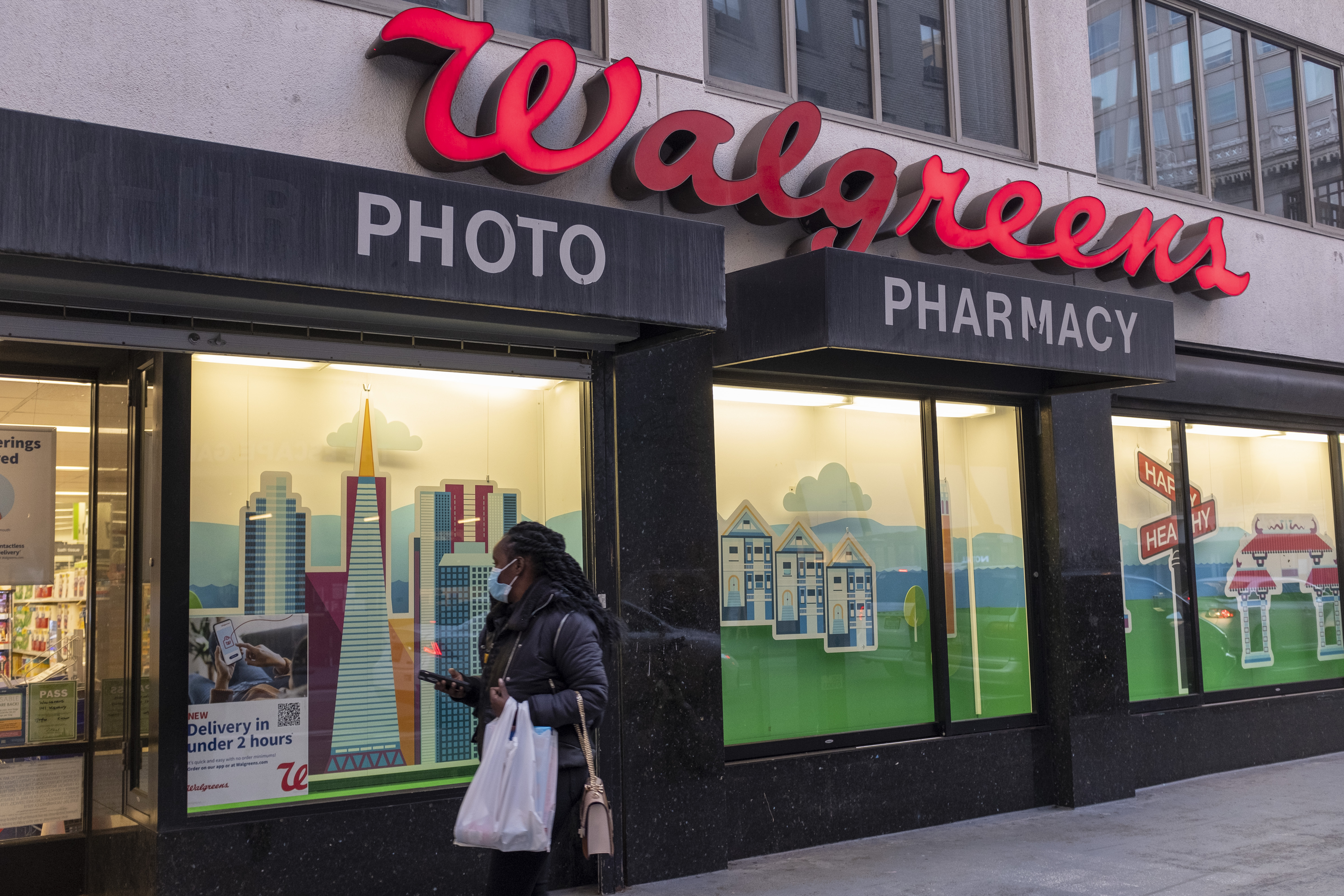 Two of the biggest retail pharmacies in the US are temporarily closing some stores and pharmacies on the weekends as the latest surge in Covid-19 causes staff shortages.  
Walgreens says that, like many industries, this latest surge in the Omicron variant is placing a significant strain on its business in the short-term and driving demand unlike "anything seen before." 
In a statement to CNN on Friday, Walgreens spokesperson Kris Lathan said, "While the vast majority of our stores are open and operating with normal business hours, the ongoing labor shortage combined with the surge of COVID-19 cases has resulted in isolated instances in which we've had to adjust operating hours or temporarily close a limited number of stores."
When making the decision to adjust store hours, Lathan said that the company makes every effort to minimize disruption for customers by selecting days with "the lowest prescription demand." Lathan added that when Walgreens does temporarily close a store, it directs some pharmacy services to the nearest open Walgreens.  
CVS said on Friday that a vast majority of its stores are operating on their normal weekend hours, according to Mike DeAngelis, executive director of CVS Corporate Communications. But DeAngelis noted that "a tiny fraction of stores are temporarily closed on one or both days of the weekend to help address acute staffing issues amidst both the omicron surge and the workforce shortage affecting nearly every industry and company." 
DeAngelis added that "the adjusted operating hours in these stores are temporary." 
Pharmacies closing because of staffing pressures is happening consistently across the country, according to Mitchel Rothholz, chief of staff at the American Pharmacists Association. 
"It's a problem across the whole healthcare system, not just in pharmacy," Rothholz told CNN last month, "but our members are dealing with this constantly now, because of the increased demand for testing as well as Covid vaccinations, people who are wanting to get the boosters or even getting their first doses." 
CNN's Virginia Langmaid contributed reporting to this post.
3 hr 36 min ago
Health care workers in US states where SCOTUS reinstated mandate must be vaccinated by March 15
From CNN's Tierney Sneed
Health care workers covered by the Biden administration's vaccine mandate will have until March 15 to be fully vaccinated in the 24 US states where the mandate was reinstated by the Supreme Court on Thursday.
Twenty-five states and Washington, DC, continue to face a Feb. 28 deadline for health care workers to be fully vaccinated, as the mandate had not been blocked in those states before the Supreme Court order that came down Thursday.
The mandate – issued by the US Department of Health and Human Services' Centers for Medicare and Medicaid Services – remains blocked in Texas. Texas had brought its own lawsuit challenging the mandate separate from the cases that were before the Supreme Court, and the preliminary injunction in that case still stands.
The mandate covers health care workers at facilitates that participate in Medicare and Medicaid. 
4 hr 21 min ago
FEMA will announce expanded flexibility for National Guard to help support US hospitals battle Covid-19
From CNN's Betsy Klein
Federal Emergency Management Agency administrator Deanne Criswell is set to announce at Friday's White House news briefing new steps from the Biden administration to help alleviate staffing shortages at hospitals across the country amid the spread of the Omicron variant.
On Thursday, an administration official told CNN, Criswell "directed an expansion of FEMA policy to support Governors in using their National Guard to meet urgent staffing needs at healthcare facilities." 
This direction from FEMA means that governors have more flexibility to use National Guard members for support services at hospitals.
"Now, FEMA has granted governors flexibility to perform vital support missions at primary medical facilities when, in the judgment of public health officials, doing so is necessary to sustain the provision of Covid-19 medical care at those facilities and failure to do so would constitute an immediate threat to the public health and safety," the official said.
Those extra services National Guard members can now provide include "activities like linen and laundry services, food preparation and delivery, biomedical waste removal, perimeter fencing, contracted security guards, professional cleaning, and other related services," the official said.
More background: That expanded help comes as cases continue to surge and hospitalizations rise. Some states' health care systems are beset with nearly-full intensive care units. Nineteen states have less than 15% remaining capacity in their intensive care units. Four of them have less than 10%: Kentucky, Alabama, Indiana and New Hampshire, according to data Wednesday from the US Department of Health and Human Services. The rising cases have led to decreased staffing at hospitals, from doctors to support staff.
President Biden announced Thursday that the US has deployed 120 military medical personnel to six additional hard-hit states: Michigan, New York, New Jersey, Ohio, Rhode Island, and New Mexico.
Since Thanksgiving, he said, over 800 military and other federal personnel have been deployed across 24 states, tribes, and territories, including over 350 military doctors, nurses, and medics. More than 14,000 National Guard members are also activated in 49 states. All of those deployments, he noted are fully paid for by the Covid relief package passed by Congress early last year. He said he has also directed FEMA to ensure there is enough hospital bed capacity in every state.
Friday's announcement is meant to alleviate additional personnel shortages. The use of the National Guard will be paid for by FEMA, as authorized by Biden, through April 1.
Criswell joins White House press secretary Jen Psaki at the briefing room podium at 11:45 a.m. ET.
5 hr 16 min ago
Senate Democrats send stinging letter to White House on Covid-19 testing
From CNN's Eva McKend
The Biden administration is facing intense scrutiny from a group of Democrats about the administration's pandemic response.
In a letter to White House Covid-19 Coordinator Jeffrey Zients Thursday, led by Nevada Sen. Jacky Rosen, the groups asks, "why the Administration failed to take more significant steps earlier to increase access to at-home tests."
While the group praises the administration's efforts to promote and distribute vaccines, they are fiercely critical of the slowness to get tests out across the country. "Far too many measures – such as increasing access to home-based testing – have been reactive, rather than proactive," the letter reads.
The Senators are calling on the administration to improve preparedness to ensure they are not caught off guard again and asking if they need Congress' help to address the current spike in cases The letter is also signed by Sens. Mark Kelly, Joe Manchin, Kyrsten Sinema and Jon Ossoff.
Biden announced Thursday his administration would purchase an additional 500 million Covid-19 tests — on top of the 500 million tests he previously announced — and said the website where Americans can go to get the free tests shipped to them will be rolled out next week as the White House continues to face pressure to bulk up testing.
5 hr 49 min ago
There are more than twice as many new Covid cases as there are new vaccinations each day, US data shows  
From CNN's Deidre McPhillips and Travis Caldwell
As Covid-19 hospitalizations reach new highs, more states and health care systems are cutting back services that aren't urgent and relying on National Guard personnel to fill staffing gaps as infected health care employees miss work to recover and patient demand grows.
While officials have started to call out very early signs that the Omicron coronavirus wave is peaking — or at least plateauing — in parts of the Northeast, experts say it will be weeks before any change can be declared a trend. Until then, the surge has put frontline workers in the medical industry and others at higher risk.
Here's a look at the latest official US Covid-19 figures on cases, deaths and vaccinations:
The US is now averaging 786,468 new Covid-19 cases, according to Johns Hopkins University. The average daily case rate has more than doubled in the past two weeks. And likely next week, the US will have reported at least one infection for every five people since the start of the pandemic.
The US is now averaging 1,673 new deaths each day, according to JHU. This is 31% higher than a week ago.
There are 155,935 people currently hospitalized with Covid-19, according to the Department of Health and Human Services, breaking previous record highs for the third day in a row. This includes nearly 26,000 adults who are in the intensive care unit with Covid-19.
About 1.3 million doses of Covid-19 vaccine have been administered each day over the past week, according to the Centers for Disease Control and Prevention.
About two-thirds of the eligible population (ages 5+) are fully vaccinated, but at least one in five eligible people are unvaccinated. There are about 333,000 people getting their first dose of Covid-19 vaccine each day.
Here's how hospitalizations have changed over time, according to HHS data:
5 hr 50 min ago
Strict outdoor mask mandate suspended in Paris
From Dalal Mawad in Paris 
Paris' strict outdoor mask mandate has been suspended after a French court found its conditions were "neither necessary, nor strictly proportionate to the protection of public health." 
The mandate came into effect in the French capital on Dec. 31 after the city's police prefecture decided it was needed due to record incidence rates of Covid-19.  
Under this mandate, people in Paris had to wear a mask in all outdoor public spaces at all times of the day. 
Spain, Italy and Greece also imposed an outdoor mask mandate in late December amid fears of the spread of the Omicron variant. 
A ruling from the Paris administrative tribunal Friday, said however that the mask decree was "marred" by serious doubts regarding its legality. 
"The wearing of a mask in the entire Parisian public area, at any time of the day or night, is neither necessary, nor strictly proportionate to the protection of public health," the court said. 
The city's police prefecture failed to "report any local health circumstances specific to the city of Paris to justify the necessity and the strict proportionality of the contested decree," the ruling added.
The Paris police prefecture has yet to issue a statement on the ruling. CNN has reached out to the prefecture for comment. 
5 hr 55 min ago
20th Premier League match postponed due to Covid-19 issues
From CNN's Aleks Klosok
Burnley's English Premier League match at home to Leicester City on Saturday has been postponed due to ongoing Covid-19 cases and injuries within the Burnley squad, the league announced on Friday.
A statement from the league said Burnley did not have the required number of players available for the match (13 outfield players and one goalkeeper) to fulfill the fixture.
No makeup fixture date has been announced.
This is Leicester City's third consecutive league game to be called off due to Covid-19 related issues with their last league match being on Dec. 26.
The Premier League has now postponed a total of 20 matches this season due to Covid-19 issues.
Source: https://www.cnn.com/world/live-news/omicron-coronavirus-pandemic-news-01-14-22/h_b7af41a2add29107b1bbd60390a1b5c9