'It was nothing but a pile of rubble': Commissioner recounts rescue efforts at Kentucky candle factory
1 hr 32 min ago
"It was nothing but a pile of rubble," commissioner recounts rescue efforts at Kentucky candle factory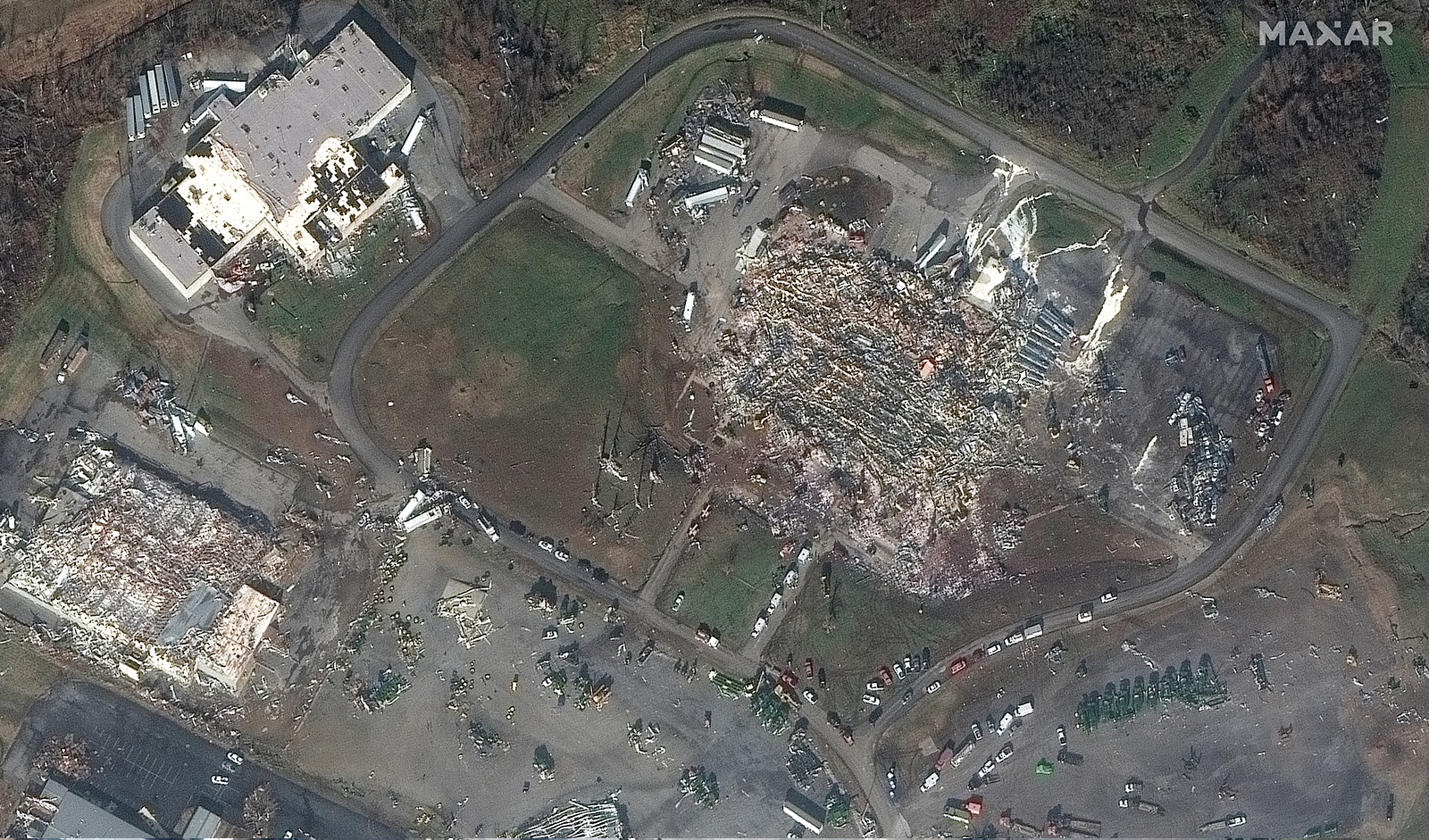 Graves county commissioner Todd Hayden told CNN's Pamela Brown the harrowing scenes at the candle factory in Mayfield, Kentucky when he arrived to help search for survivors on Friday night.
The Mayfield Consumer Products candle factory — one of the most devastated sites in the tornado outbreak — collapsed when a tornado tore through it at around 9.30 p.m.
About 110 people were working inside at the time and dozens are feared dead.
"You can't believe your eyes how bad it has. When i pulled up, it was pitch dark. There's no electricity," Hayden said on CNN Newsroom.
"When you first walked up on it, it was nothing but a pile of rubble. You wondered how anybody could still be alive in there."
First responders rushed to the site from the counties all around. They set up lights, and people trapped inside the debris began calling for help and telling rescuers their location, Hayden said.
Many rescuers climbed inside to find survivors, while Hayden and others stayed on the outside to help people climb out of the rubble. Saws and cutting tools were sent in to cut wires and bars.
"Seeing people come out of that pile of rubble alive was amazing. You wondered how — where they had been, and how — they just emerged all of a sudden out of somewhere, out of a hole," Hayden said.
"We probably rescued 10 to 20 people that came out of there. Some of them have broken ankles, one had a back injury. A lot of them were walking out kind of stunned or just in shock," he said.
Some came out crying, going straight to their families waiting anxiously outside and falling into their arms. One lady was dancing, happy to be out of there, Hayden said.
"How they came out of that alive was unbelievable. It warmed your heart, but at the same time, it was total decimation."
Rescue and support efforts continued into Saturday. Hayden helped set up a shelter down the road in town, and people brought in water, food, toiletries and other supplies. "We have piles of piles of it now," he said.
2 hr 29 min ago
Jeff Bezos says Amazon committed to supporting Edwardsville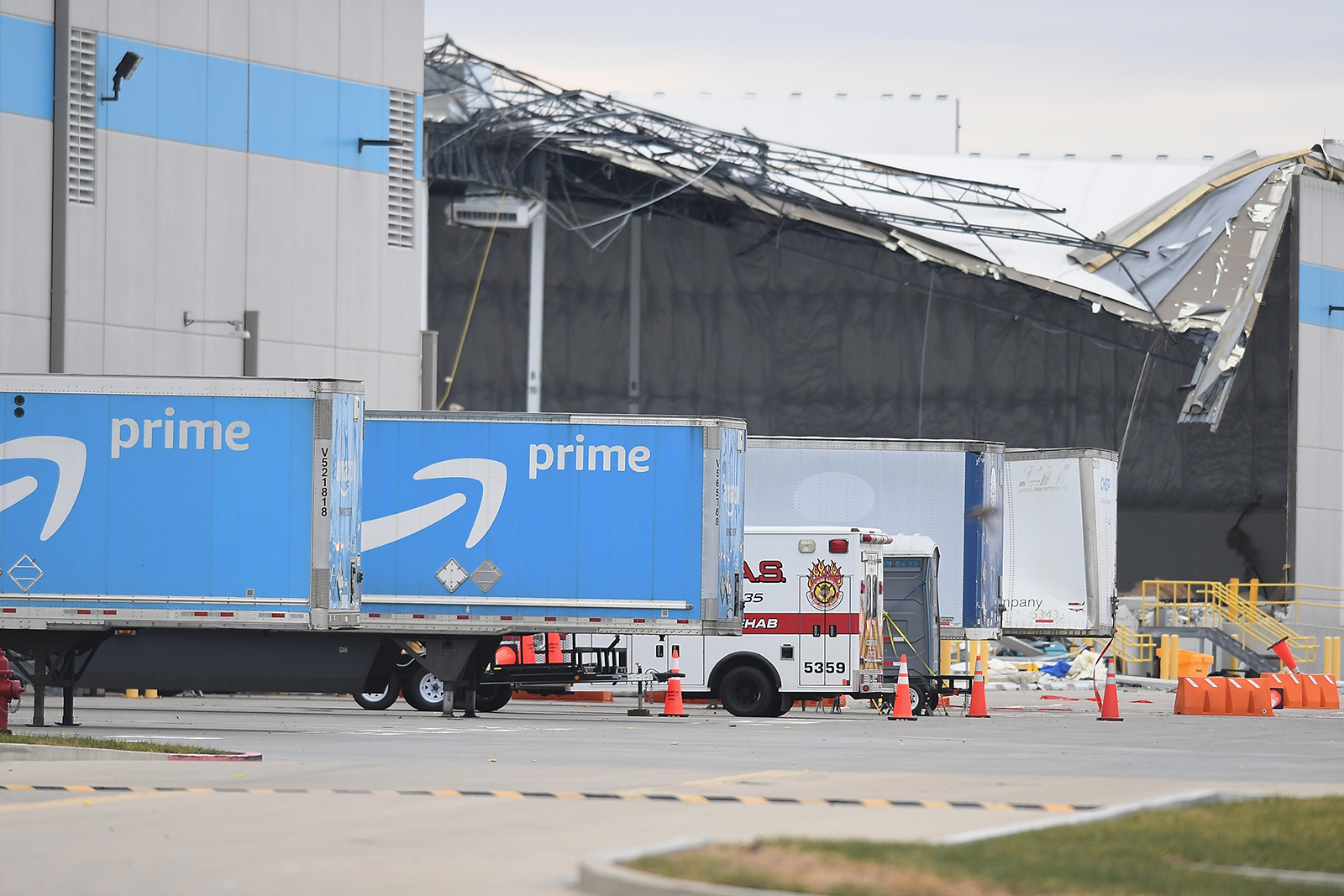 Amazon founder Jeff Bezos has offered condolences to the community of Edwardsville in Illinois after at least six people died at one of the company's warehouses.
As CNN previously reported, a tornado Friday dealt major structural damage to the building, causing its 11-inch-thick concrete walls to collapse inward.
 "The news from Edwardsville is tragic. We're heartbroken over the loss of our teammates there, and our thoughts and prayers are with their families and loved ones," Bezos tweeted late Saturday evening.
"All of Edwardsville should know that the Amazon team is committed to supporting them and will be by their side through this crisis. We extend our fullest gratitude to all the incredible first responders who have worked so tirelessly at the site," he posted.
CNN continues to reach out to Amazon with additional questions on protocol, timeline and extreme weather training.
2 hr 36 min ago
State emergency response assets deployed to Western New York as region braces for high winds and rains
From CNN's Artemis Moshtaghian and Chad Myers
New York Governor Kathy Hochul has deployed emergency response assets to key counties in Western New York as the region braces for a strong weather front, which is expected to bring high winds and rains through Saturday night. 
A high wind warning is currently in effect for all of Western New York and the Adirondacks, with winds gusting from 50-70 mph, according to reporting from CNN Weather. 
The region is seeing increasing power outages, with 174,779 customers currently without power. 
Winds are expected to drop to the 30-40 mph range overnight, but they can still cause tree limbs to snap and bring down power lines.
The warnings expire Sunday morning and winds are expected to subside by early Sunday afternoon.
"Western New York, the Finger Lakes and North County regions should be prepared for extreme weather moving across the state later today, including strong winds and damaging floods," Governor Hochul said in a press release Saturday. 
High wind warnings have been issued for Allegany, Cattaraugus, Cayuga, Chautauqua, Clinton, Erie, Franklin, Genesee, Jefferson, Lewis, Livingston, Monroe, Niagara, Ontario, Orleans, Oswego, St. Lawrence, Wayne and Wyoming Counties.
2 hr 44 min ago
Biden spoke again with Kentucky Governor Andy Beshear
From CNN's DJ Judd
President Joe Biden spoke again Saturday evening with Kentucky Governor Andy Beshear "to get an update on the latest damage assessments and search and rescue efforts."
The White House said Biden "reaffirmed the Federal government's support for the people of Kentucky throughout the difficult time ahead."
Kentucky is the hardest hit of the six storm damaged states, with at least 70 people feared dead. Earlier this evening, Gov. Beshear told reporters the death toll could "exceed 100" as rescue and recovery efforts continue.
3 hr 43 min ago
Amazon warehouse walls were made out of 11-inch-thick concrete and collapsed inward into the building 
From CNN's Carma Hassan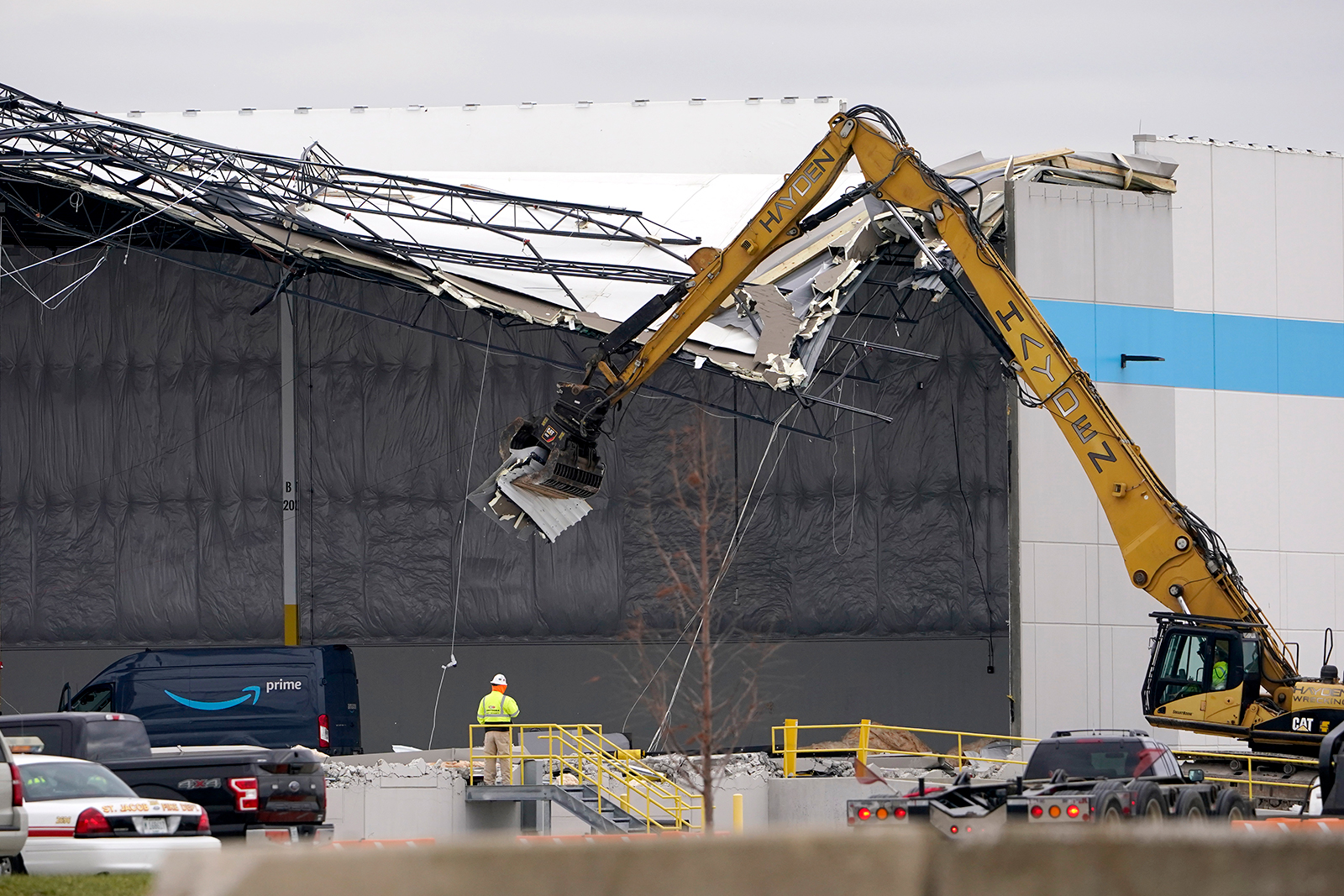 The walls on both sides of the Amazon warehouse "collapsed inward" and "the roof of the building collapsed downward so most of the weight of the building landed centrally into the building," Edwardsville, Illinois Fire Chief James Whiteford said. 
"These walls are made out of 11-inch-thick concrete and they're about 40 feet tall, so a lot of weight on that came down," he said.
At least six people died at the warehouse, according to the Edwardsville Fire Department.
The victims were found in two locations, but rescuers are not done searching, Whiteford said. 
The fire department faced multiple hazards when they responded to the scene, Whiteford said. The building was charged with electricity; there was a natural gas leak; and water mains were broken, pouring water into the building. 
The warehouse is a fulfillment center where packages are loaded onto vans and then delivered to homes, according to the chief. 
He said he couldn't speak to whether there was a designated shelter required by the city or county. 
4 hr ago
One person is missing in Tennessee
From CNN's Joe Sutton
One person still remains missing in Lake County, Tennessee, the state's emergency management agency chief of staff Alex Pellom said during a press conference.
Four people have been confirmed dead in the state.   
Governor Bill Lee said there could have been many more fatalities from the storms, but the warnings helped.
"There was a very strong warning effort in many of these communities. The residents of those communities were notified of the danger and notified of the imminence of these storms. And in many of the cases, we know that there were significant evacuations in the communities. We really know that that reduced the loss of life in our state," Lee said.
"So, I just want to remind people that being prepared and heeding warnings — it's very clear today that was a part of why we had the limited amount of loss of life in spite of the significant amount of damage." 
4 hr 14 min ago
Tornado hit Illinois Amazon warehouse during shift change, fire chief says 
From CNN's Carma Hassan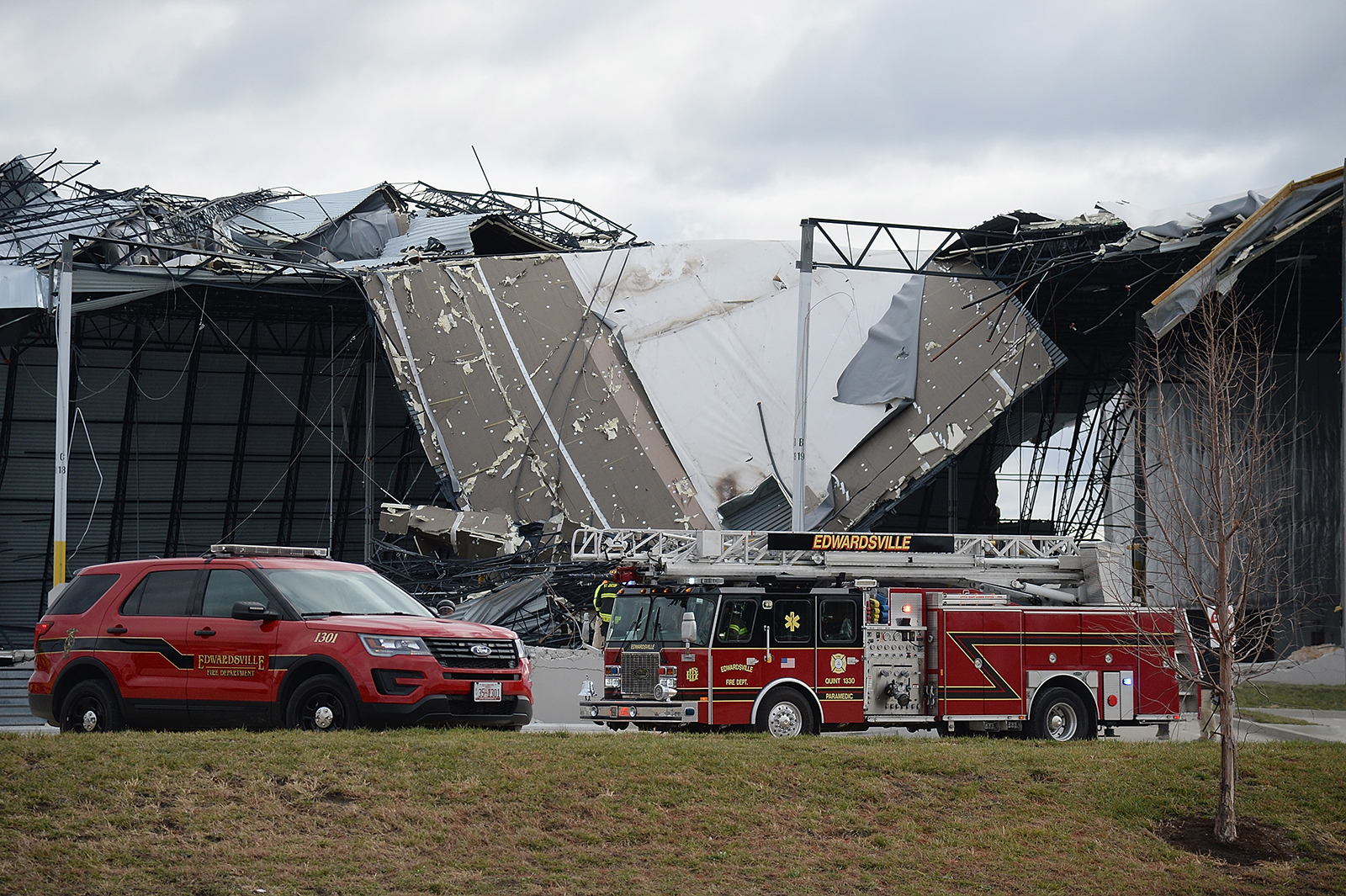 First responders do not know how many people were inside the Amazon warehouse that collapsed from tornado damage because a shift change was occurring at the time, according to the local fire chief. 
At least six people died at the warehouse, while 45 people made it out of the building, according to the Edwardsville Fire Department.
"For numerous reasons, the warehouse doesn't have a specific count of how many employees were in the building at the time that the storm hit, so we're unable to determine how many may be missing still," Edwardsville Fire Chief James Whiteford said.
Additionally, people come to the warehouse to drop off the vans and get in their cars to leave, varying the number of people that could have been at the warehouse during the weather event, Whiteford added.
4 hr 26 min ago
At least 84 people likely dead in five states
From CNN's Keith Allen and Joe Sutton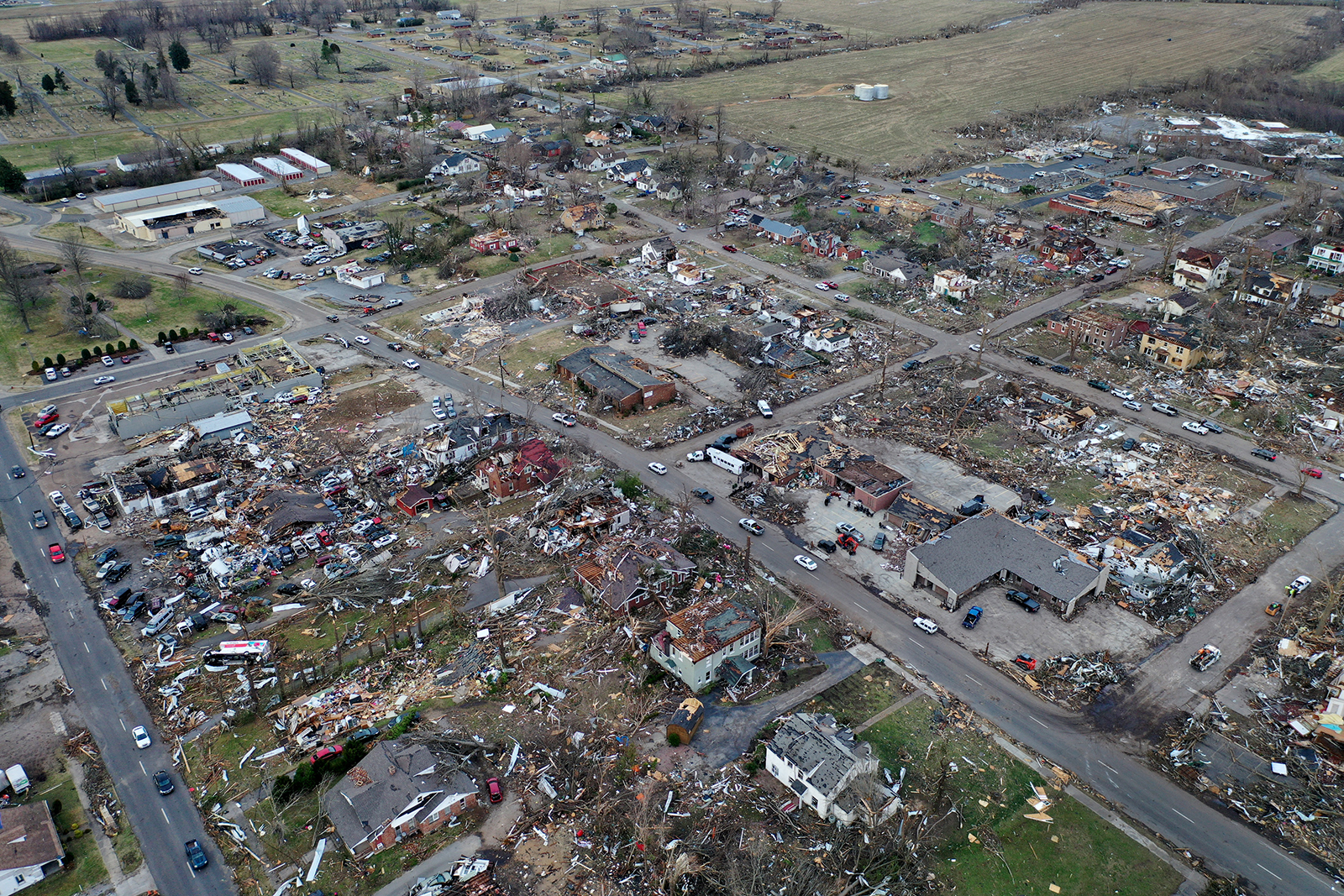 At least 84 people are likely dead following a series of tornadoes that ripped through the Midwest and the southeastern US. 
Here's the latest death toll by state:
Kentucky: 70
At least 70 people in Kentucky are likely dead as a result of the tornado, according to Governor Andy Beshear. 
"I'm pretty sure that number is north of 70 … it may, in fact exceed 100 before the day is done," he said at a press conference earlier today. 
Arkansas: 2
Two people are dead after a storm swept through Arkansas overnight, Governor Asa Hutchinson told CNN Saturday. 
"At this point, I have two confirmed deaths. One is in Monette at the nursing home and the other one was in Leachville at a store that was struck in deadly fashion," Hutchinson told CNN's Fredricka Whitfield.
Tennessee: 4
Tennessee is now reporting a total of four weather-related deaths from the severe weather that hit the state overnight.
"We have four weather-related fatalities in Tennessee: two in Lake County, one in Obion County, and one in Shelby County," Tennessee Emergency Management spokesman Dean Flener tells CNN.
Illinois: 6
At least six people have died at an Amazon warehouse building collapse after an EF-3 tornado caused major structural damage to the building Friday, Edwardsville, IL Fire Chief James Whiteford said.
Missouri: 2 
There are now two storm-related deaths in Missouri from the severe weather that rip through the state last night.
"In St. Charles County, a woman was killed at home and two others were hospitalized. In Pemiscot County, a young child was killed at home and at least nine people were transported to hospitals," a press release from Governor Mike Parson's office said.
5 hr 27 min ago
Tennessee poultry barns destroyed
From CNN's Joe Sutton
At least four poultry barns in Tennessee's Clay County were destroyed during the severe weather overnight, according to the state's emergency management office.
Approximately 80,000 chickens were trapped in the collapse, TEMA spokesperson Dean Flener told CNN. He did not know how many were killed.
Clay County is northwest of Nashville and sits along its border with Kentucky.
Source: https://www.cnn.com/us/live-news/kentucky-tornado-midwest-south-storms/h_b2324a5473a0e32ba8bd889080f6737d