Climate goals hang in the balance
3 hr 14 min ago
Biden's climate goals hang in the balance as lawmakers continue to negotiate
From CNN's Ella Nilsen and Angela Dewan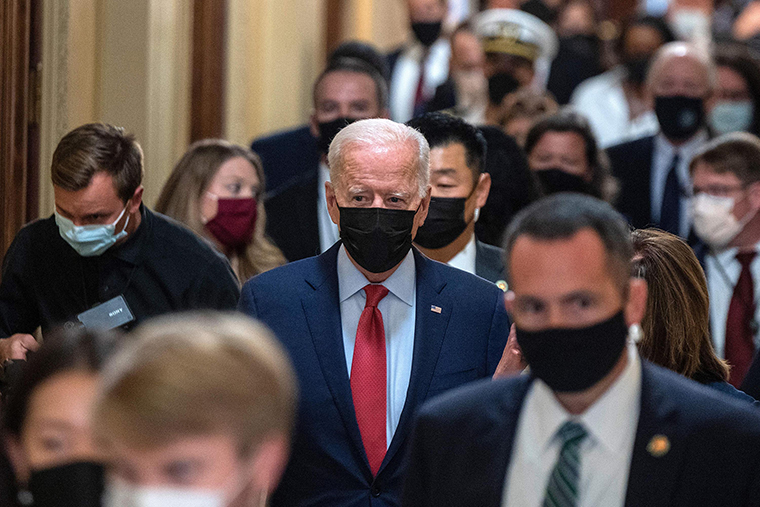 With just one month to go until a pivotal UN climate change conference in Glasgow, President Biden's climate agenda is on the line.
The fate of Biden's ambitious climate promises is wrapped up in a large budget bill that's stalling in Congress, as moderates and progressives in Biden's own party disagree on what's needed.
These negotiations are happening at a critical time: in April, Biden promised the US would slash its carbon emissions in half below 2005 levels by the end of the decade, and the clock is ticking.
For months, Biden's climate envoy John Kerry has been traveling the world, pressuring other countries to raise their climate ambitions and decarbonize faster. That won't carry any weight unless the US does the same, lawmakers say.
"America is the indispensable nation," Democratic Sen. Brian Schatz of Hawaii told CNN. "We know without American leadership we can't succeed."
A White House spokesperson told CNN that tackling climate change is a "top priority" for Biden, and the administration "is using all the tools in our tool chest to solve it. Full stop."
The White House will release a national climate strategy later this year, an administration official confirmed.
Biden's top domestic climate adviser Gina McCarthy "believes that's a viable path, and I've expressed my view that without the investments, particularly the tax code support for clean power and clean transportation, I think it's really tough to get there," Center for American Progress founder and Obama climate adviser John Podesta told CNN.
If the White House does have a Plan B to meet their climate goals if reconciliation fails, Democratic lawmakers haven't seen it – and they're skeptical it can actually be done. Several Democratic lawmakers told CNN they haven't been briefed on how the White House could slash US emissions without major investment in clean energy by Congress.
3 hr 34 min ago
Biden attends high-stakes caucus meeting with House Democrats
From CNN's DJ Judd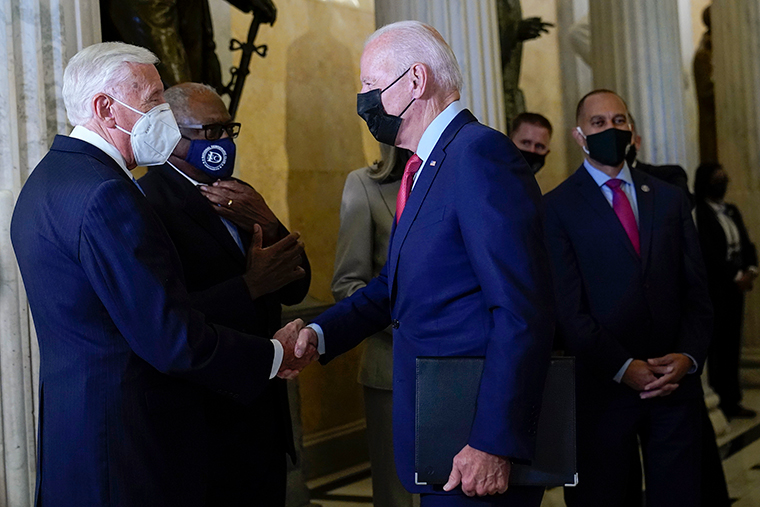 President Biden was greeted by House Speaker Nancy Pelosi, House Majority Leader Steny Hoyer and House Majority Whip Jim Clyburn before heading to the House Democratic Caucus meeting.
Biden did not respond to shouted questions from CNN on whether he was hopeful Democrats would reach a deal today.
The meeting is closed to press. No cell phones will be permitted in an effort to limit leaks.
3 hr 40 min ago
NOW: Biden arrives on Capitol Hill to meet with House Democrats
From CNN's Melanie Zanona, Lauren Fox, Ryan Nobles, Clare Foran and Daniella Diaz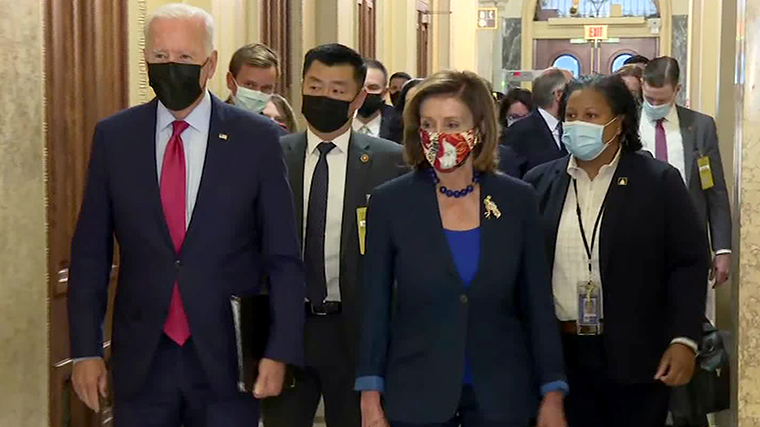 President Biden is on Capitol Hill to meet with House Democrats as congressional Democratic leaders scramble to secure a last-minute deal on a major economic package and find a way to resolve divisions between moderates and progressives that have put passage of the package and a separate bipartisan infrastructure bill in jeopardy.
Biden is currently scheduled to meet with House Democrats at 3:30 p.m. ET, according to a source familiar with his plans. No cell phones will be permitted in an effort to limit leaks.
White House press secretary Jen Psaki told reporters Friday that he will travel to the Hill "to make the case for his legislative agenda, which includes the infrastructure bill, and it includes his Built Back Better agenda that would be in the reconciliation package.
The President "wants to speak directly to members, answer their questions, and make the case for why we should all work together to give the American people more breathing room," she said.
The high-stakes visit to the Hill by the President comes as some Democrats have been calling for Biden to play a more active role in the process.
Democratic Rep. Steve Cohen of Tennessee said on Friday, "I think the President should be involved," and said "very few of us have seen the President in nine months he's been President. And I think he should come to a caucus."
Read more about today's meeting here.
4 hr ago
White House defends Biden's last-ditch effort: "The dealmaking always happens at the end"
From CNN's Jasmine Wright
The White House defended President Biden in his last-ditch effort to appeal to House Democrats to come together, amid criticism that he got involved in discussions on his agenda too late in the game.
CNN previously reported Rep. Pramila Jayapal, the head of the progressive caucus, told reporters she would have preferred that Biden got involved "sooner."
"I would say anyone who's ever been through a legislative fight before or covered it on the Hill, knows that the negotiations and the dealmaking always happens at the end. It doesn't matter how the process works or how many weeks there are, it always happens at the end," Psaki told reporters Friday.
"We're clearly at the late stages of the process here. This is exactly the moment where people put their bottom lines down, they put their best ideas forward, and there's heavy negotiating and that's exactly what's happening. And that's why timelines can help make progress," she continued.
4 hr 14 min ago
Biden "will make the case for his legislative agenda" at meeting with House Democrats, White House says
From CNN's DJ Judd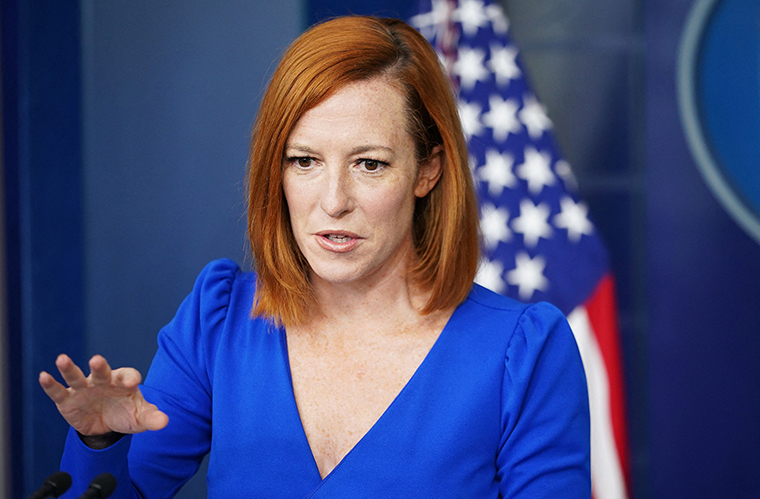 President Biden will travel to Capitol Hill shortly "to make the case for his legislative agenda, which includes the infrastructure bill, and it includes his Built Back Better agenda that would be in the reconciliation package," White House press secretary Jen Psaki told reporters Friday.
The President "wants to speak directly to members, answer their questions, and make the case for why we should all work together to give the American people more breathing room," she said.
When asked if the President expects to leave Capitol Hill today with a consensus on voting today for the administration's infrastructure bill, Psaki declined to make a prediction.
"I'm not going to make a prediction of whether there will or won't be a vote, I'll leave that to Speaker Pelosi to determine when she will call a vote," she said. "But he's making the case, he believes it's the right time for him to go up there. These are his proposals, these are his bold ideas. This is his plan that he's outlined, to not just rebuild our roads or railways and bridges and put millions of people back to work, but also to make childcare, elder care, pre-K more cost effective to address the climate crisis, and he wants to make the case directly to members."
More on Biden's meeting: The President is expected to address members of the House Democratic Caucus in a closed-press meeting at 3:30 p.m. ET today, as progressives have vowed to withhold a vote on the infrastructure package until the Senate moves forward on the President's spending package.
"He's visiting the Democratic Caucus, and as you all know, and as the Speaker's office will confirm for all of you, they make those rules we don't make those rules and those are closed press meetings," Psaki added, "But obviously, there'll be a press pool with him. In terms of whether he'll address the public or speak to all of you—we'll see, we're quite open, and he is—we'll make decisions hour by hour."
4 hr 37 min ago
How Biden may use strategic ambiguity to make peace between progressives and moderates
From CNN's John Harwood
As President Biden heads to Capitol Hill to lobby House Democrats this afternoon, he may lean on strategic ambiguity to bridge the gap between the party's moderate and progressive factions. That's possible because of different ways of accounting for different elements of any final plan.
One question, for example, is whether or not tax-cuts get classified as "spending." All week negotiators have been working on a potential compromise that involves more than $2 trillion worth of initiatives but less than $2 trillion in "net outlays" after accounting for spending and tax cuts.
"You may wind up with a bill that one person describes as $1.5-trillion and other describes as $2.5-trillion," a senior administration official told CNN. "There are many ways to skin the topline debate."
This could resemble the different ways of describing the Trump tax cuts. The Congressional Budget Office calculated they would increase the budget deficit by $1.9 trillion over 10 years, which became how their magnitude was most commonly described in Washington debates.
That 2017 legislation cut various individual and corporate tax collections much more than that, but a large portion of those cuts was offset by revenue raised from other changes in the tax code.
4 hr 40 min ago
White House explored whether administration could make payments if debt ceiling were breached 
From CNN's Phil Mattingly 
While infrastructure negotiations continue on Capitol Hill, another major issue looms: the debt ceiling. US Treasury Secretary Janet Yellen has said the US government will run out of money Oct.18, when it will hit the borrowing ceiling set by Congress.
Senior White House officials explored whether the US could unilaterally continue payments should the debt ceiling be breached in mid-October but ultimately concluded it would not be possible to avoid default and economic catastrophe, a person with direct knowledge of the matter told CNN. 
The conclusion came as part of a review, first reported by the Washington Post, of potential options the administration may have as the US barrels toward an Oct. 18 debt ceiling deadline with no clear idea of how Congress will reconcile how to avoid the first default in US history. 
White House officials conducted the review as diligence to map out or test the viability any potential contingencies or theories as Republicans have continued to block Democratic efforts to suspend the debt limit, the person said. Among the theories explored, but dismissed as unworkable either due to legal, political or economic hang ups, was whether there were constitutional grounds to continue payments, as well as the idea of minting a trillion dollar coin, the person said. 
The review itself is not out of the ordinary. During the Obama administration, officials reviewed whether alternatives were available to congressional action to raise the debt ceiling during high stakes showdowns between Democrats and Republicans. They ultimately concluded alternatives would not be viable. 
The White House has concluded the same. 
"There is only one viable option to deal with the debt limit: Congress needs to increase or suspend it, as it has done approximately 80 times, including three times during the last administration," White House spokesperson Mike Gwin said in a statement to CNN
It's a reality that only serves to underscore the heightened risk facing financial markets and the US economy in this moment. 
Senate Republicans have blocked all Democratic efforts to move forward on a debt ceiling suspension up this point, pressing Democrats to move through the budget reconciliation process to get the job done. The process itself is likely to take at least two weeks, creating an increased level of urgency for lawmakers as the calendar moves toward the deadline 
Yet Sen. Mitch McConnell staked out an unyielding position of opposition in July and, driven by a combination of not wanting to give GOP votes to the increase and embracing the ability to slow or create chaos at the same time Democrats are straining to pass their domestic agenda, has received unified back up from the members of his conference. 
Democrats have tried multiple avenues to force McConnell to yield, though up to this point have not broken through. Another vote on a stand-alone suspension of the debt limit, which the House passed this week, is scheduled for next week. 
Read more here.
5 hr 33 min ago
Democratic Caucus chair believes infrastructure vote will happen and bill will pass today
From CNN's Morgan Rimmer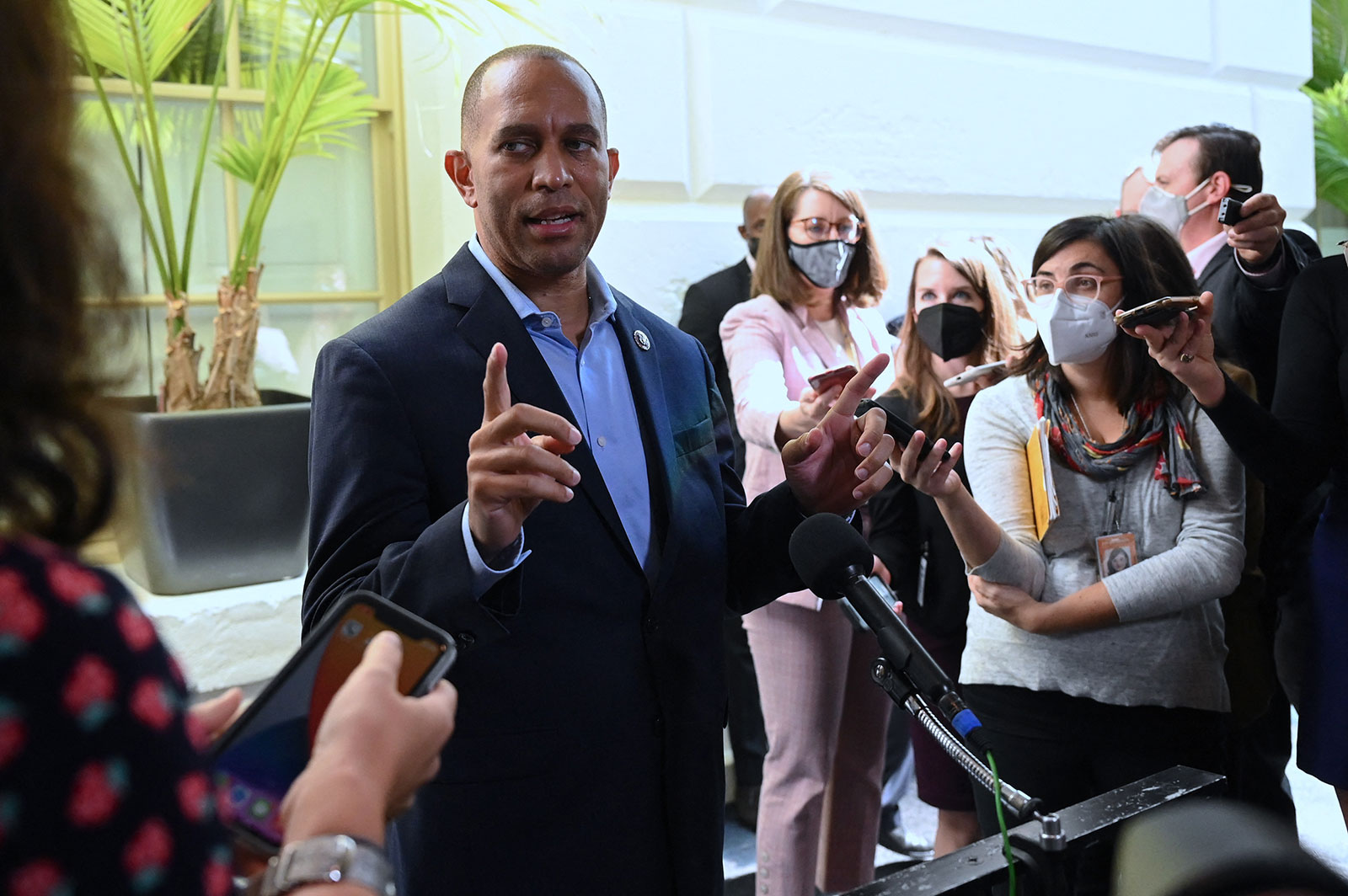 House Democratic Caucus Chair Hakeem Jeffries told reporters today that he believes the bipartisan infrastructure bill will pass today, and that House Speaker Nancy Pelosi has committed to holding the vote. 
"The speaker has indicated that we're going to vote today, I expect to vote today, and I expect that the bill will pass today," he said.
Asked how this was possible, since there is still no agreement on the larger bill that progressives are holding out for, Jeffries was optimistic that they would hear about further progress from the Senate negotiators soon. 
"I'm hopeful that we'll get some clarity within the next hour or so from the Senate, as it relates to what they view as possible, so we can decide what is acceptable," he told reporters.  
5 hr 42 min ago
Here's what is in the bipartisan infrastructure bill that Pelosi is racing to get votes for 
From CNN's Katie Lobosco and Tami Luhby
The Senate passed a massive, $1.2 trillion bipartisan infrastructure bill in August and now the House needs to vote on it before it goes to President Biden's desk to be signed into law.
The path to get to a final vote still remains uncertain. House Speaker Nancy Pelosi and Democratic leaders are working to build support and get enough votes for the bill as progressives threaten to tank it they don't strike a deal with moderates on a separate sweeping spending package.
Here's what the infrastructure bill would fund:
Funding for Roads and Bridges: The deal calls for investing $110 billion for roads, bridges and major infrastructure projects, according to the summary. Included is $40 billion for bridge repair, replacement and rehabilitation, according to the bill text. The White House says it would be the single, largest dedicated bridge investment since the construction of the interstate highway system, which started in the 1950s.The deal also contains $16 billion for major projects that would be too large or complex for traditional funding programs, according to the White House.
Money for transit and rail: The package would provide $39 billion to modernize public transit, according to the bill text.The funds would repair and upgrade existing infrastructure, make stations accessible to all users, bring transit service to new communities and modernize rail and bus fleets, including replacing thousands of vehicles with zero-emission models, according to the White House.
Broadband upgrade: The bill would provide a $65 billion investment in improving the nation's broadband infrastructure, according to the bill text. t also aims to help lower the price households pay for internet service by requiring federal funding recipients to offer a low-cost affordable plan, by creating price transparency and by boosting competition in areas where existing providers aren't providing adequate service. It would also create a permanent federal program to help more low-income households access the internet, according to the White House fact sheet.
Upgrading airports, ports and waterways: The deal would invest $17 billion in port infrastructure and $25 billion in airports to address repair and maintenance backlogs, reduce congestion and emissions near ports and airports and promote electrification and other low-carbon technologies, according to the White House.
Electric vehicles: The bill would provide $7.5 billion for zero- and low-emission buses and ferries, aiming to deliver thousands of electric school buses to districts across the country, according to the White House. Another $7.5 billion would go to building a nationwide network of plug-in electric vehicle chargers, according to the bill text.
Improving power and waterways: The bill would invest $65 billion to rebuild the electric grid, according to the White House. It calls for building thousands of miles of new power lines and expanding renewable energy, the White House said. It would provide $55 billion to upgrade water infrastructure, according to the bill text and another $50 billion would go toward making the system more resilient — protecting it from drought, floods and cyber attacks.
Environmental remediation: The bill would provide $21 billion to clean up Superfund and brownfield sites, reclaim abandoned mine land and cap orphaned gas wells, according to the White House.
Read more about what is in the bill here.
Source: http://rss.cnn.com/~r/rss/cnn_topstories/~3/Ujl36D9oV28/h_8c5db3a306cb5bef80efa57172e691da