Brazil's unvaccinated president to speak at UNGA, despite rules requiring vaccination
5 min ago
Unvaccinated Brazilian president plans to speak at UNGA today, despite rules requiring vaccination
From CNN's Rodrigo Pedro, Richard Roth and Artemis Moshtaghian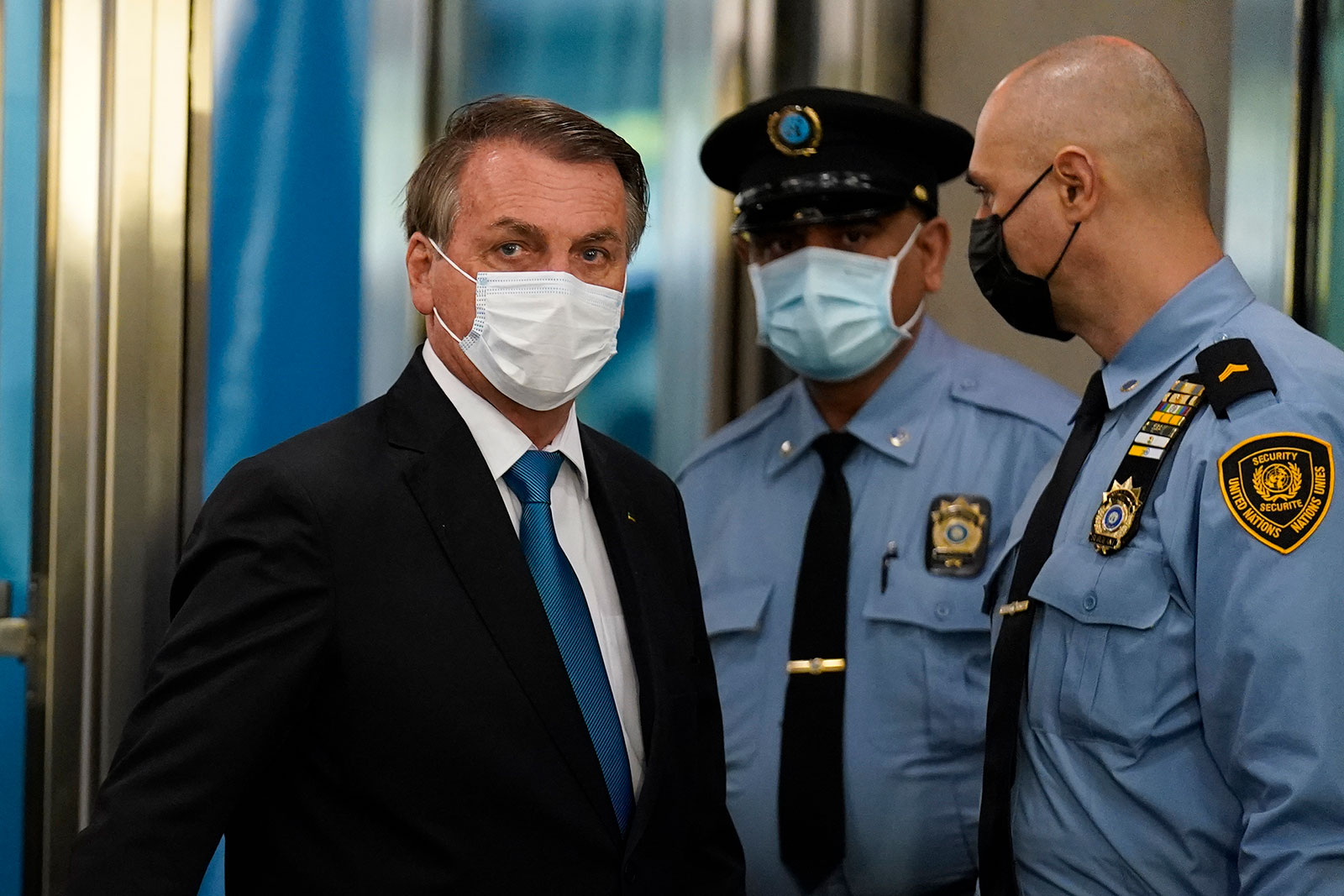 Unvaccinated Brazilian President Jair Bolsonaro said he will deliver the opening speech at the United Nations General Assembly (UNGA) Tuesday, despite rules requiring him to be vaccinated to be in the assembly hall.
Bolsonaro, who traveled to New York City late Sunday afternoon, previously said in a live broadcast on his social media that he wouldn't get vaccinated before attending the UNGA.
"Why do you take a vaccine? To have antibodies, right? My antibodies rate is really high. I can show you the document," the president said. 
Bolsonaro then claimed that a vaccine such as CoronaVac would not be effective for him and added, "I will decide my future after everyone in Brazil gets the vaccine."
The UN is not barring anyone from entering the UNGA, UN Secretary-General spokesperson Stéphane Dujarric told CNN Sunday.
Dujarric explained to reporters Friday that "the honor system, as laid out by the President of the General Assembly, says that, by swiping a badge to enter the General Assembly Hall, delegates attest that they are fully vaccinated, that they have not tested positive for COVID-19 in the last ten days, have no symptoms."
Dujarric also said Thursday that UN Secretary-General António Guterres has limited jurisdiction in imposing New York City vaccine mandate protocols for member states representatives attending the UNGA's 76th meeting. He also noted Thursday that he's "working with the sitting President of the General Assembly to continue that honor system [of vaccinations] in a way that is acceptable for all."
The spokesperson added that the UN has taken several mitigation measures including implementing mandatory mask usage, mandatory vaccination for UN staff and limiting the delegation size in the General Assembly hall to ensure that the high level meeting is as safe as possible. 
8 min ago
Here's a preview of Biden's first UNGA speech as President, according to the White House
From CNN's Maegan Vazquez
White House press secretary Jen Psaki on Monday offered a broad preview of President Biden's upcoming speech at the United Nations General Assembly (UNGA).
Psaki was asked by CNN how the President plans to restore credibility at the UN this week.
She said the audience will hear him "lay out the case for why the next decade will determine our future, not just for the United States, but for the global community. And he will talk – and this will be a central part of his remarks – about the importance of reestablishing our alliances over the last several years," Psaki said.
She argued that reestablishing those alliances "doesn't mean that you won't have disagreements."
The goal of reestablishing those alliances, Psaki added, is "increasing the prospect of security and diminishing the prospect of war."
"He'll also make clear that for many of the greatest concerns we have, they cannot be solved or even addressed with the force of arms, whether that is preparing for the next pandemic … addressing the threat of climate change … leveling the economic playing field, fighting for democracy at home and abroad, and against threats ranging from cyber security to emerging technologies to terrorism. Finally, he will also reaffirm that the United States is not turning inward," she continued, specifically pointing to the decision to withdraw from Afghanistan. 
Psaki added that the President "will talk about his objective of turning our focus and our resources to the priorities in regions of the world that are most consequential."
Responding to CNN's question about restoring credibility, she later asserted that "criticism of a decision is different from criticism of the credibility in leadership of the United States, broadly speaking."
"We are committed to those alliances, and that always requires work, from every president, from every global leader, and his commitment is to make sure we are directing our energy, our resources and our efforts on the biggest challenges we're facing in the world," Psaki said.
31 min ago
Covid-19 will be an issue at UNGA in more ways than one
From CNN's Caitlin Hu
The United Nations General Assembly has not exactly gotten off to a unified start.
Despite a letter from the US encouraging member states to call in virtually and help avoid creating "a super spreader event," the speaker schedule for the General Debate — which begins on Tuesday — shows more than 100 heads of state and government coming in person, including UK Prime Minister Boris Johnson, Indian Prime Minister Narendra Modi, and US President Biden.
Even Korean pop icons BTS are flaunting the advice to stay home, with the boy band booked to make an appearance at the United Nations headquarters on Monday.
New York City requires proof of Covid-19 vaccination for indoor gatherings — a rule local authorities have asked the UN to follow. To facilitate compliance, a one-shot vaccination station will even be set up on-site. But visiting dignitaries are not proving entirely cooperative.
Brazil and Russia are already giving their local hosts a poke in the eye, vocally rejecting the health requirement. "We strongly object that only people with a proof of vaccination should be admitted to the GA hall," wrote Russia's UN representative Vassily Nebenzia in a letter to the organization, according to state news agency TASS. Nebenzia also noted that not all countries use the vaccines approved in New York.
Brazilian President Jair Bolsonaro threw down the gauntlet on social media, declaring point-blank on Thursday that he would not get vaccinated before the General Debate. He is due to address the assembly in person on Tuesday morning, in Brazil's traditional role as the first speaker.
The UN has said it trusts in a vaccination "honor system."
Source: http://rss.cnn.com/~r/rss/cnn_topstories/~3/KG7emLc-eIc/h_3e610fa14c7905be0fa971da22cd05df