Infrastructure: Biden's plan is about to put his bipartisan appeal to the test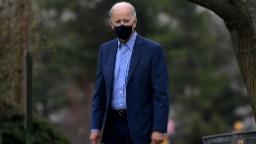 In full, it would mark a sweeping move toward enacting the key elements of the "jobs" agenda that Biden laid out in large part during his campaign for president, with a suite of potential tax increases on corporations and the wealthy as options to finance any longer-term spending in the final proposal.
That's where things get tricky.
They skewer alternative energy investments and regulations to combat climate change as costly and radical.
As Senate GOP Leader Mitch McConnell summarized it: "A so-called infrastructure proposal that may actually be a Trojan horse for massive tax hikes and other job-killing left-wing policies."
The nuts and bolts. The infrastructure proposal would focus heavily on money for roads, bridges and rails, and would include hundreds of billions in spending for climate-related measures, as well as climate-related research and development. It also would include $100 billion for education infrastructure.
The domestic economy piece of the plan would include key Biden campaign priorities such as universal pre-K, significant spending on childcare, care-giving and proposals designed to try and address portions of the workforce hit hardest by the pandemic economy.
The debate will kick off in earnest soon. While the planning remains fluid, officials are tentatively eyeing Biden's joint address to Congress — likely to be scheduled in April — as a moment where the key thematic elements of the package are made clear.
More on Georgia's election law
There's growing evidence to suggest that voter restriction laws sometimes backfire against their proponents.
By attacking voting rights Georgia Republicans have abandoned a GOP political strategy that helped them win close elections. And they have angered a powerful bloc of Black voters in Georgia who have already mobilized against them.
Preparing for a long border crisis
To compare, in May 2019, at the height of that crisis, 11,475 unaccompanied kids were arrested by US Border Patrol. In June 2014, during the peak surge of children at the border, 10,620 unaccompanied children were arrested by US Border Patrol.
Pandemic snapshot
The medical cavalry is here and rolling out fast. But the combination of relaxed mitigation measures, increased travel, and a dangerous variant is proving to be a formidable challenge.
Put simply, the race between vaccines and variants is a close one.
But soon, supply won't be the issue. Some experts fear that the upcoming challenge won't be a short supply of vaccine — but getting enough people vaccinated.
"We have a lot of vaccine, we'll have more over the next month," Dr. Jonathan Reiner, a professor of medicine at George Washington University, told CNN on Saturday. "The challenge is to get the shots into arms and then to convince the hesitant to get the shots."
The bottom line is still the same. What can help fight another Covid-19 surge, according to experts, are the measures that have been proven to work: face masks, social distancing, avoiding crowds, and regularly washing hands.
'COVID WAR: The Pandemic Doctors Speak Out'
In the documentary, Birx gives Gupta her gut-wrenching answer when asked how much of an impact it would have made if the US had paused earlier and followed through with the safety measures that were proven to slow the spread.
"I look at it this way. The first time we have an excuse," Birx says. "There were about a hundred thousand deaths that came from that original surge. All of the rest of them, in my mind, could have been mitigated or decreased substantially."
'Manifestly false'
That's how Mick Mulvaney, Trump's former chief of staff, characterized his former boss' recent attempt to whitewash the history of the January 6 Capitol riot.
"I was surprised to hear the President say that. Clearly there were people who were behaving themselves, and then there were people who absolutely were not, but to come out and say that everyone was fine and there was no risk, that's just manifestly false — people died, other people were severely injured," Mulvaney told CNN's Pamela Brown on "Newsroom."