Trump's rallies make no political sense. Here's why he does them anyway.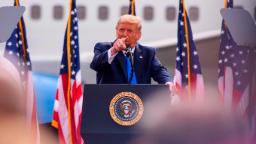 Instead of projecting newfound empathy and sobriety, Trump has flaunted his recklessness at packed, mostly maskless campaign rallies. That gleeful abandon, as he bleeds support from voters fearing he hasn't taken the pandemic seriously, makes no political sense.
But it makes perfect emotional sense for a President who craves the applause of a zealous minority. His hunger for affirmation explains much about his conduct of the presidency — and why it may soon come to an end.
Trump won the White House by eking out an Electoral College majority on the strength of a narrow but intense support base among less-educated White conservatives. He lost the popular vote, and became the first president in the era of modern polling never to reach 50% approval.
Nor has Trump seriously tried to broaden his appeal. Even after a wrenching midterm election defeat in 2018, he refused to temper his vitriolic style or hard-right approach to issues from immigration to taxation to health care to the environment.
He prefers the safety and comfort of audiences that already embrace him over the uncertainty and risk of encountering those who don't. As President, he has visited West Virginia, which he won in 2016 by 42 percentage points, eight times. By the tally of CBS White House Correspondent and real-time historian Mark Knoller, that's the same number of visits as he's made to California, which has a population 20 times larger but rejected him by 30 points.
Fighting from behind in his reelection campaign, Trump now lavishes attention on battleground states. But he still won't moderate his message.
Once the pandemic shook Americans and shattered the economy, political prudence argued for an aggressive, focused federal response. Trump refused, indulging the reluctance of supporters who imagined it would mostly harm blue states but spare red ones.
Once racial justice protests mushroomed in the wake of George Floyd's killing by police, public sentiment favored a conciliatory approach. Trump chose "law and order" crackdowns pitched to the ire of blue-collar White supporters.
After institutions from NASCAR to the Pentagon shunned divisive Confederate emblems, accepting 21st-century racial sensibilities became a political no-brainer. Trump defiantly sheltered the prejudices of allies who fear change in a diversifying America.
While debating Democratic nominee Joe Biden at a moment when open racism represents the foremost taboo in contemporary society, Trump ducked an invitation to condemn White supremacists who back him. In his NBC town hall last week, Trump dared not even condemn the lunatic theories of QAnon adherents who have embraced his presidency from the deluded, extremist fringe.
In theory, that might reflect a considered strategy of turbocharging turnout among existing supporters when persuading other voters is fruitless. But Trump's tactics have been so obviously self-defeating as to render that explanation insufficient. It also overlooks his propensity for impulsivity over planning.
"He doesn't think strategically," observed Tim O'Brien, one of Trump's biographers, who served as an adviser to Democratic presidential candidate Michael Bloomberg. "He's completely visceral and reactive."
In her recent book, Trump's niece said a harsh family upbringing had left him with a "fragile ego" that drives him toward the cheers of a crowd. "He knows he has never been loved," wrote Mary Trump, a clinical psychologist.
Two weeks ago, Trump left his sickbed and endangered his Secret Service detail simply to wave at supporters outside Walter Reed hospital from his limousine. Last week, he defied public health advice to stalk the campaign trail in Florida, Pennsylvania, Iowa, North Carolina, Georgia and Wisconsin.
If Trump stages a comeback in the dwindling days of the campaign, in-person rallies are unlikely to be the cause. Research shows that such events exert marginal, fleeting influence on the electorate. The preeminence of social media over local news coverage "suggests the effect will be even smaller in this cycle," noted Thomas Wood, an Ohio State University political scientist who has advised Republican candidates.
Yet rallies provide psychic gratification Trump cannot find watching bleak television coverage of his presidency from the White House. Dancing to "YMCA," slinging masks from the stage, modulating his voice like a vaudeville performer, he draws energy from his fans' adoration.
In a year of violent discord, polls show a broad swath of Americans fear his truculence makes the country less safe. But his North Carolina crowd cheered his boast about the killing of a murder suspect by US Marshals.
Most Americans no longer believe him about the pandemic he downplayed from the start. But at his rallies, they do.
Most Americans heed Dr. Anthony Fauci, a fact campaign advisers have recognized by using the eminent scientist in ads against his will. At Trump's rallies, supporters laugh as he mocks Fauci.
In Pennsylvania, he pleaded, "Suburban women, please like me." In Florida, he announced that "I feel so powerful" after recovering from Covid-19 that he wanted to dive into the audience for hugs and kisses.
As most of the country disdains him, there's little doubt Trump's sentiment was genuine.
"He needs these people," said Michael D'Antonio, another Trump biographer and a CNN contributor. "He is desperate to be loved. The harder things get, the more desperate he is."