Opinion: Kamala Harris faces unique challenges in the VP debate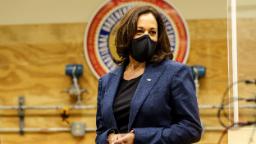 Given the startling events of the past week, however, the upcoming debate may get more scrutiny and interest.
The hospitalization of President Donald Trump for Covid-19 and the advanced age of both presidential candidates (Trump is 74, Joe Biden is 77) has shined a light on how quickly the understudies could be thrust into the starring role. Trump's illness has caused scholars and journalists to publicly explore the 25th Amendment to the Constitution — and what happens when a President becomes incapacitated.
And that is the lens through which voters may view Vice President Mike Pence and California Sen. Kamala Harris when they take the stage in Utah Wednesday night. They will be performing the traditional role as advocates for their principals, for sure. But they also will be measured more seriously than in the past as potential presidents in their own right.
The unique moment will be reflected, in part, by additional space on the stage between the candidates, due to the coronavirus precautions. And given Pence's recent proximity to Trump and others who have been infected by Covid-19, both candidates presumably will do what Trump did not do last week — get tested before the debate proceeds. The audience presumably will wear masks, something Trump's entourage eschewed.
The debate also will be historic in another respect, featuring the first woman of color ever to take the vice presidential debate stage. The contrast between Harris, a Californian and daughter of Indian and Jamaican immigrants, and Pence, a White evangelical former talk show host from Indiana, will define the great and growing cultural divide in our politics.
You can bet that this will be more polite than the calamitous presidential debate last week, where insults flew and rules were shredded. Even if Pence and Harris were so inclined, the mash-up in Cleveland was so roundly panned by voters and commentators alike that no one is aching for a repeat performance. The President's illness may also lower the temperature.
More likely, Pence will deliver the PG version of Trump's debate brief, argued with more finesse but still honing in on Biden as the vessel for the "radical left." Expect familiar themes on issues like "law and order" but a greater emphasis on who is best suited to lead an economic recovery — the one major issue on which Trump and Biden share about even support.
Harris will come to promote Biden and his plans, but Pence likely will try to use her support in the Senate for progressive wish list items like Medicare for All and the Green New Deal to define the ticket, forcing her to defend her past positions or embrace Biden's more moderate take on them. Pence may press her on Biden's record on race and her pointed attack on him during the first Democratic primary debate.
Renowned for her incisive questioning of Senate witnesses, Harris, a former prosecutor, knows how to argue a case.
Even before the President's illness, Covid-19 and the administration's handling of it were likely to be front and center on Wednesday. Pence has chaired the President's coronavirus task force and will have to answer for the tumultuous and often contradictory path the President has taken in dealing with the virus.
But Harris faces unique challenges posed by expectations and bias.
Biden profited from low expectations in the presidential debate, which were set in no small measure by Trump's incessant "Sleepy Joe" trolling. It made Biden's job easier.
Harris enters the debate in the reverse position. Much is expected of the charismatic US senator, a skilled interlocutor who debated frequently during her own campaign for the Democratic nomination.
She also faces the same double standard women contenders do about tone when they bring strong attacks.
The low-key Pence is an underrated debater. Four years ago, he was widely seen as winning the vice presidential debate with Virginia Sen. Tim Kaine, during which Pence deftly parried Kaine's attacks on Trump and launched his own against Hillary Clinton.
But this vice presidential debate will be different than any that have proceeded it.
Americans will not just be weighing arguments. Now, more than ever, they will be closely evaluating these contenders as potential occupants of the Oval Office.